Corporate Volunteer Opportunities with Trees for Cities are a great way to motivate your employees and demonstrate your organisation's commitment to creating positive change for people and the planet.

Our engaging volunteering days give your employees the opportunity to make a difference by carrying out vital maintenance tasks to rejuvenate green spaces and protect urban woodlands so that they can continue thriving for generations to come.

We provide opportunities for groups of all sizes throughout the year and in locations both across the UK and internationally.
Volunteering days can be booked as one-off events, or you can choose to commit to a series of days in order to maintain employee engagement throughout the year and see projects through from start to finish.
We work at a variety of urban green spaces, all that require different types of maintenance. From repairing fences to digging ponds and building forest school features, we can guarantee a totally unique day out with no two events ever being the same!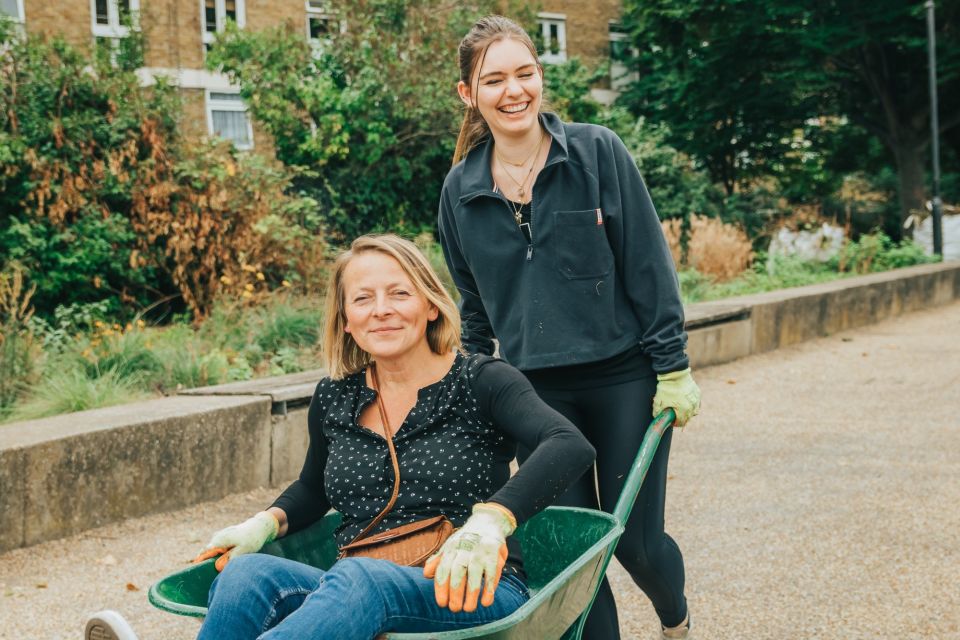 87%
of employees who volunteer with their companies report an improved perception of their employer
Types of Corporate Volunteering Opportunities
The types of tasks we can offer depend on the time of the year and where we are up to in the planting season, but check out below some of the vital greening jobs your employees can help us with.

Please note that whilst we will work closely with you to create a day that works for your team, we cannot guarantee which tasks will be required on the day.
Green Conservation
Our most popular type of events! April to September is when we're working to ensure that pockets of publicly accessible green space in cities are well maintained. Your employees can get involved, and help make sure that green spaces and our urban trees have enough care during the hot, summer months.
Tasks include weeding, watering and mulching to improve soil quality and to ensure trees can access nutrients and water. In addition to these jobs, we also sometimes require path clearance, hedge maintenance and litter picking!

Tree Planting
October to March is planting season, and the perfect time for your employees to get stuck in with tree and bulb planting.
Planting greenery in urban areas boosts air quality, aesthetics and community wellbeing, so your employees will be creating a lasting legacy for future generations.

These types of events book up very far in advance but don't worry, we often have plenty of green conservation events available!
School Projects
Occasionally, we also have opportunities to help transform inner city school grounds as part of our Edible Playground and Planting Healthy Air school projects.
These opportunities will enable you and your teams to spruce up these innovative outdoor classrooms for school kids up and down the country.
Please note that these types of opportunities are rare and not always available.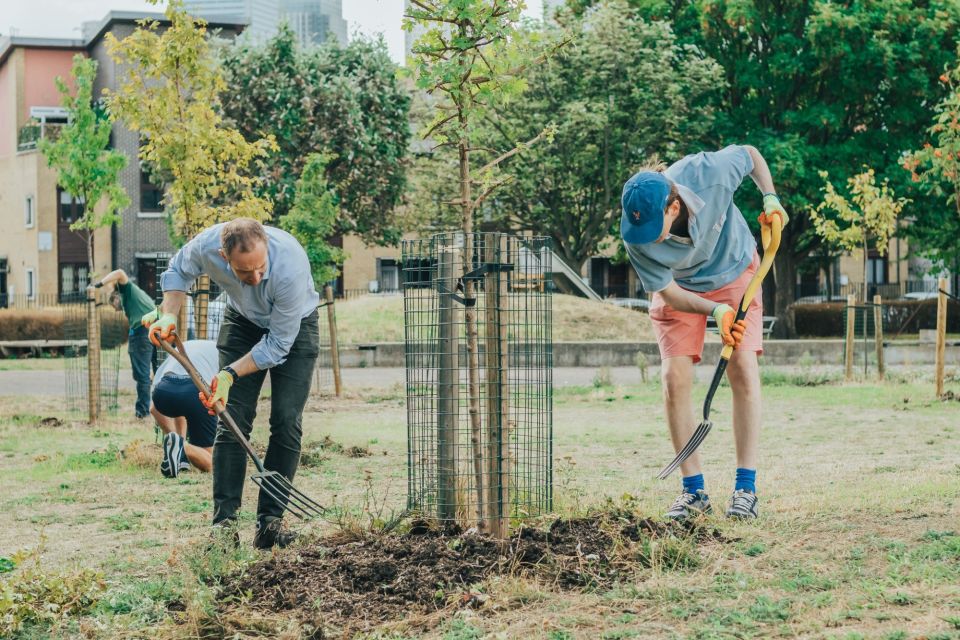 Why volunteer with Trees for Cities?
Volunteering with Trees for Cities will allow your employees to:
Spend time engaging with your corporate social responsibility efforts firsthand, developing commitment and loyalty to your organisation
Forge positive connections with colleagues and learn new skills in a different context
Unwind outside the office for a day - connecting with nature and enhancing mental wellbeing
Transform urban areas into vibrant green spaces for communities to enjoy