Planting Healthy Air
Grange Primary
Southwark, London
Trees for Cities and the pupils from Grange Primary in London transformed their school playground into a leafy oasis for learning and play.
Grange Primary School in Southwark is situated in an area of high economic, social and environmental deprivation. The school playground is in a high-density polluted setting, and like many urban playgrounds, was sparse, grey and uninspiring. The pupils lacked a healthy environment for active play and learning.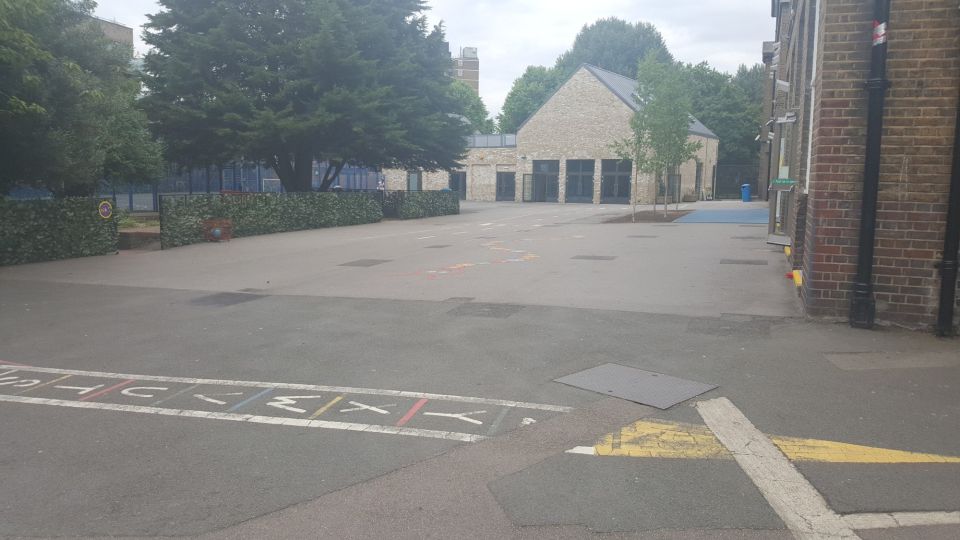 What did we do?
With funding from Impact on Urban Health and Grange Primary, we worked in partnership with Davies White Landscape Architects, to co-design with the pupils a healthy playground that encouraged play and learning outside.

The design of the new playground was split into 3 main areas. The first was a Learning Zone which included the creation of a meeting circle for outdoor lessons, vertical growing spaces using upcycled wheel trellis and the planting of three ornamental cherry trees.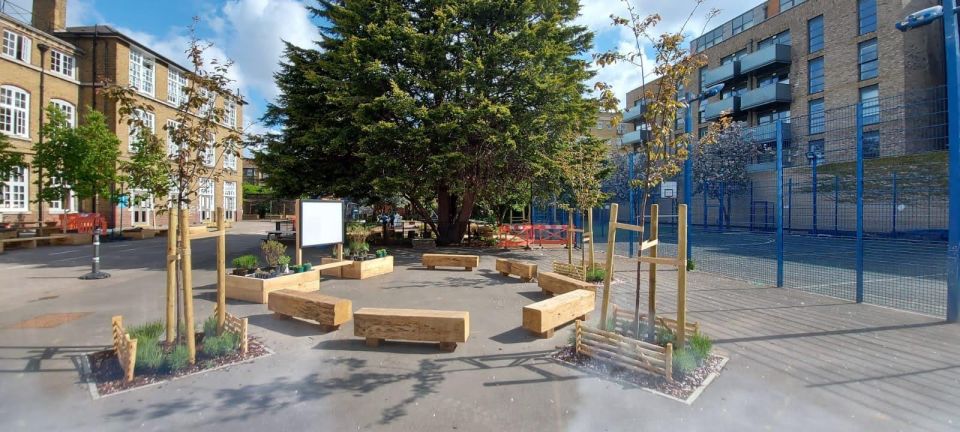 The Growing Zone included a potting bench, growing spaces, living plant table and cold frames which enables whole classes to grow their own fruit and veg.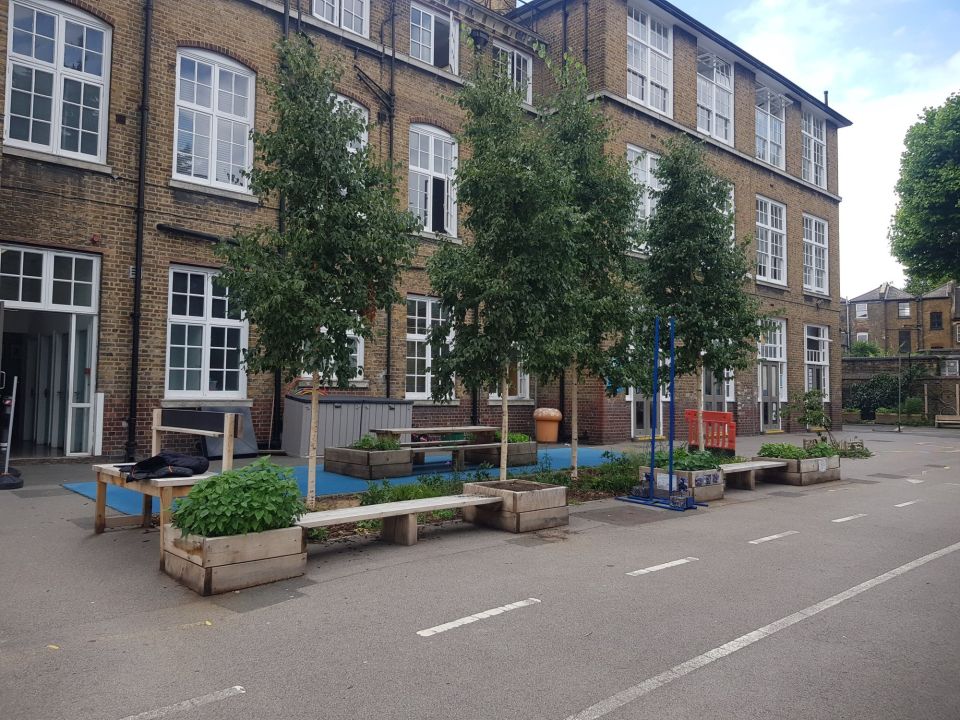 Finally, The Woodland Play Zone used elements such as stepping stumps, balance poles, climbing ropes and a willow tunnel to create a space where children feel inspired to play and remain active. In total five trees and 180 square metres of shrubs and perennials were planted.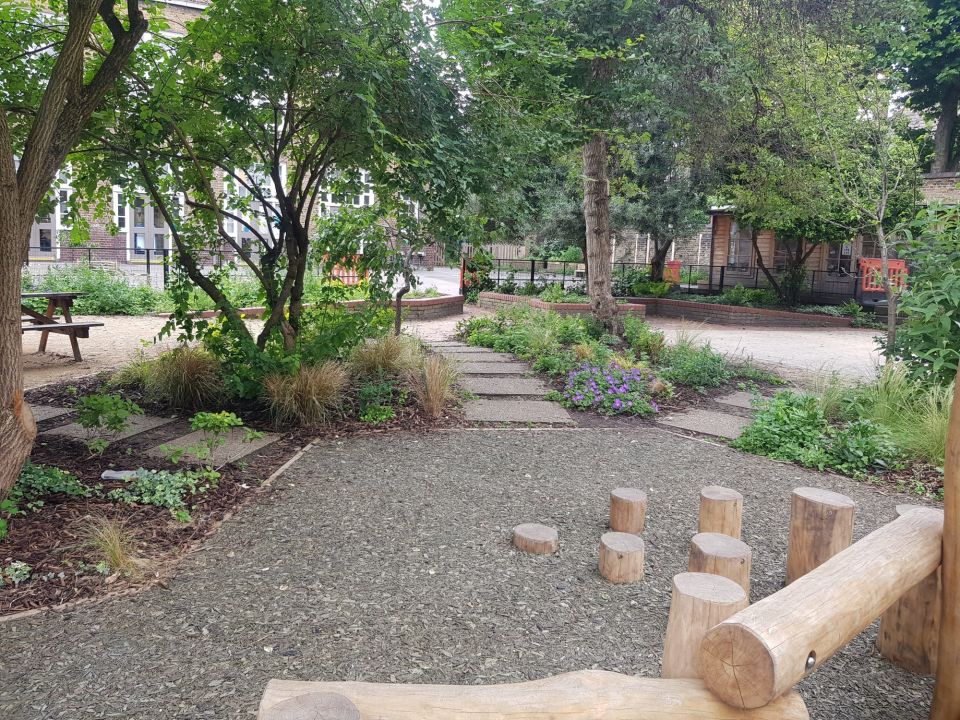 The children love their new playground and are very proud of it.

Class Teacher, Grange Primary
Measuring impact
Our work at Grange Primary provided the perfect opportunity to look into how effective green infrastructure, outdoor classrooms and natural play areas were in promoting connectedness to nature, enriched learning opportunities, increased physical activity and reducing the effects of poor air quality. Once the playground had been transformed, it was then time to investigate the impact that the leafy oasis had on the pupils.
With the help of Lancaster University, we supported pupil led teams over the course of one term; using portable monitors to investigate levels of Particulate Matter 2.5 pollution levels in their playground.
Both pupils and teachers joined in planting and air quality workshops to learn about their new space and understand further about pollution and nature based solutions. Teachers also took part in on site plant care maintenance and food growing training provided by Trees for Cities, to support the continued use and impact of the new space.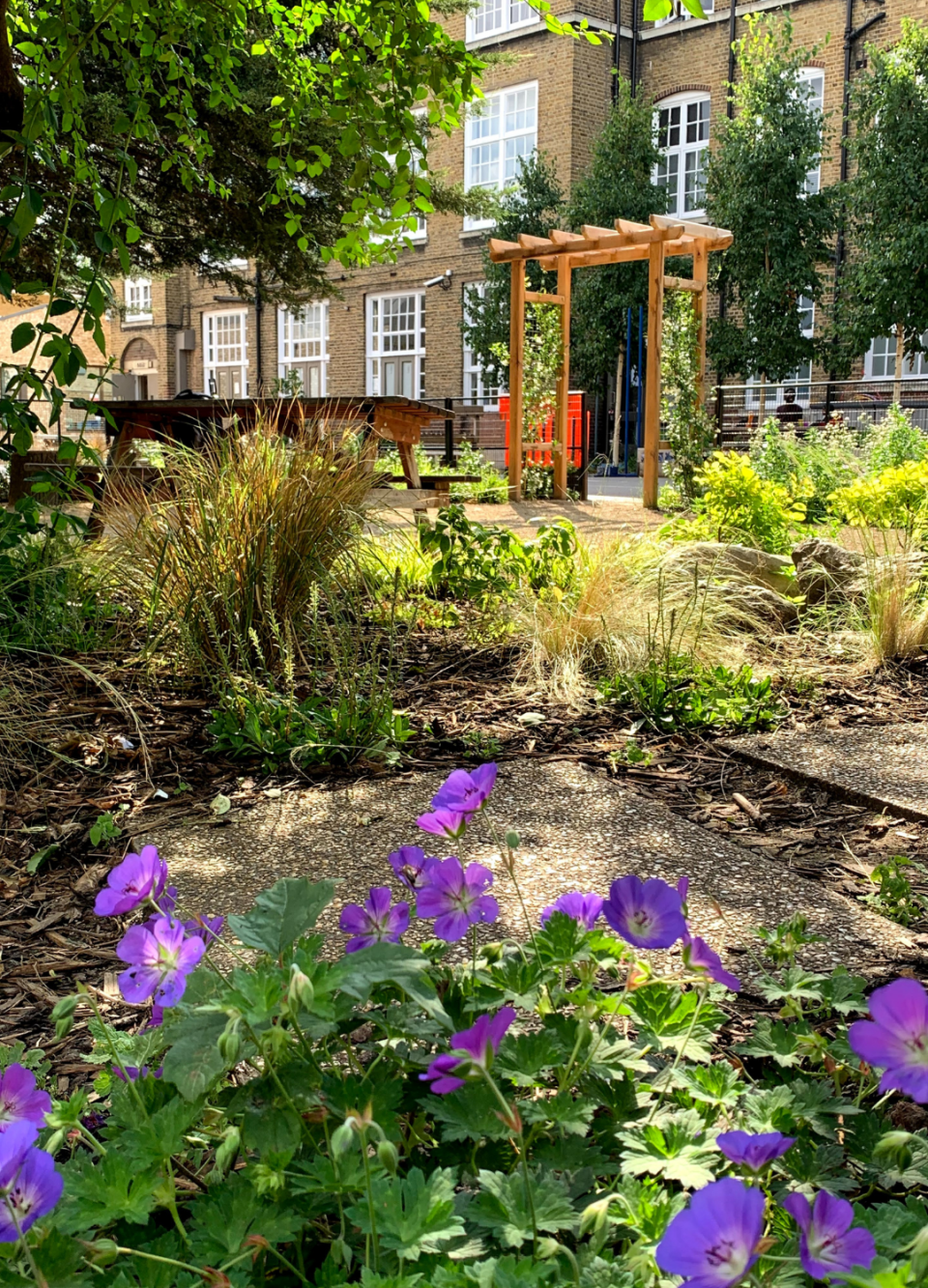 I get more shade and I can smell the plants. The flowers smells nice and I feel happy.

Pupil, Grange Primary
What did we find?
The Social Value Innovation Partnership, Lancaster University and the Trees for Cities Impact team have evaluated the data collected throughout the project and already seen immediate positive outcomes!

1. Activity has increased among the pupils.
The children are now more active including specifically an increase in activity for girls. Furthermore, the pupils are also using greater parts of the playground thanks to the new woodland and play areas.

2. Lower pollution levels in the woodland areas.
High levels of pollution were detected near the gates and road next to the school and lower pollution was found around the woodland area. This new information can now be used by the school to manage the risk of exposure to pollutants by pupils.

3. Changes in attitude.
Increased awareness of the sources, problems and ways to mitigate effects of air pollution among pupils and teachers have been reported. Teachers also have reported benefits to pupils' mental health, outdoor learning opportunities and changes in opinion towards food.

4. Pupils are inspired!
Pupils at the school have expressed that their playground before was "plain" and "boring" and now there is "lots more things to do" and that they felt "active".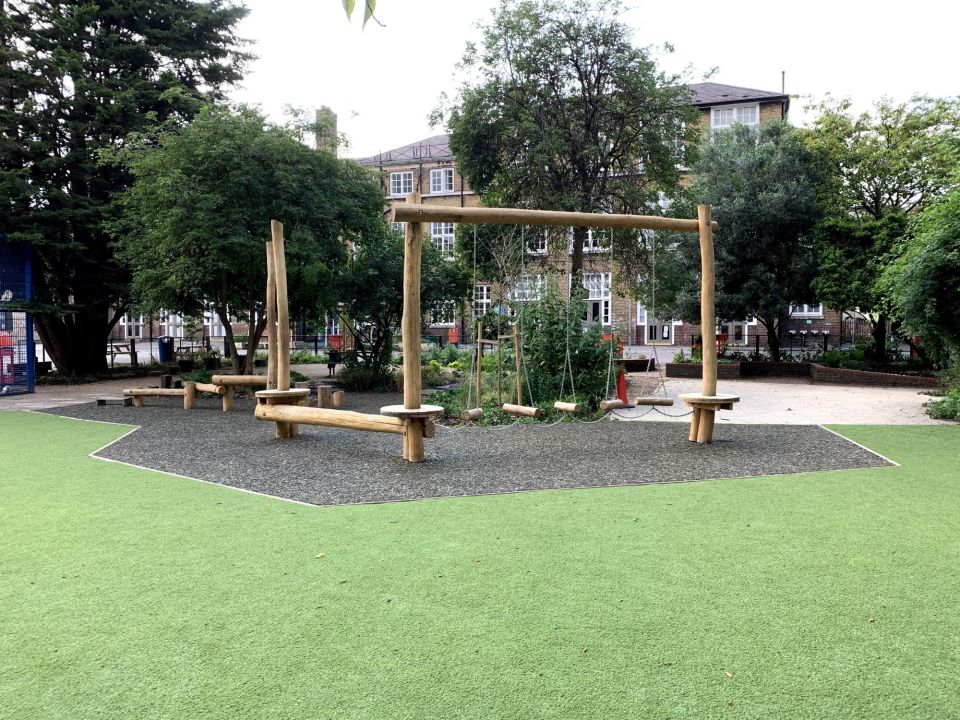 Why is planting healthy air important?
As the fantastic findings above show, with careful design and planting, green infrastructure can be a powerful tool to help reduce pupils' exposure to pollution.
Trees and vegetation can not only reduce exposure but also provide an array of other ecosystem services: storing carbon, cooling the air, reducing flooding. The trees will offer much-needed shade, create new habitats for wildlife, and opportunities for outdoor learning. Nature-based activities can help to improve health and well being, by promoting active play and reducing depression and anxiety (Natural England, 2016).
At Trees for Cities, we are passionate about ensuring as many children as possible have access to a learning space free from the threat of air pollution and that's why we are committed to creating healthier playgrounds across London. Find out more about our Planting Healthy Air programme.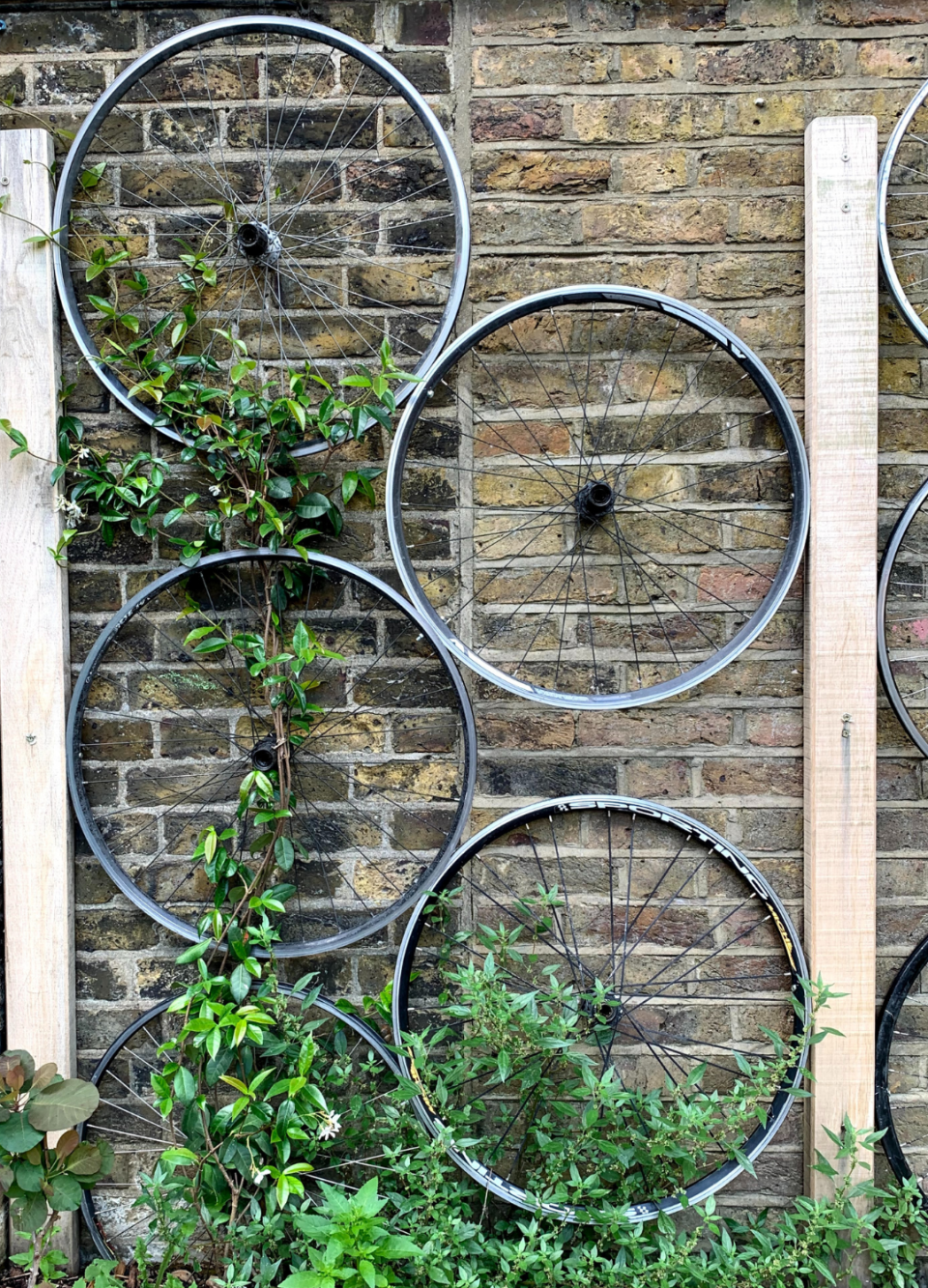 Donate to Trees for Cities and together we can help cities grow into greener, cleaner and healthier places for people to live and work worldwide.
Donate