Edible Playgrounds
The Link School
Sunderland
The Link School's new Edible Playground is especially built to support the pupils who have a variety of additional and behavioural needs, and offers food growing opportunities as well as a dedicated sensory area - perfect for meditation and mindfulness classes!
Part of our Schools programme, the Edible Playgrounds transform school grounds into vibrant outdoor gardens that inspire hands-on learning and get children excited about growing and eating healthy food.
The Link School is an alternative learning provider working with young learners and their families across the City of Sunderland. It has a strong focus on emotional well-being and ensures that is an important part of the Link School for both pupils and staff.
In September 2020, the school moved into a new fully refurbished building for KS1 – KS3 learners. As part of this move, we worked with the school to create an Edible Playground suited for the pupils who have a variety of additional and behavioural needs. The Edible Playground offers a sensory area as well as food growing in two areas of the school. It will play a key role in behaviour management as well as meeting the needs of sensory learners.

A key feature of the project was to incorporate food growing, preparing, cooking and eating throughout the school as well as encouraging healthy eating, all embedded in the curriculum.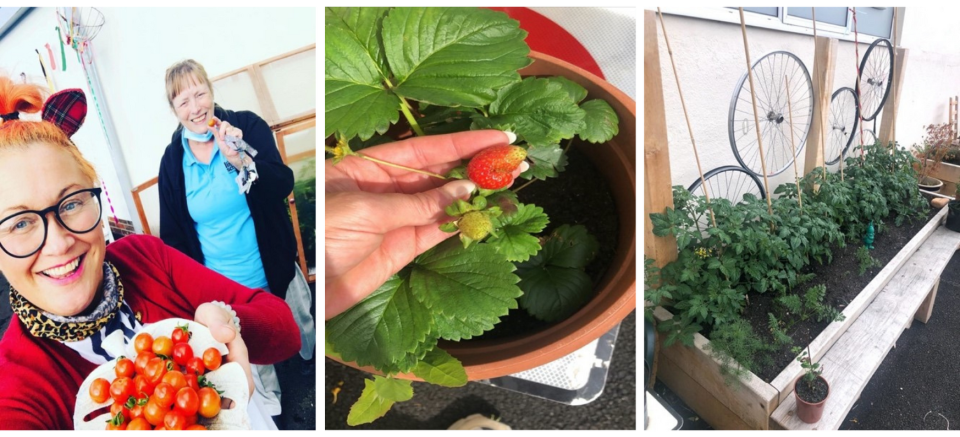 Feedback from the school:
Through our collaboration with Trees for Cities we have been able to create an outdoor environment where all learners can express themselves and learn how to support their own mental health by improving their understanding of healthy eating options.
Even during the lockdown period, whilst Covid-19 impacted on school life, we were still able to plant beetroot, carrots, tomatoes, strawberries, potatoes and a variety of flowers including lavender, which the pupils used in emotional well-being packs that they made for other pupils and staff.
We are fortunate to have employed a mindfulness lead with expertise in a range of well-being techniques including Reiki, Indian head massage, meditation and mindfulness.
Our learners produce their best when they are calm, relaxed and well supported. We thrive on our relationships with our learners and particularly during our edible playground and mindfulness sessions. We create a calming environment and ensure that all learners feel included, supported and listened to. This is then re-enforced by taking part in our gardening activities where they are able to take the time to learn new skills by growing produce and then cooking with it.
Head Teacher Donna Walker said the following about the inclusion of Edible Playgrounds and Outdoor Mindfulness into the school curriculum:
The inclusion of Outdoor Mindfulness into the school curriculum has had a significant impact on the emotional well-being on the school as a whole, this includes both the staff and pupils. Creative mindfulness and how it is delivered in our setting encourages our young people to deal with their thoughts and feelings outside a normal classroom setting – the impacts on both pupil behaviour and engagement has been amazing, resulting in less crisis incidents within the setting and a more considered approach to dealing with their behaviour – staff have felt the benefit too.

Head Teacher Donna Walker
Donate to Trees for Cities and together we can help cities grow into greener, cleaner and healthier places for people to live and work worldwide.
Donate