Planting Healthy Air
Christ Church Bentinck Primary
Westminster, London
The school, located right next to Marylebone Road, was concerned about airborne pollution. Together, we made their playground a healthy place to play and learn outdoors.
We broke through Christ Church Bentinck Primary's concrete to plant two mature Field Maple trees and install ivy screens along the outer fence to help filter the polluted air from Marylebone Road.
New seating areas were designed to draw pupils into zone furthest from the road. Every child in the school took part in planting the wooden seating structures with jasmine, echinacea and lavender. Other features included a sensory garden.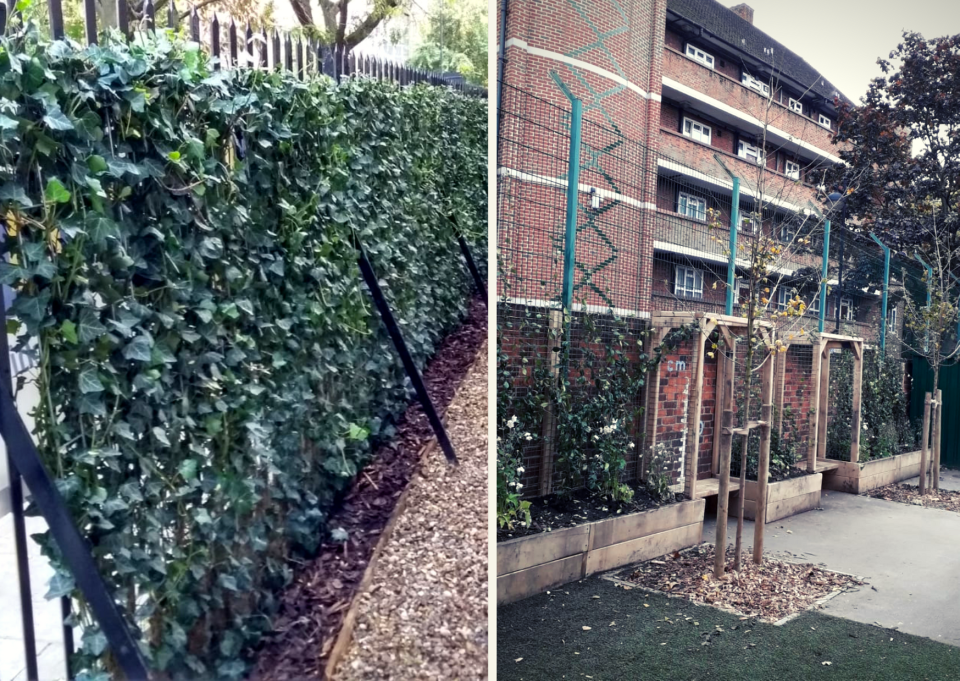 Since the planting has taken place, the air that we breathe seems more healthy.

Year 6 Pupil at Christ Church Bentinck Primary
Two air quality workshops were delivered to every class, teaching the children about the properties of the trees and plants going into their playground.
Facilitated by our partners Mapping for Change, the children were given the opportunity to design a playground air quality project and collect data to investigate the nitrogen dioxide levels in their playground and around the school gates (pick up and drop off point).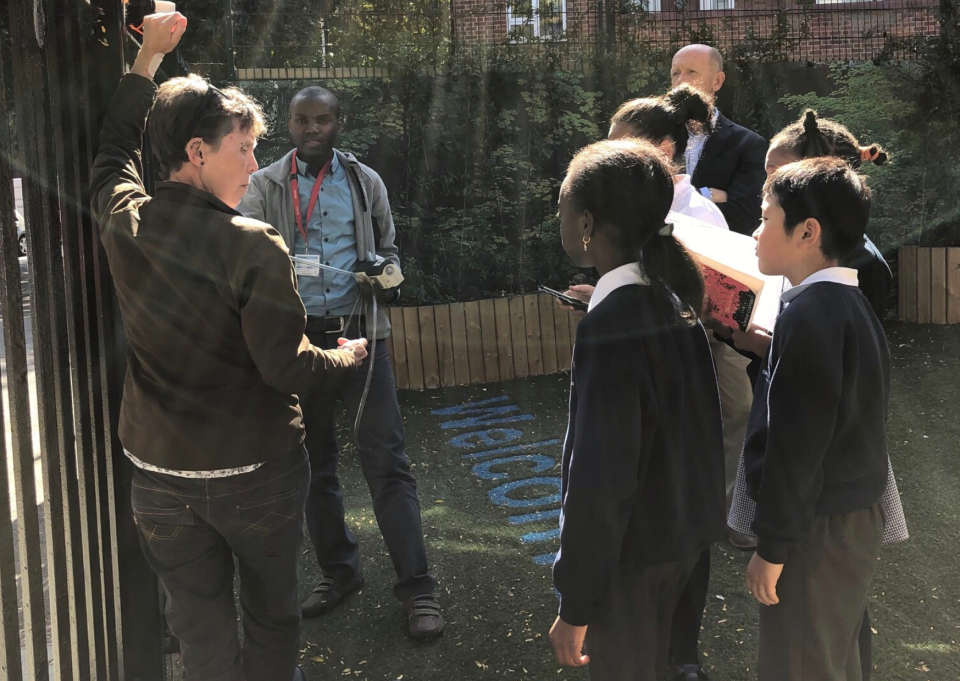 The programme has made a huge difference to the way the play-ground looks, it has transformed it. The children are able to sit and appreciate the environment - we didn't have that before.

School Staff at Christ Church Bentinck Primary
Despite Covid-19 preventing us from completing all our data collection, the children were still able to learn from scientists from Lancaster University.
WHY is PLANTING HEALTHY AIR IMPORTANT?
With careful design and planting, green infrastructure can be a powerful tool to help improve air quality in the school playground and reduce pupils' exposure to pollution. Research shows that leaves absorb harmful air pollutants e.g. carbon monoxide, sulphur dioxide and nitrogen oxides, and trap airborne particulates. Reducing exposure to air pollution helps to avoid multiple health problems.
Trees and vegetation also provide an array of other ecosystem services: storing carbon, cooling the air, reducing flooding. The trees will offer much-needed shade, create new habitats for wildlife, and opportunities for outdoor learning. Nature-based activities can help to improve health and wellbeing, by promoting active play and reducing depression and anxiety (Natural England, 2016).
Donate to Trees for Cities and together we can help cities grow into greener, cleaner and healthier places for people to live and work worldwide.
Donate