Planting Healthy Air in Schools
St Paul's Primary CE School
Hammersmith, London
Trees for Cities worked in partnership with St Paul's CE Primary to enrich the grounds through tree planting and greening in order to enhance the natural environment and promote the use of the outdoor space for pupils. We engaged the entire school community, including around 235 children plus school staff and parents.
About the School - #GreyGoesGreen
St Paul's CE Primary School is in Hammersmith, West London. In 2017, the school was ranked the second highest polluted in the Mayor's air quality audit of 50 primary schools in London. With it being situated next to two busy roads – Hammersmith Flyover and Hammersmith Bridge Road, which carry over 100,000 vehicles per day, pupils are exposed to high levels of noise and air pollution. To solve the issue, the school community took action, starting the #GreyGoesGreen campaign to raise awareness of the air quality issue, and bolster support to transform their school grounds. Trees for Cities is proud to be working with the school to bring their visions for a new woodland to life.

Before the project started, the school grounds were predominantly bare and grey. A key aim of the project was to make them greener, improve air quality and school life for pupils. We're embarking on this project because pupils at the school stand to benefit from access to enhanced green space, not only improving the quality of the air they breathe, but also making their time at school more enjoyable with a new woodland for them to learn and play in.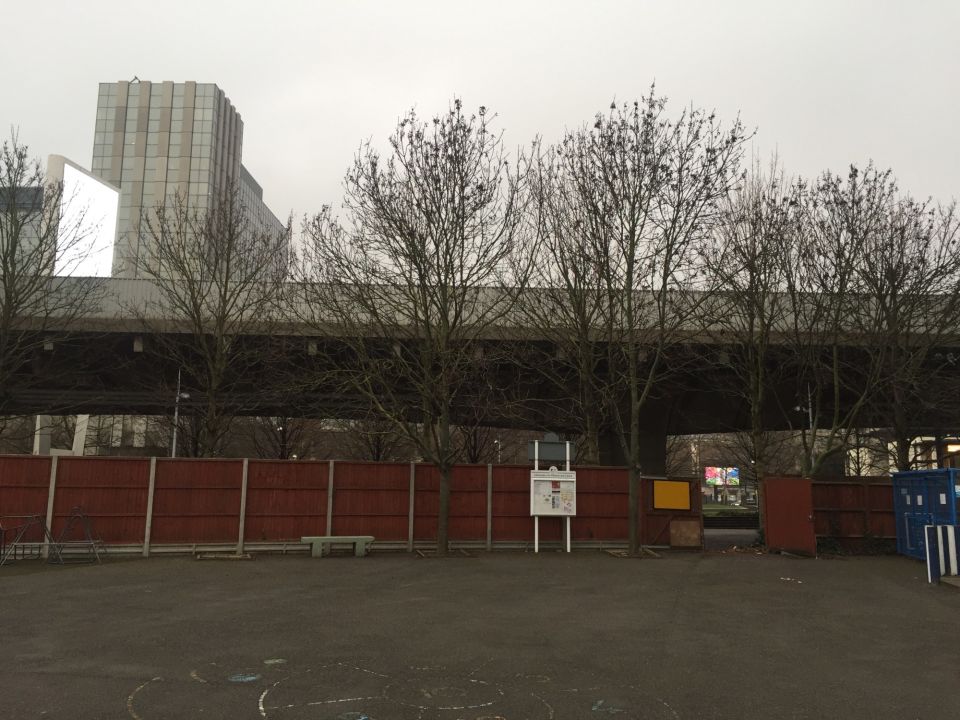 Partners and funders
We're grateful for the support from the London Borough of Hammersmith and Fulham, Hammersmith BID, Mayor of London,London Diocesan Board for Schools, School Travel Plan Fund, The Finnis Scott Foundation, DS Smith Charitable Foundation, Tanner Trust, Kudos TV, WasteCare Environmental Trust and Tideway.
Are you part of an organisation looking to fund the programme? Get in touch: Schools@treesforcities.org
We are working with Mapping for Change to monitor the NO2 level changes in the playground as the woodland is planted and grows. Click the link below to keep an eye on the latest results.
Donate to Trees for Cities and together we can help cities grow into greener, cleaner and healthier places for people to live and work worldwide.
Donate