Ealing Tree Festival at Southall Park
Trees for Cities in partnership with London Borough of Ealing and Heathrow Community Trust are hosting the Ealing Tree Festival at Southall Park on May 28th!
Since 2016, we have worked together with Ealing to plant and establish over 47,000 trees across the borough. We've engaged thousands of local residents and community groups during the last 6 years and what better way to celebrate and continue inspiring local residents than a festival of trees!

Join us for a day of urban tree celebration with plenty of FREE fun activities for the whole family.
What's on?
The festival will celebrate all things urban trees through art, storytelling, talks, walks, workshops, music and activities for all.
We will be running workshops throughout the day, starting at 10am and finishing at 3pm.
Tree walks and nature trails
Get to know a bit more about the urban trees that surround you and the many benefits that they bring to the area.
Ever wanted to find out more about how best to plant or maintain the greenery in your garden? Bring your tree related queries with you to our 'Tree Doctors' and find out the best tips and tricks.

You'll have the chance to get crafty and create nature masks, take part in leaf printing or produce your very own special 'tree wish' using our natural craft materials.

Workshops and storytelling
Learn all about the secrets of the soil and discover more about wildlife through literature and art.
Check out some of Ealing's local businesses at our market place stalls.
Take part in our tree-inspired exercises such as the 'Tree' Legged Race!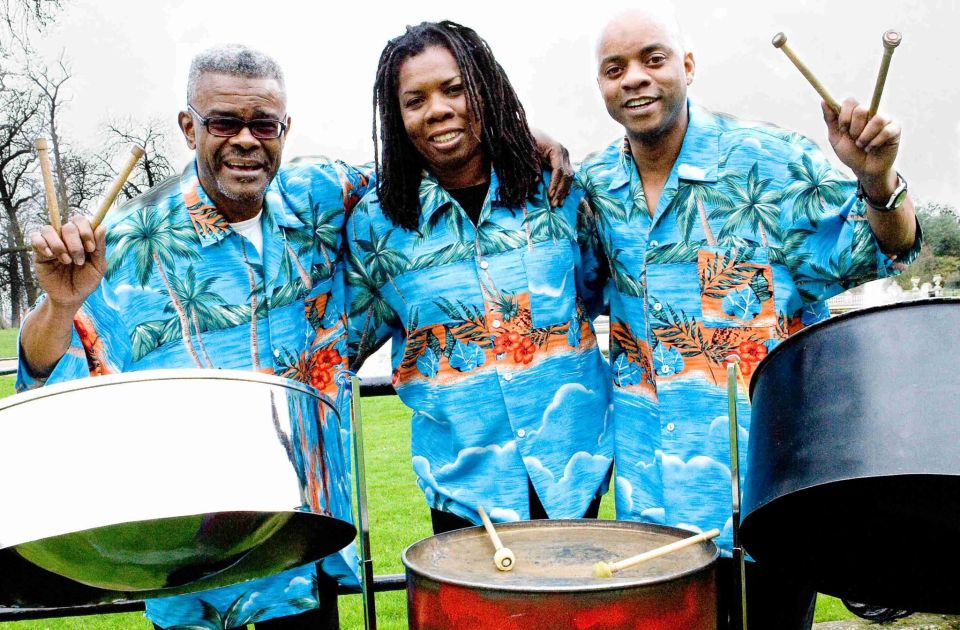 The Carribé Steel Band perform with an authentic Caribbean acoustic steel pan sound and are one of London's most requested Calypso steel band. Bringing you the sounds of the tropics all year round - imagine white sand, palm trees, blue sea and waves!
Bio: The Carribé Steel band were formed by John Thomas, who has performed for the most high profile clients and is also a sought after teacher of the instrument. Hailing from Trinidad, John can easily be recognised as one of the keys introduces to the Steel Pan to the UK. The band has appeared numerous times on National Television and continues to do so on stations like ITV and BBC. The band strives to keep it as authentic, acoustic and organic as possible. The band have performed in Russia, Germany, Turkey, Istanbul, Africa, Sri Lanka, Trinidad and Tobago. John has performed on the same bill with Diana Ross, Liza Minelli and performed on stage with Blondie.

Giovanna has provided us with written poems that will be installed among the trees throughout the festival! With a focus on greenery, the poems talk about a connection to nature through an embodied and sensory journey that can either be read or listened to via a QR code for an immersive experience.
Bio: Giovanna is an eclectic artist. She combines photography, sound, poetry and prose in her works. She lived in Dublin, Turin and Glasgow. She spent sixteen years in Rome and moved to London in 2017. She has collaborated with internationally awarded artists and musicians looking for synergies and experimenting with different languages. She is the founder of the Poetry Sound Library, an interactive map to listen to poets from present and past on a world map. She also turns the voices of poets into artwork Voice Portraits: they have been part of exhibitions and events in the UK, Italy, France and Czech Republic.

AND MORE ACTIVITIES ON THE DAY!

How do I get there?
The address for Southall Park is Uxbridge Road, Southall UB1 3AF. Southall Park is 10 minutes walk from Southall Station or buses 195, 207, and 427 stop on the main road outside the park.
There is no need to book in advance, just simply turn up on the day with your friends and family. Everyone is welcome!

If you can't make it and still want to join in with the festivities, you can download our special activities pack which features plenty of fun ideas that you can do to get outside, explore green spaces and celebrate our wonderful urban trees.

Access For Everyone
We aim to make this Festival accessible to all.

If you have any concerns or specific needs, please call our Community Engagement Coordinator Hetty on 07920 720917 who will be happy to assist you with more information on site terrain, parking, and the accessible workshops available.
Share your updates!
We'd love to see what you get up to at the Ealing Tree Festival so make sure to share all your fantastic pictures on social media using the hashtag #EalingTreeFest and tag @TreesforCities!
Donate to Trees for Cities and together we can help cities grow into greener, cleaner and healthier places for people to live and work worldwide.
Donate