Ealing Tree Festival at Southall Park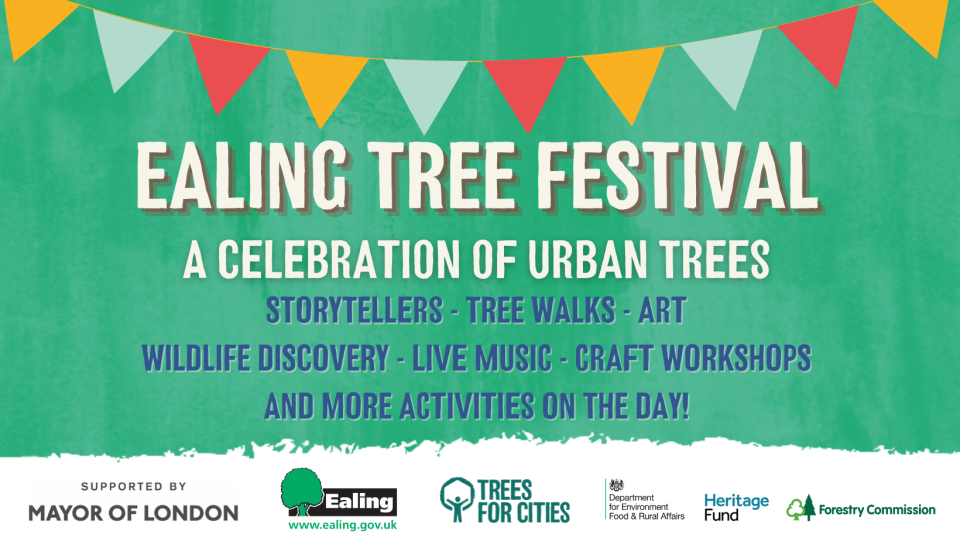 Trees for Cities in partnership with London Borough of Ealing are hosting the Ealing Tree Festival at Southall Park on June 17th 2023!
Since 2016, we have worked together with Ealing to plant and establish over 47,000 trees across the borough. We've engaged thousands of local residents and community groups during the last 6 years and what better way to celebrate and continue inspiring local residents than a festival of trees!

Join us for a day of urban tree celebration with plenty of FREE fun activities for the whole family.
What's on?
The festival will celebrate all things urban trees through art, storytelling, talks, walks, workshops, music and activities for all.
We will be running workshops throughout the day, starting at 11am and finishing at 4pm.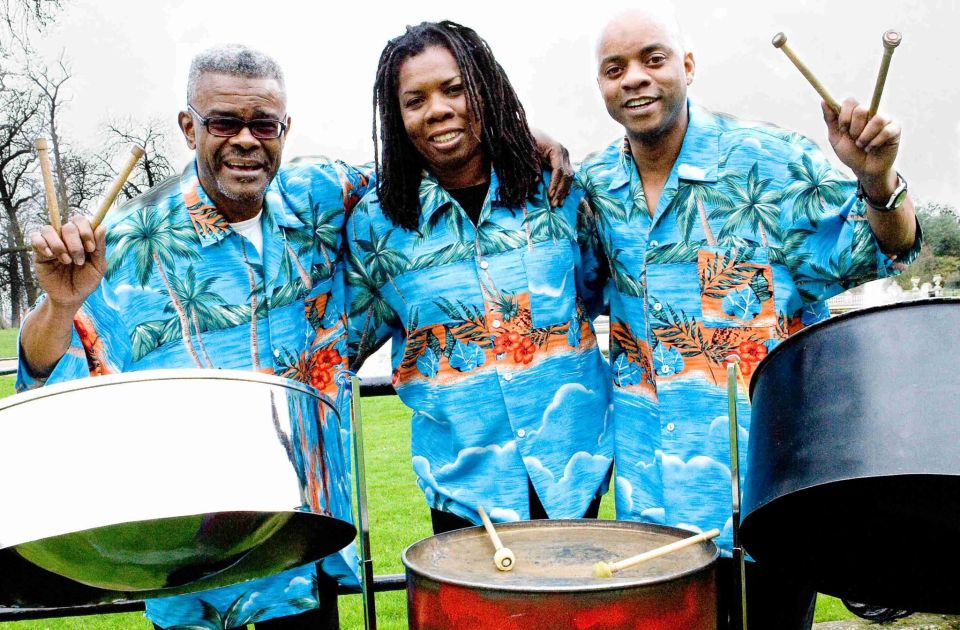 The Carribé Steel Band perform with an authentic Caribbean acoustic steel pan sound and are one of London's most requested Calypso steel band. Bringing you the sounds of the tropics all year round - imagine white sand, palm trees, blue sea and waves!
The Carribé Steel band were formed by John Thomas, who has performed for the most high profile clients and is also a sought after teacher of the instrument. Hailing from Trinidad, John can easily be recognised as one of the keys introduces to the Steel Pan to the UK. The band has appeared numerous times on National Television and continues to do so on stations like ITV and BBC. The band strives to keep it as authentic, acoustic and organic as possible. The band have performed in Russia, Germany, Turkey, Istanbul, Africa, Sri Lanka, Trinidad and Tobago. John has performed on the same bill with Diana Ross, Liza Minelli and performed on stage with Blondie.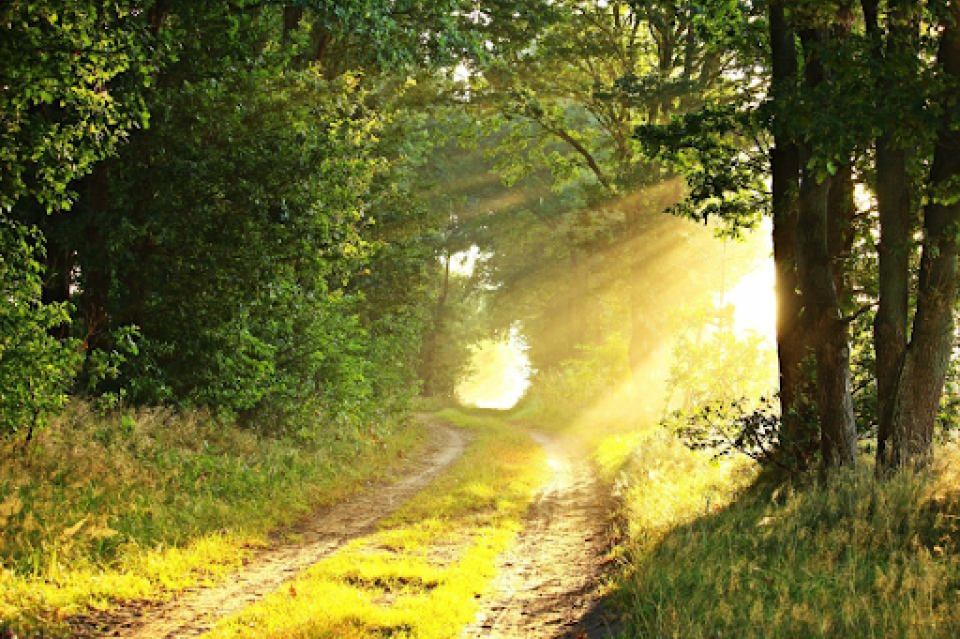 Forest Bathing and Nature-Inspired Creative Writing Workshop
Start times: 11:30am and 2pm
Come and join us under the canopy to awaken your senses and connect with your creativity.

Forest Bathing is the practice of relaxation among trees - a time to observe the details of nature, while calming the mind and the body.
This workshop will help you to connect with the trees around you through guided group meditation. We will then take influence from your experience of Forest Bathing to motivate a creative writing exercise, guiding reflection on thoughts, feelings and awakened senses, to help the words flow.

So close your eyes, take a deep breath and let the trees inspire you...

Felix Chee is a writing enthusiast, taking influence from nature to inspire creativity in everyone.
Hetty works in Community Engagement with Trees for Cities and enjoys sharing her love for nature through creative means.
This workshop will include walking around the park, sometimes on uneven terrain. The whole activity will last approximately one hour. There will be up to 15 people in each workshop. There may be times where group discussion and public speaking are encouraged. If you have any concerns or needs related to this activity, please contact Hetty on 07920 72091 or hetty@treesforcities.org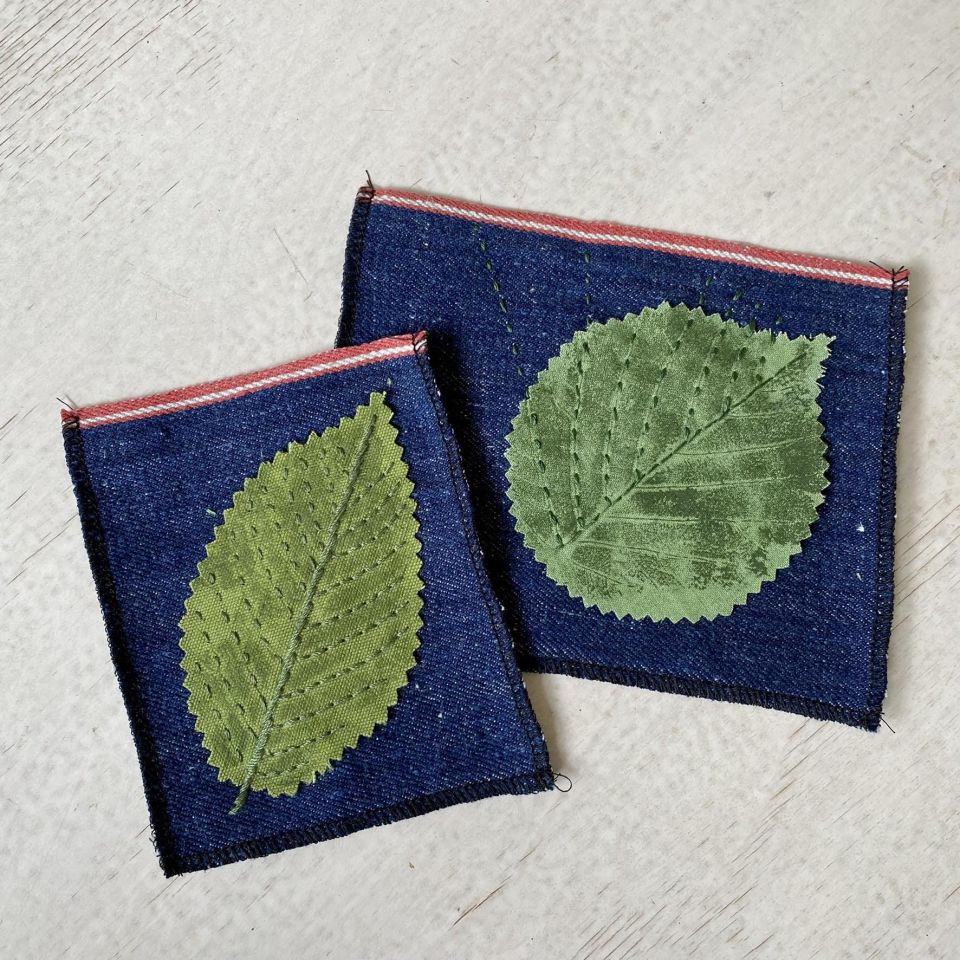 12pm - 2pm
Relax with some mindful stitching and make an embroidered patch with hand-printed leaves, or get creative with fabric scraps - with textile artist Elly Platt.

All ages welcome, however this activity might not be suitable for very young children, and all children must be supervised by an adult at all times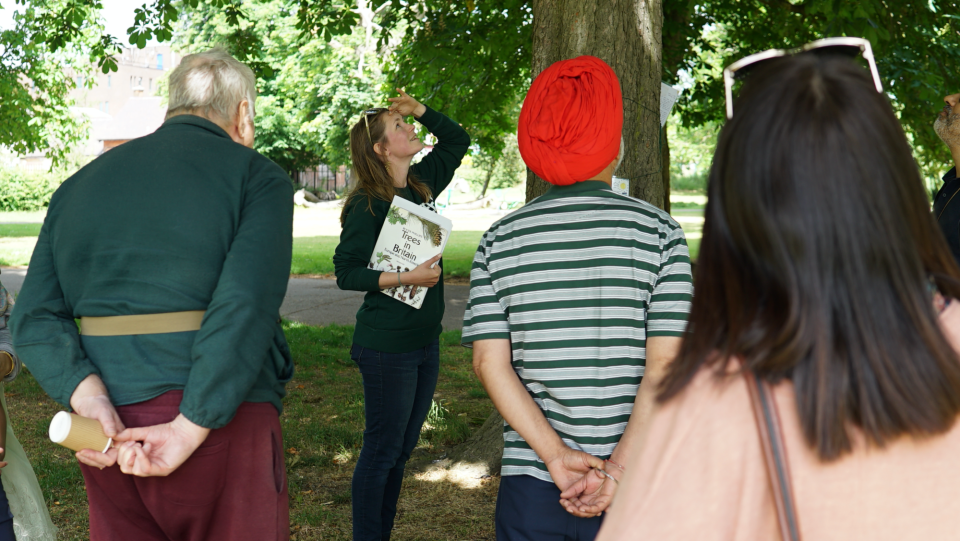 12 pm - 12:45 pm
Join us in learning the art of tree identification and pick up some hints and tips to help you develop your skills. No tree identification experience required!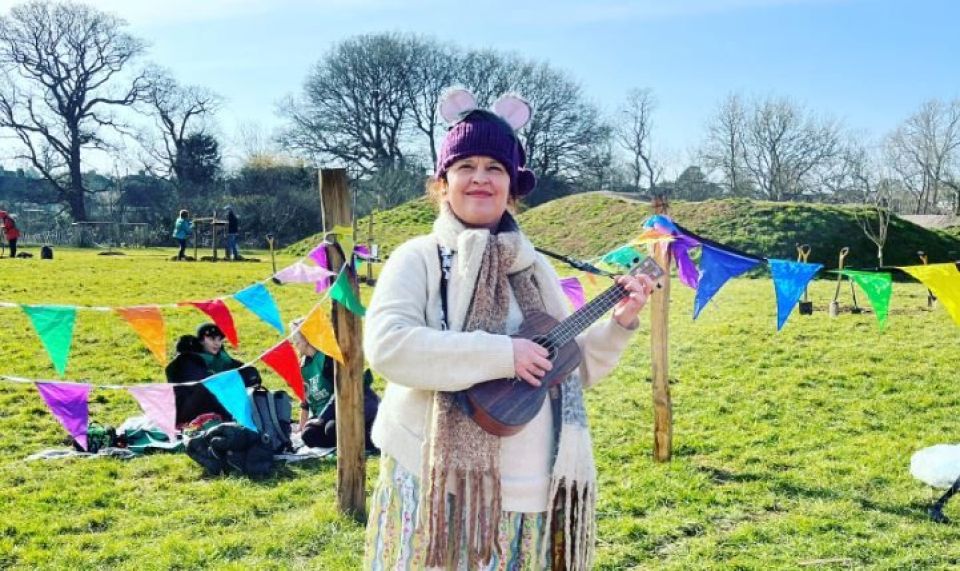 Storytelling for All with Bernadette Russell
Start times: 12:30pm, 1:30pm, 3pm
Join Bernadette, a storyteller, theatre maker and award winning kindness campaigner. Enjoy an immersive, interactive, and memorable adventure of traditional and original stories. Bernadette inspires fun, encouraging us all to increase compassion, kindness, empathy and self-confidence through storytelling.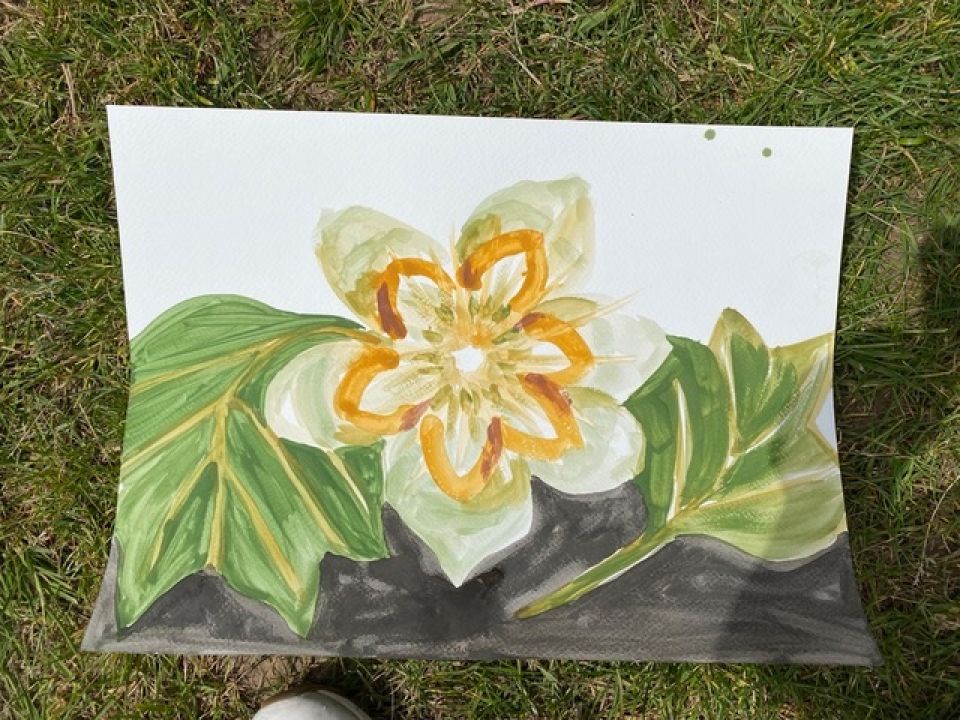 Natural pigments painting workshop
11:30am - 1pm
1:30pm - 3pm
Join Gail for a nature-led creative painting workshop in which participants are invited on a 20 minute walk to identify different trees, plants, leaves and wildlife.
Collect natural materials for the still life table, which provides an inspiring collection of objects to be observed for painting purposes. Learn to paint with child friendly natural pigments on specially selected watercolour paper.
Painting sessions are suitable for all age and abilities.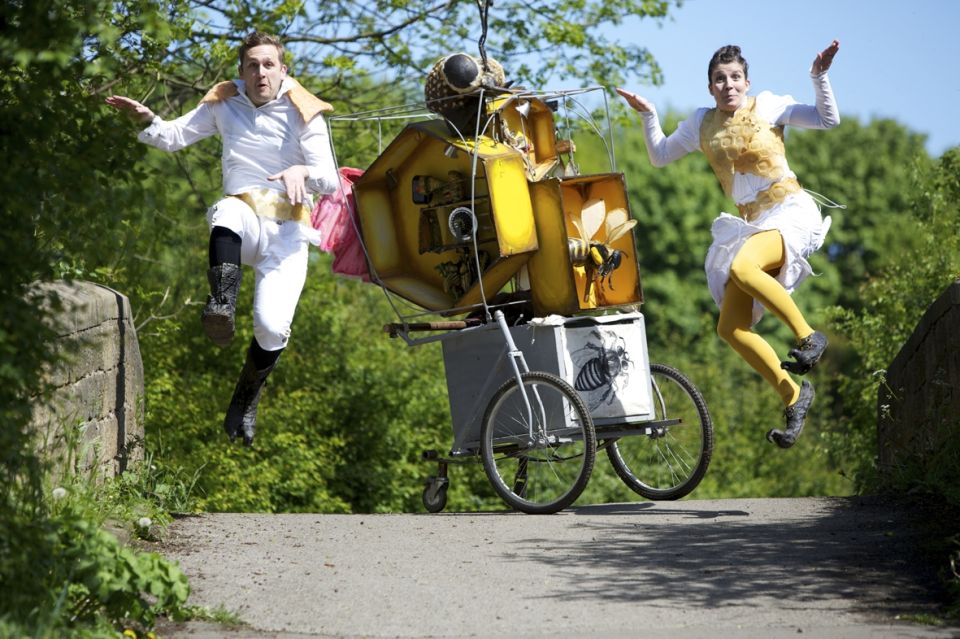 Bee Guides Bombus and Borage have left the Hive with the Bee Cart – their mobile world of interaction and surreal but true information exploring all things Bees and Pollination. Developed from our acclaimed touring installation-show HONEY, the Bee Cart is an exciting, accessible walkabout theatre piece for audiences of all ages. Commissioned by The British Science Association.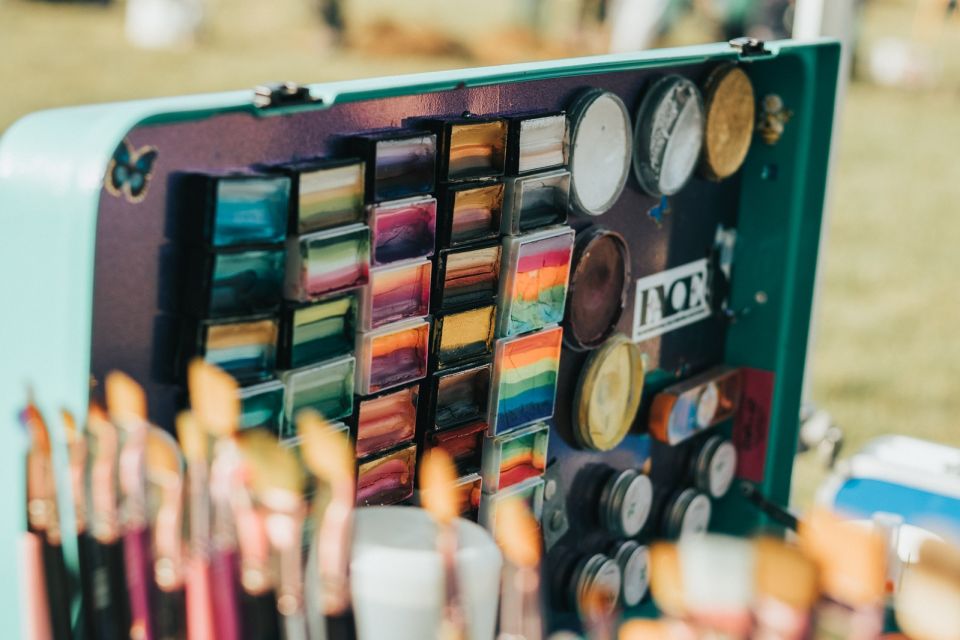 12pm - 2pm
Get into the Ealing Tree Festival spirit with colourful nature-themed face paints. Aga is a highly skilled face painter, offering a wide variety of designs and patterns to match a day's celebration of urban trees.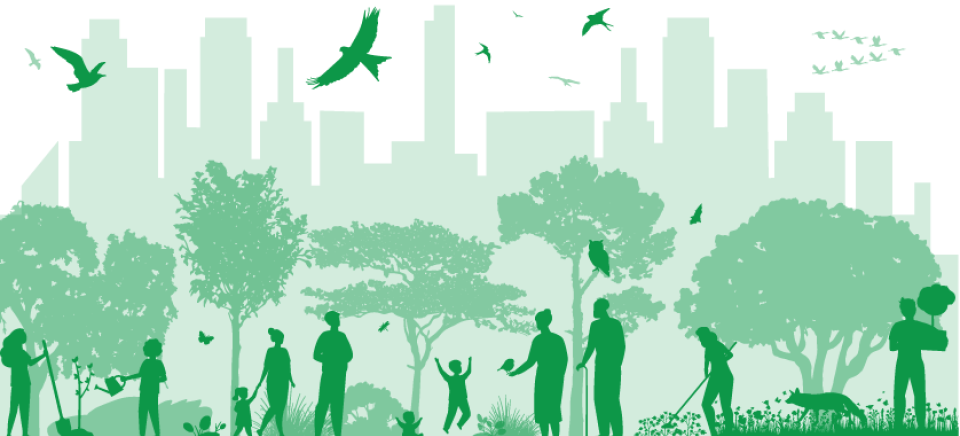 Ealing Wildlife Group (EWG) is a volunteer-run donation-funded Constituted Community Group that focuses on community involvement to protect local wildlife through education, conservation and collaboration, preserving the natural spaces and species in the London Borough of Ealing.

EWG will join us at Ealing Tree Festival, highlighting their current projects - with a focus on hugely exciting rewilding and conservation projects and volunteering opportunities.
Head to https://ealingwildlifegroup.co... for more information on Ealing Wildlife Group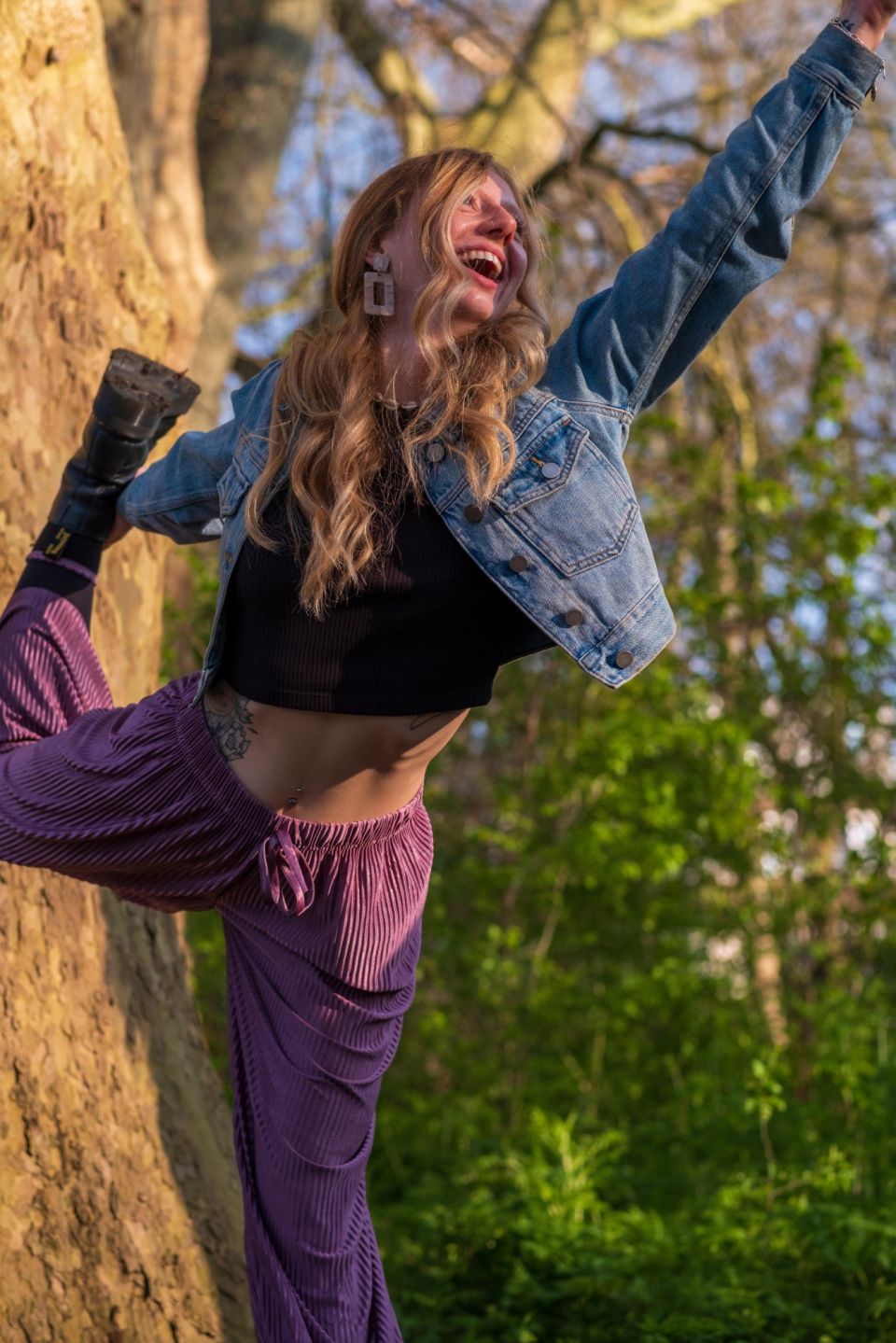 3:30 pm - 4 pm
Let's wind down together from an activity filled day with a 30-minute Yoga flow. What better way to end the Ealing Tree Festival than by connecting one final time with the nature around us and yourself.
In the Yoga Philosophy the connection to nature is outlined in so many different ways. Delve deeper into how we can connect with the elements around us through the practice of Yoga.

This is a flow suitable for all levels. Luisa recommends wearing clothing that allows you a range of movement. If you would like to bring a mat, towel or blanket with you you are more than welcome to do so.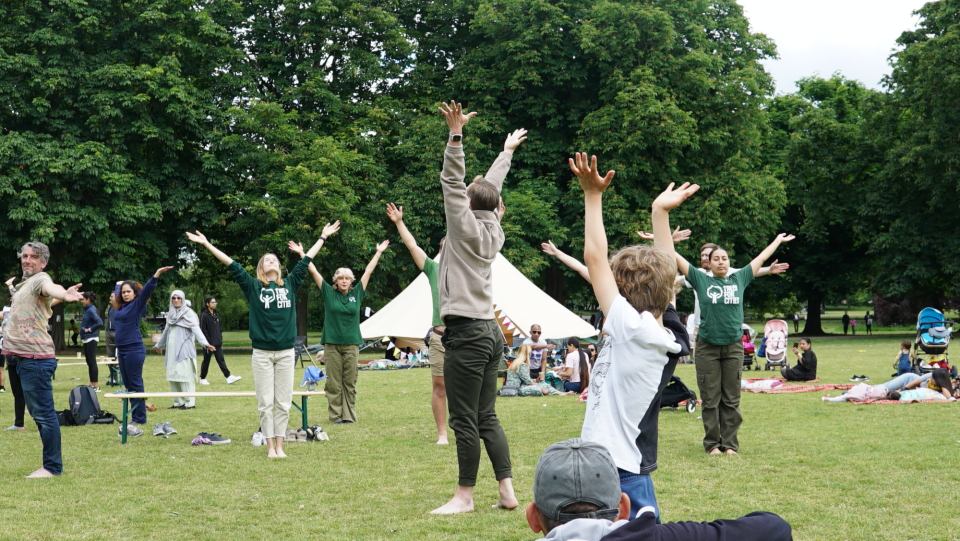 How do I get there?
The address for Southall Park is Uxbridge Road, Southall UB1 3AF. Southall Park is 10 minutes walk from Southall Station or buses 195, 207, and 427 stop on the main road outside the park.
There is no need to book in advance, just simply turn up on the day with your friends and family. Everyone is welcome!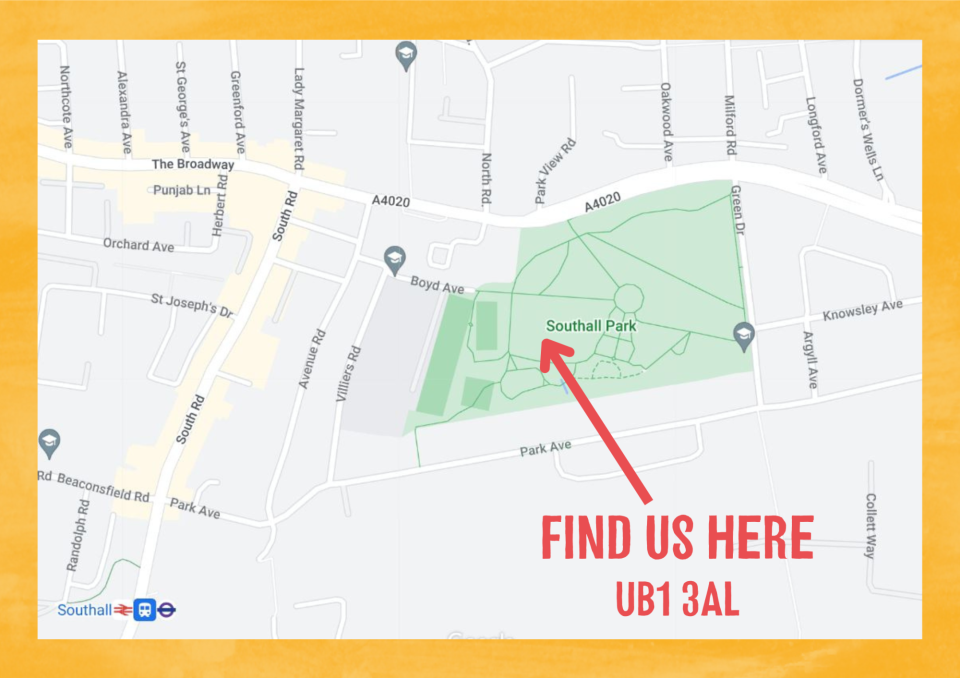 Access For Everyone
We aim to make all our events, workshops and activities as accessible as possible, for everyone to enjoy.

If you have any specific needs or would like to make a suggestion to improve accessibility, please call our Engagement Coordinator Dan on 07825 541130 or email danielsnell@treesforcities.org. He will be happy to support you with any concerns.
For information on site access, parking, toilets, and activity accessibility, please read the document via the button below.
Unfortunately, there will not be a BSL interpreter present at this event.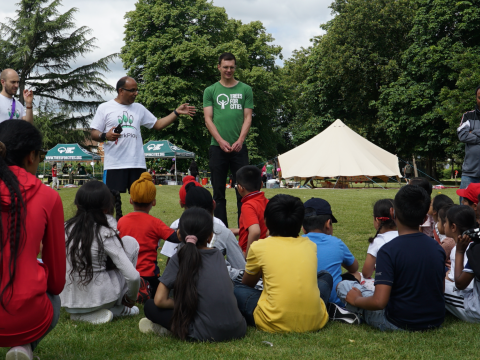 Share your updates!
We'd love to see what you get up to at the Ealing Tree Festival so make sure to share all your fantastic pictures on social media using the hashtag #EalingTreeFest and tag @TreesforCities!
Donate to Trees for Cities and together we can help cities grow into greener, cleaner and healthier places for people to live and work worldwide.
Donate