Record number of cities in UK recognised as Tree Cities of the World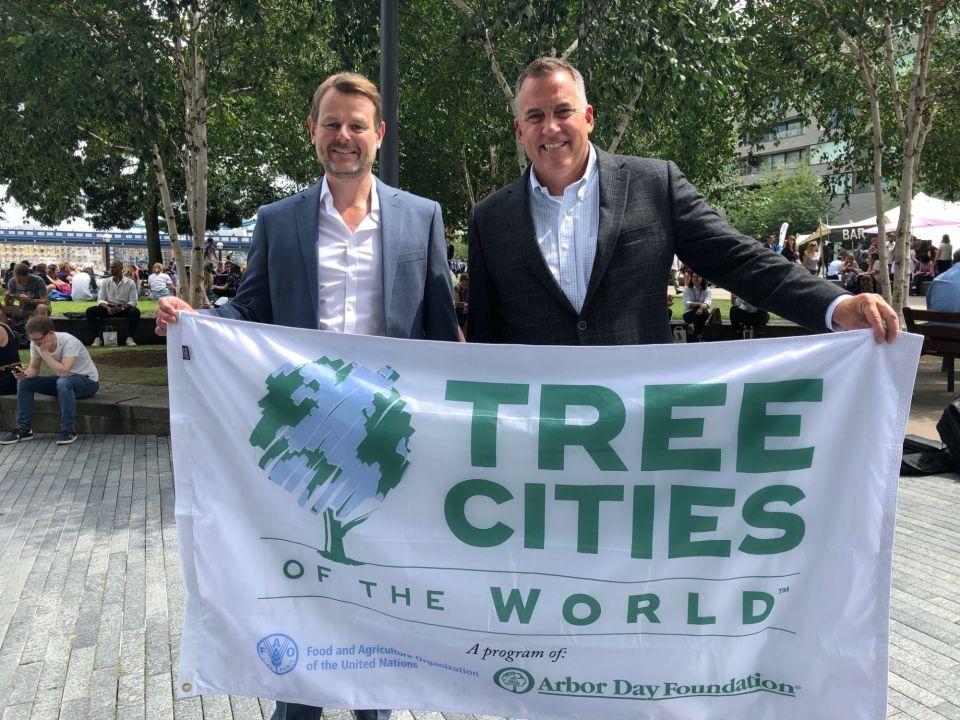 19 cities in the United Kingdom received special recognition as a Tree City of the World for their commitment to effective urban forestry management.
Tree Cities of the World is a programme founded by The Arbor Day Foundation, the largest membership non-profit in the world dedicated to planting trees, and the United Nations' Food and Agriculture Organization (FAO) to recognise cities around the globe that have committed to creating and maintaining green spaces in their community. At Trees for Cities, we lead and drive forward the initiative in the UK.
Each year the Tree Cities of the World programme grows and adds another set of incredible cities around the world. Every single city recognised as a Tree City of the World has done a fantastic job of making urban forestry a main focus in its community. Through this recognition cities all across the world will join a network of like-minded communities who recognise the importance of planting trees to contribute to their urban tree canopy.

Dan Lambe, Chief Executive, Arbor Day Foundation
The total 19 Tree City of The World recognitions is a new record for the UK and an increase from the 11 towns and cities who were awarded the title the previous year. This year's cohort also marks the first Tree City of The World in Wales with Cardiff taking home recognition.

The towns and cities granted Tree City of the World status include:

Birmingham

Bradford
Cardiff
Chesterfield
Coventry
Hull
Ipswich
Leeds
Middlesbrough
Newry Mourne & Down
Portsmouth
Sheffield
Solihull
Welwyn Hatfield
London also saw major success with the boroughs of Barking & Dagenham, Camden, Ealing, Redbridge and Tower Hamlets who also took home a Tree City of The World title.

OUR SPOTLIGHT CITIES
Trees for Cities is proud to have been able to support these spotlight cities with their tree planting drives.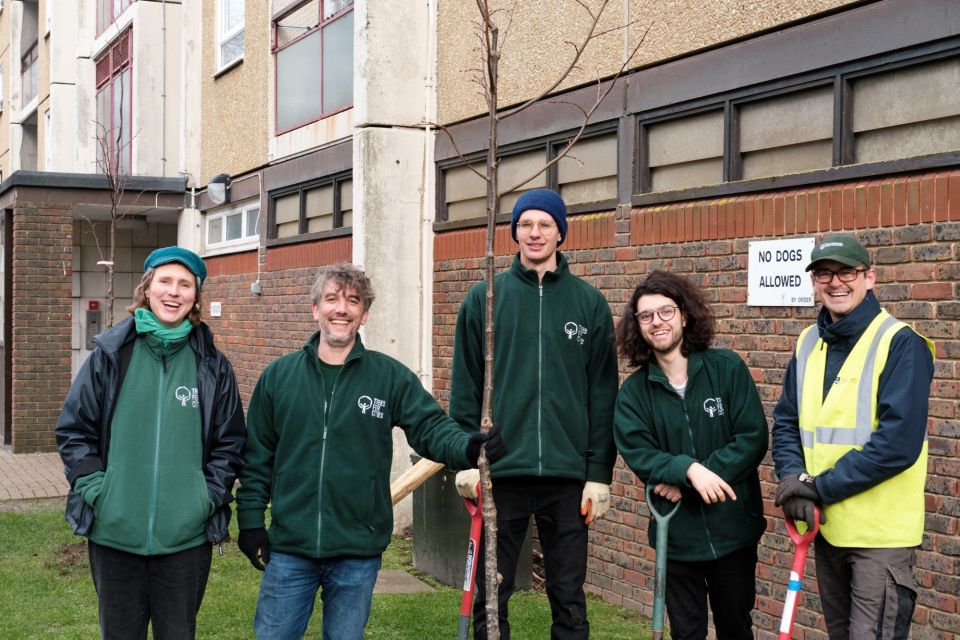 Portsmouth
The UK's only island city and second most densely populated after inner London, Portsmouth's dense, coastal urban environment has left space tight for trees and has a canopy cover of only 9.8%. However, these challenges have only raised their ambitions and the council has committed significant capital funding towards greening the city and increasing tree canopy cover.

While many coastal areas feature lower canopy covers, Portsmouth's particularly low cover percentage saw it join our national Forgotten Places: Greening Coastal Towns and Cities programme - addressing particularly low cover in towns and cities around the coast - alongside six other seaside towns and cities. As part of this cohort, Portsmouth has begun a programme of community planting projects; seeing over 5000 new trees planted this season with the community already. Trees for Cities is delighted to see Portsmouth become a new Tree City of the World as part of the Forgotten Places programme – showing the city's commitment and dedication to changing its landscape for the greener.
Leeds
Driven by research conducted in partnership with the University of Leeds and the United Bank of Carbon, the city has a data driven, carbon led tree strategy that guides its planting – with a target of doubling its tree cover by 2050 to tackle the city's emissions. This data led strategy to significantly increase the city's cover will see Leeds with a 34% canopy by 2050 and requires 50 hectre a year in new cover to get achieve it. With both data and strategy behind it, Leeds is a leading city in the UK when it comes to vision and tree planting.
One of Trees for Cities longest standing partners, we're proud to support the pioneering work being done in Leeds. We have supported with over £500,000 in funding and more than 160,000 trees to date. This season saw a further 44,000 trees planted across 5 sites in the city – including the largest urban planting project we supported in the UK this year: with 28,000 trees going into the site of a disused farm. Trees for Cities looks forward to continuing to support Leeds and their well deserved Tree City of the World status.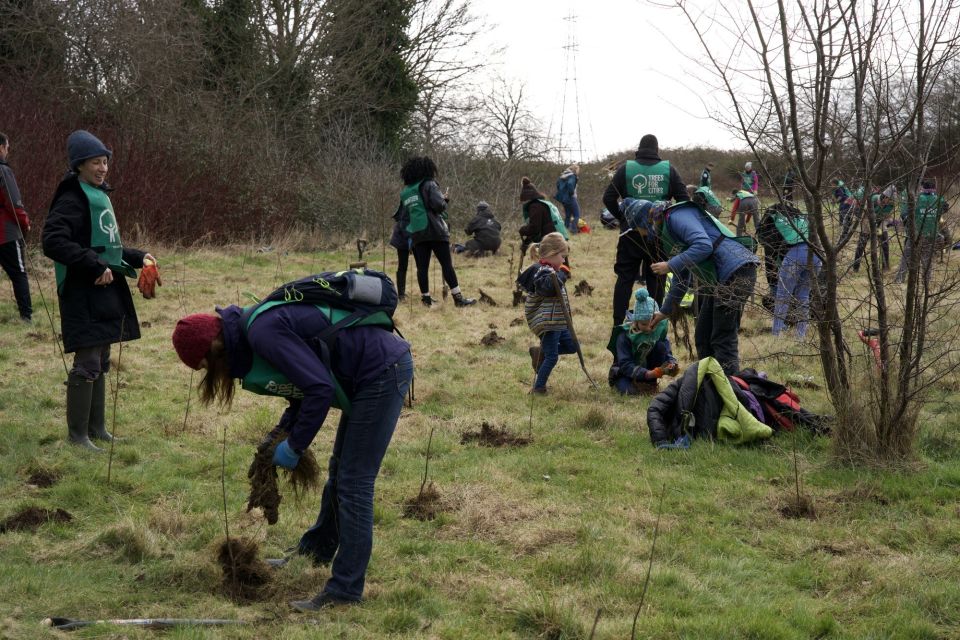 Cardiff
With a strategic vision of raising its already impressive canopy cover to 25% over the next ten years, and the largest urban area in Wales, it is fitting that Cardiff is the first Welsh Tree City of the World. Cardiff's ambitious program shows its commitment to its city's trees; through their "Coed Caerdydd" scheme, they aim to not only drive forward tree planting but also inspire residents across the city to protect trees and raise awareness of their importance, ensuring the community play an active part in reaching this goal. This multi year engagement and tree planting project supports the city's "One Planet Cardiff" strategy – with a vision to be carbon neutral by 2030 in addressing the climate emergency.
We're delighted to have worked with Cardiff for a number of years, and have recently begun work on an ambitious multi year schools programme in partnership with the council – working to deliver greener school grounds throughout the city and engage children with food growing and tree planting. This season saw a spectacular community tree planting day with Trees for Cities and Cardiff Council in attendance, with over 1500 trees planted and dedicated sessions for children from local schools to plant their own trees (pictured above).
Tower Hamlets

The London Borough of Tower Hamlets (LBTH) is working towards creating a continuous expanse of tree canopy that stretches through the linear parkland of the borough. LBTH is one of the most densely populated boroughs in London. LBTH recognises the need to ensure access to and the quality of its green open spaces and has developed a "green grid strategy" in response to the borough's deficiency in open space, and seeks to improve access to existing open spaces.
Tower Hamlets Council have worked with Trees for Cities to deliver tree planting projects. Examples from recent years include a project at Mile End Park where 21 standard trees and 1000 whips were planted, and a project at Furze Green where 24 standards, 350 whips, 2380 plants, and 1000 bulbs were planted.

Lets plant more!
The Tree Cities of the World programme aims to create more green spaces in urban areas by recognising the cities that are committed to the care and management of their urban tree canopy. Its shared vision is to connect cities around the world in a new network dedicated to adopting the most successful approaches to managing urban trees and forests.
Planting more trees is the quickest and easiest way to improve a city's tree canopy and cover and invest in a brighter future. The programme provides a network of like-minded city leaders in urban forestry to celebrate and share best practices to cultivate greenery in the community.
For more information or to apply, please visit https://treecitiesoftheworld.org/.
Donate to Trees for Cities and together we can help cities grow into greener, cleaner and healthier places for people to live and work worldwide.
Donate