Celebrating our 30th anniversary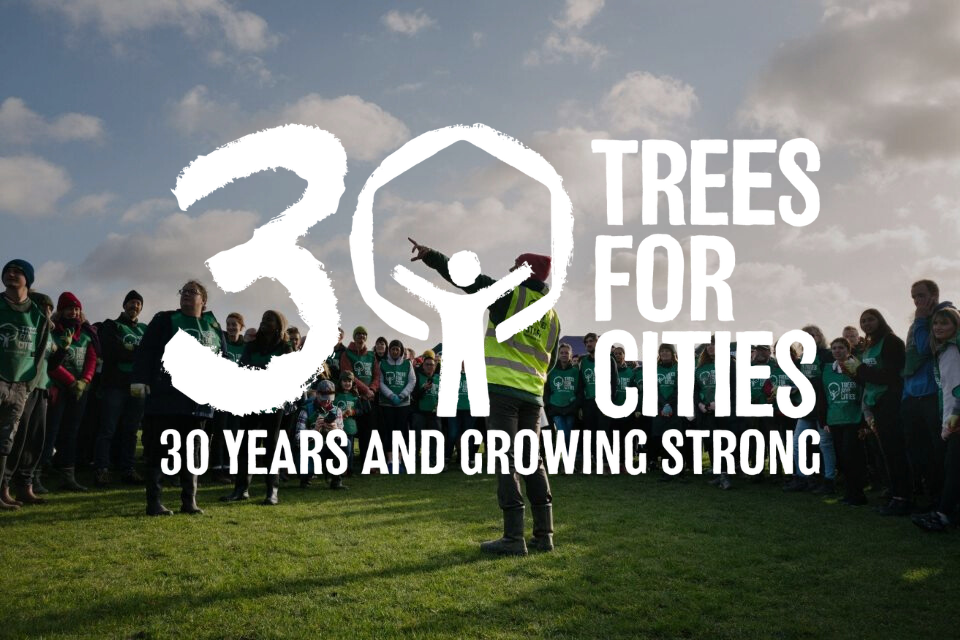 We are 30! 🎉 This November marks three decades of Trees for Cities and getting urban trees in the ground. From our beginnings in London in 1993, we've branched out across the UK and around the world, and seen an increasing urgency for urban trees for both people and planet, in ways we couldn't have imagined. Join our celebrations: plant a tree or support us on our journey, gearing up to planting our 2 millionth tree in our 30th year!
COMMUNITY-LED FROM DAY ONE
It's been an incredible journey greening towns and cities, bringing communities together with the common goal to collectively cultivate lasting change, all the while improving lives in cities where the majority of us live. Many of you have grown with us and supported our cause, and for that we couldn't be more thankful, however big or small your contribution. 🙏

Together we have planted 1,756,739 urban trees and engaged around 200,000 people. Since launching our school programmes in 2005, we have worked with approximately 300 schools and connected thousands of children with nature, transforming urban school grounds into leafy green oases. We are so excited for the plans and potential we have to grow even more.
ENSURING EVERYONE CAN PLAY THEIR PART: URBAN TREES FOR ALL, BY ALL
As a community-driven organisation, it is integral to us that no one gets left behind in participating in our mission. We are always working to ensure that accessibility is becoming more integrated into every step of our programmes, from running inclusive planting events to delivering planting workshops for SEN schools and colleges. For this we thank our 20 year partnership with the Sensory Trust, a leading authority on inclusive and sensory design. Elevating youth voice and engagement is key to our work, from our Youth Programme participants who learn about tree planting on the ground, to our Youth Panelists who are a necessary sounding board and starting point for many of our ideas.
HOW YOU CAN CELEBRATE WITH US

PLANT TO THE BEAT
Join us in doing what we do best and plant trees on Horsenden Hill in Ealing, London, on Saturday 2nd December 2023. We'll be going back to our roots and planting to feel-good tunes, and hosting family-friendly activities with brilliant views on the hill over the capital. In partnership with the Sensory Trust, there will be a British Sign Language Interpreter and a relaxed sign-in option.
PLANT WITH US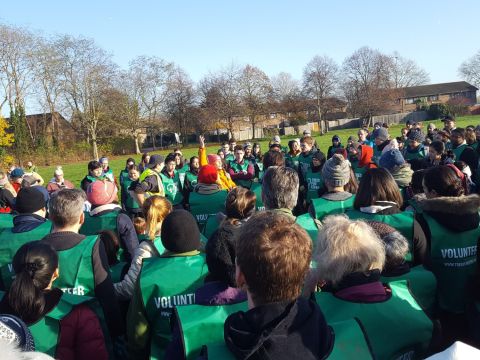 TWICE THE DONATION IMPACT
We are taking part in The Big Give, the UK's largest match-funding campaign, which will run from midday 28th November until midday 5th December. During this period, any donation you make will be doubled at no extra cost to you. This means that every £1 you give is worth £2, or a £25 donation is worth £50!
OPENING SOON - 28TH NOV!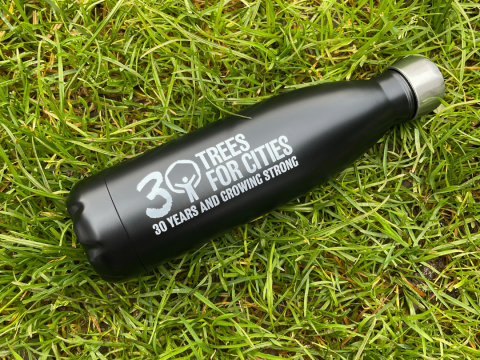 30th anniversary merchandise
We have 30th Anniversary merchandise newly available, beginning with a new range of stainless steel bottles. Keep your coffees hot and water cold out and about, such as at a planting day! They are sustainably-sourced and all profits go towards our mission to improve lives by planting trees in towns and cities. Buy them from our web shop and at upcoming planting events.
Buy your bottle
VOLUNTEERS OVER THE YEARS
We'll be sharing stories from our brilliant volunteers about what Trees for Cities means to them. If you would like to share your story, tag us @treesforcities and hashtag #30GrowingStrong, or email info@treesforcities.org.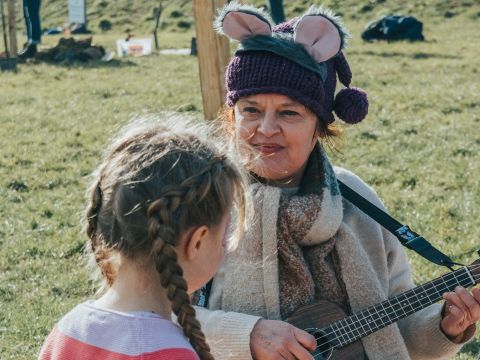 BERNADETTE: STORYTELLING EXTRAORDINAIRE
Bernadette Russell started volunteering with us in 2018 and soon became a Tree Planting Supervisor, which is still one of her favourite things to do: "Instead of despairing about climate change and wondering what I could do about it, here I had found something that was tangible, practical and doable in the company of supportive, fun, and generous people." Bernadette has also transfixed audiences with storytelling and music at our events.
Bernadette's story
SUPPORTERS OVER THE YEARS
We are ever thankful to the individuals, groups and organisations who have supported our cause to date. It is their help that enables us to cultivate lasting change in towns and cities.

Here are some of our patrons that you might recognise!
Trees for Cities' Edible Playground initiative is really exciting. It gives kids the opportunity to get outdoors and get their hands dirty growing fruit and vegetables. I'm pleased to support this great project by providing ideas on what the kids can cook with the fruit and veg they have grown. Please support Trees for Cities so that they can continue to create Edible Playgrounds in our schools.

Jamie Oliver, Chef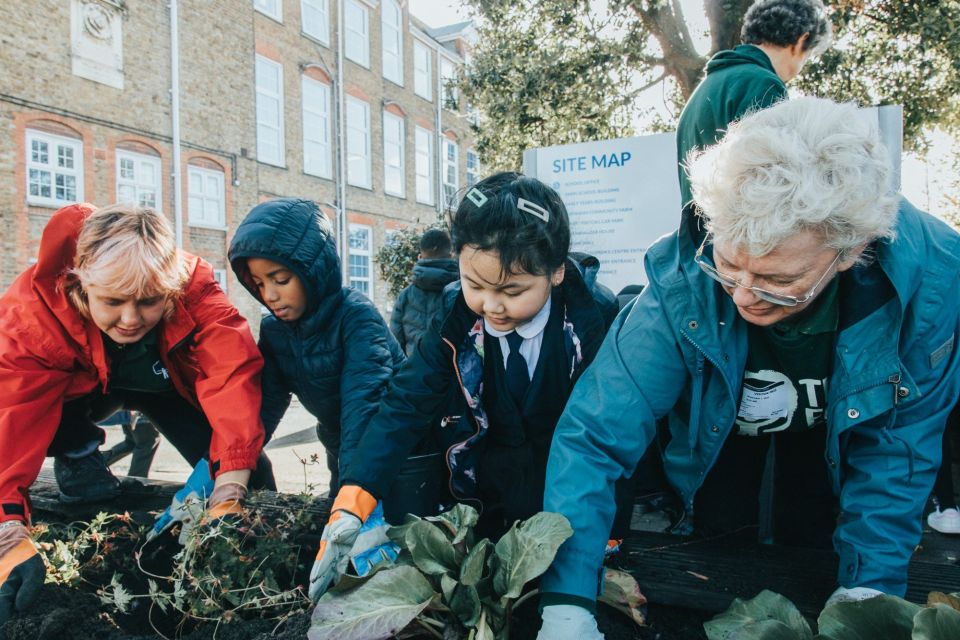 Trees for Cities is a tree-mendous way for people to get involved in planting, learning about, learning to appreciate and learning to love urban trees.

Alistair McGowan, Impressionist
Trees for Cities has already done a lot to green our cities. I'm proud of what they have achieved already, but with your help, we could still do more.

Jon Snow, Television Presenter & Journalist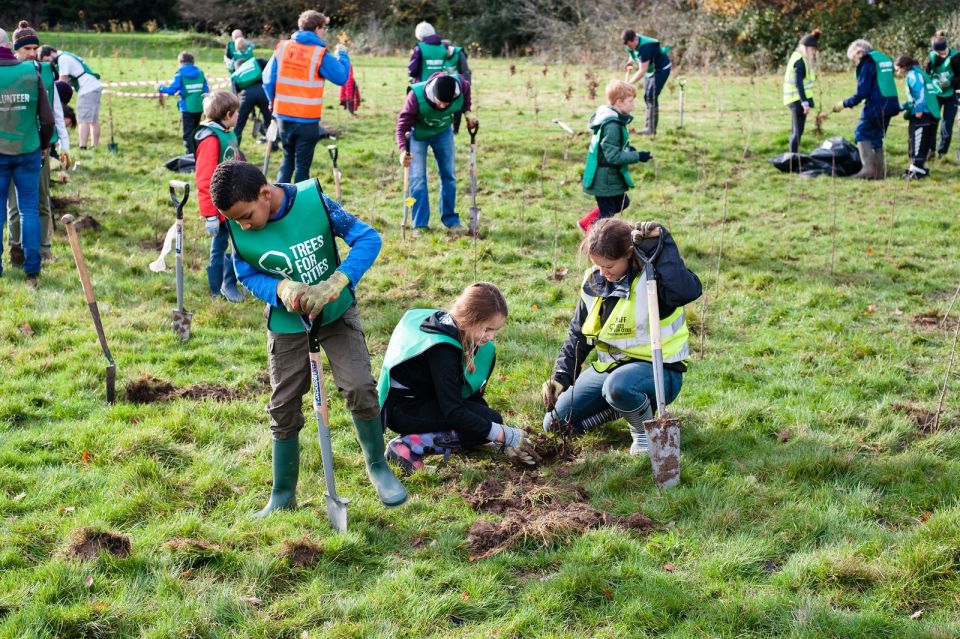 HELP US TO KEEP GROWING
As we look ahead to the next 30 years and beyond, we have ambitious plans to scale up our work to plant more urban trees to benefit more people in towns and cities. Providing cleaner and cooler air, sinking carbon to fight climate change, providing a home for wildlife…their list of benefits goes on!
There is still lots of work to be done, and in the face of climate and social crises, our role has never been more urgent. We need communities at the forefront, and collective action to give our cause necessary momentum. For this, we need your help - donate so that we can continue to invest in urban trees and communities.

A special thanks to the players of the People's Postcode Lottery for their continued support, which has enabled us to keep planting more urban trees for people and planet.
Donate to Trees for Cities and together we can help cities grow into greener, cleaner and healthier places for people to live and work worldwide.
Donate