​A day on Wimbledon Common with Peter Fiennes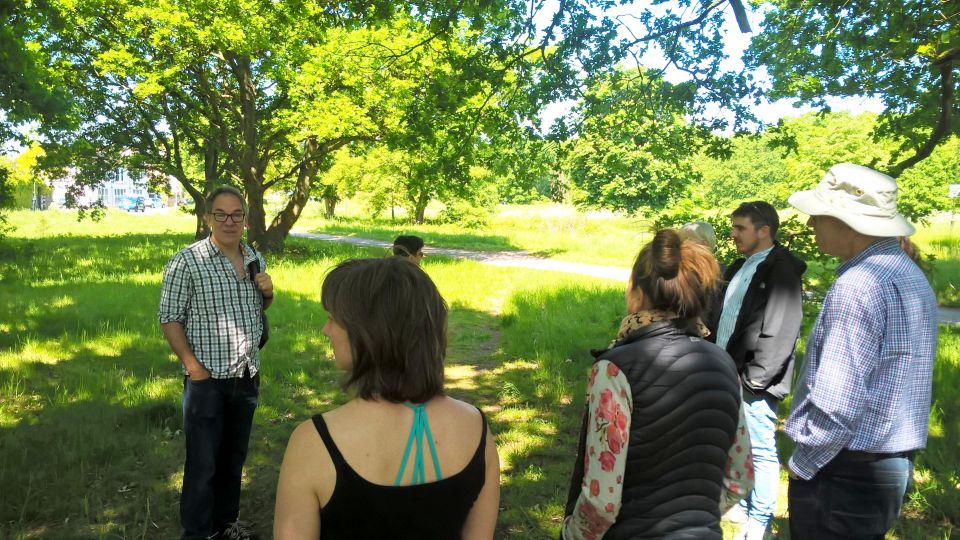 This May heralded London's first ever Urban tree Festival, the brainchild of the Museum of Walking. They ran many different tree events across the city, from photography to poetry, from mindfulness to tree identification. On a balmy and bright spring Saturday, Gurnam Bubber tagged along on author Peter Fiennes' Tree walk on Wimbledon common.
With the sun beating down on us, a small but intrepid group gathered around Peter, who drops in that London is in fact a forest. The city easily passes the 20 per cent tree cover mark to officially qualify. 

The woods of Wimbledon common are old but it doesn't have ancient trees. It's a secondary woodland, this means that at one time it was an un-wooded cleared area, unlike primary woodland which has never been cleared by human activity. Oaks, the majority, make up a third, followed by many other species native and non-native, including alder, beech, lime, hornbeam, birch, rowan, willow, sweet and horse chestnuts. Wild apple, plum and pear fruit trees pepper the younger woodland areas. Who knew there was so much tree cover and such diversity right here in the middle of the big smoke!
Peter leads us to the shade of a nearby grove of trees, "a realm free of time and sky." We pause between worlds, one drenched in light, heat and humdrum life, the other green, mysterious and shady. It beckoned us on. Our merry band bravely steps over the threshold to enter a cool, dappled bower clothed in a varied palate of fresh spring greens and earthy browns. Tranquillity and birdsong descend around us and intoxicating woodsy scents envelope us.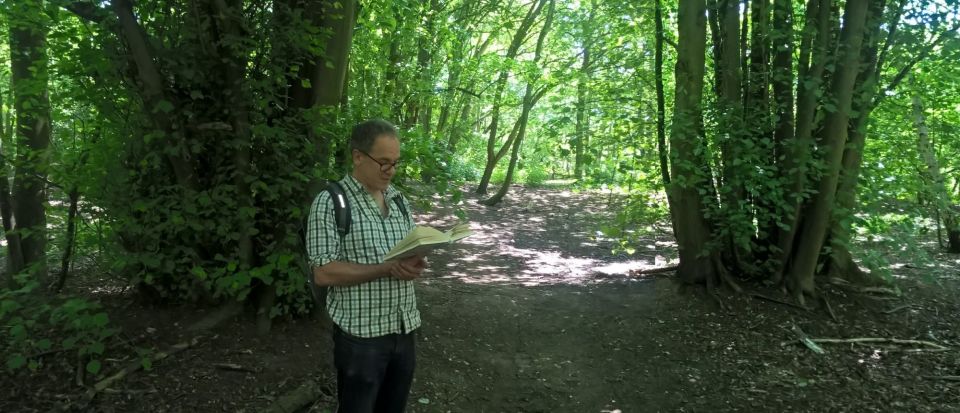 As we thread through the trees, we stop now and then. Peter plies us with interesting facts, tit bits of obscure wood folk lore and reads out snippets from his hymn to trees, the book, Oak and Ash and Thorn. 
For instance, did you know that Rowan trees ward off witches? Do you have vicious beasts attacking you? There's a simple solution according to Pliny the elder. Throw holly leaves at the charging beast to stop it in its tracks and make it kneel at your feet. Something to keep in mind when you're next out walking the dog.
Entranced, we move deeper through the woods. Peter wonders:
Is there a spirit in the woods? There's something in the woods, you can feel it.

Peter Fiennes
Artists and mystics have long been tapping into it as a source of inspiration, access to something more than the eye can see. Poets like Coleridge and Wordsworth supped on this nectar and transformed the literary landscape of their day creating the hugely influential Romantic movement.
I wonder, how we ever forgot the beautiful otherworldliness of our trees and its impact on us?
We form a hushed semi-circle around Peter in the leafy shadows of a gorgeous old lime tree with multiple trunks and he starts reading from his book. 
"…I am thinking of lime trees, and their slow retreat from the woods, and of Coleridge writing in his prison bower, and of the time I came walking over the South downs, scrambling down wild rabbit paths, through over grown woods of ash and chestnut, and then, …I slipped and sprawled into the last remnants of a lime tree copse, about ten immense trees hidden in fountains of green from the grip of the modern world. They must have been here when the Saxons carved their farms from the Sussex Weald, or even earlier, when the Romans drove the British tribes from their hilltops and forests and marched them into slavery…I find a very young lime sapling. It is heart breaking, the sight of this slender thread with its five green leaves and blood red buds, hiding in the last refuge of a long-vanished forest. I don't know why, but staring at this sapling, with the holy warmth of these lost limes at my back, fills me with grief and joy. In fact, I think there's only one thing I do know, as I sit in the shadow of Coleridge, waiting for magic to emerge from the woods on this first day in May. If you go looking, it won't be there." 
Extract from "Oak and Ash and Thorn"
But the glint of magic definitely glimmered for our little group as it meandered through Wimbledon Common's little woods. Too soon we arrive at the boundary line again, time for the spell to be broken, to step back into the harsh, brittle brightness of the known world. For a brief moment, the urban pocket of woodland we were winding through transformed into an enchanting and ancient place. An oasis, filled with earthy greenery and the delights of shadows and myth, we resided in this other world fleetingly. At the end, we return blinking owlishly, into London sunshine with a little more magic in our hearts and leafy thoughts in our minds.
I wanted to know, what made Peter such an advocate for trees? What inspired him to write his book? So sitting on a worn wooden bench amongst the grasses and the afternoon sun scorching us, we had a chat about all things tree.
Read Gurnam's interview with Peter here: A leafy world of magic and wonder: Interview with Peter Fiennes
Part 1/2
Donate to Trees for Cities and together we can help cities grow into greener, cleaner and healthier places for people to live and work worldwide.
Donate