A new Edible Playground is born at Olga Primary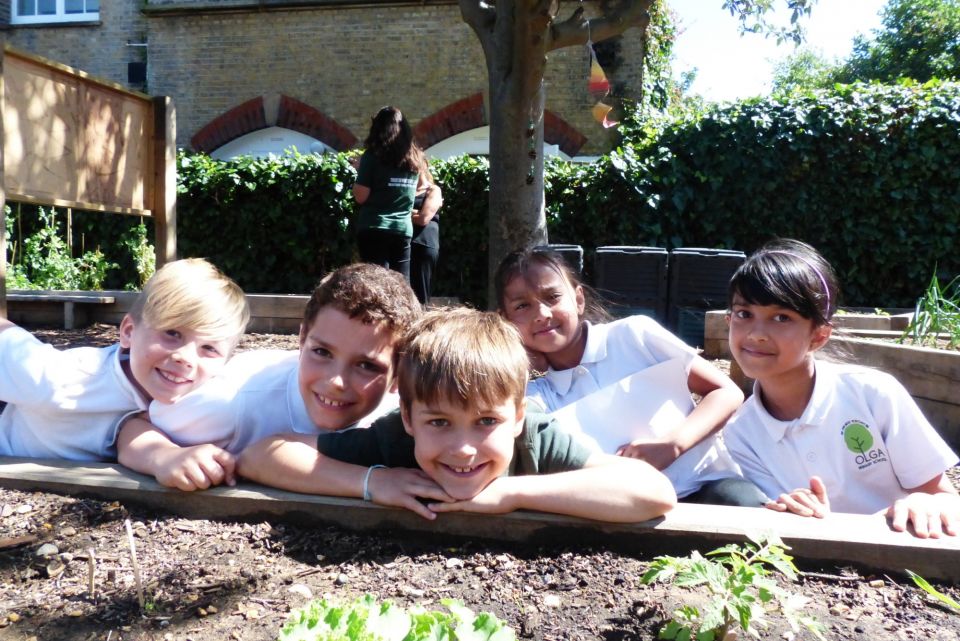 Linda Ewers, head teacher at Olga Primary School talks to us about their recently launched Edible Playground, and how the school community have embraced it as an exciting place to learn about growing and eating healthy food, and so much more. 

My involvement with Trees for Cities began in April 2017 with an email asking for expressions of interest in an Edible Playground. At that time, we had just moved into a new building with a new but empty playground. I had allocated a space for making a school garden, but I had no idea how to design and build one, much less how to get the whole school involved in growing. So I heard from Trees for Cities at the perfect time, and I was excited about transforming our long bare patch of soil into a vegetable garden.
First, we met Trees for Cities and discussed the space available and what we as a school wanted from the playground. A plan quickly followed and was agreed. Work began at the end of November and was finished in early January. I have to say that Trees for Cities have been the easiest contractors I have ever worked with. They listen, bring lots of expertise and do what they say they will do when they say they will do it! They have worked very hard to make sure that the playground meets our needs.
The plan was fluid too, taking the suggestions of the wider school community into account. For instance, some of our Bengali families recommended growing turmeric, okra and lai shak (a type of spinach), which we are proud to have in our garden. Guides to sowing seeds, weed identification and much more were provided and two teachers have attended training throughout the year to learn key skills and pass them onto other staff. Jess from Trees for Cities has visited Olga too, doing tastings with the children so that they could help to decide what to plant and supporting with sowing seeds and planting out.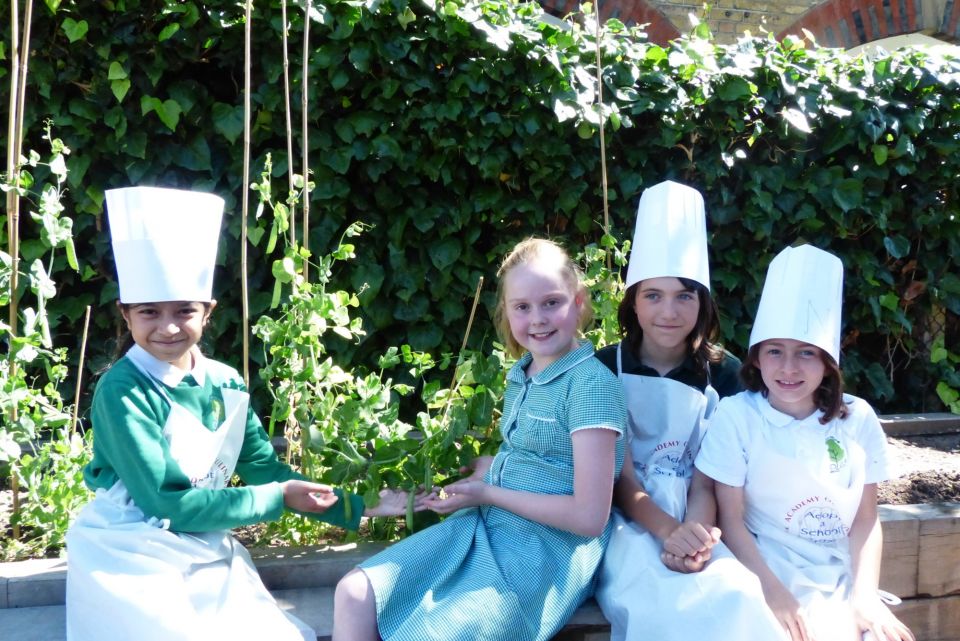 So, what have been the highlights of our Edible Playground?
A bare patch of ground has been completely transformed.
During break time, children water the plants and spend time studying and admiring the crops, and the wildlife living it in. They're enthralled by it! 
Our children are learning about, and are actively taking part in the food growing cycle: sowing seeds, planting, weeding, watering, cropping, cooking and eating. Hopefully they will also be harvesting some seeds in order to grow more crops next year. 
Some of the children have tasted (or will be tasting) food that they would never normally eat: radishes, herbs, broad beans. And some of them have enjoyed it too!
The children treat the space with respect and have learned that it is a quiet area. They really do care about their Edible Playground, which is wonderful to see. 
Last but not least, it's inspired some incredible creativity. Year 3 pupils, who studied persuasive writing, wrote descriptions of a salad dish they had made using tomatoes and basil from the Edible Playground. Here is one example you'll enjoy:
"Have you ever thought of growing your own juicy, ripe tomatoes? It is a feeling like no other, it is seriously the best feeling ever. Every day, you will find yourself running out of the back door to pluck the tomatoes off the stem. These ripe, organic tomatoes will be round and sweet. They will go very well with feta cheese and watermelon. This salad is unmatchable."

Olga Primary School pupil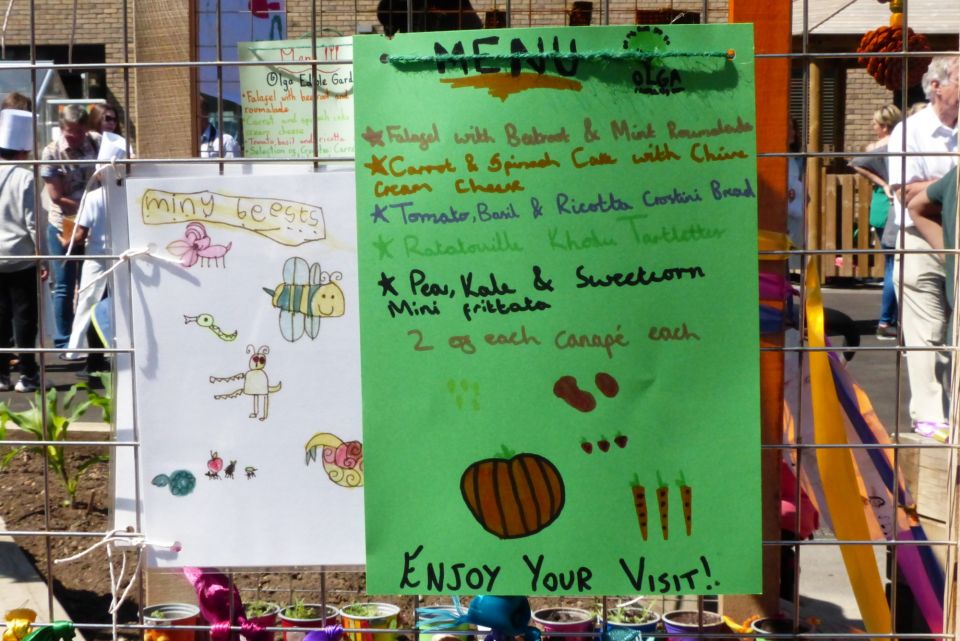 That writing is from a child who is really engaged by what they are learning and I'm sure while you read this, you're thinking about how you're going to grow your own and make this salad! 
Moving forwards, my aim is for the Edible Playground to become embedded in what we do as a school: to be part of the formal and the informal curriculum; to help the children to develop healthy and positive attitudes towards food; to be an oasis of calm and greenery in a busy school; to be somewhere the children can learn to appreciate the environment, understand the importance of looking after it and begin to see the consequences of their actions; and to be a source of inspiration. Already, I can see exciting signs of this starting to happen.
The Edible Playground at Olga was funded by Bulb.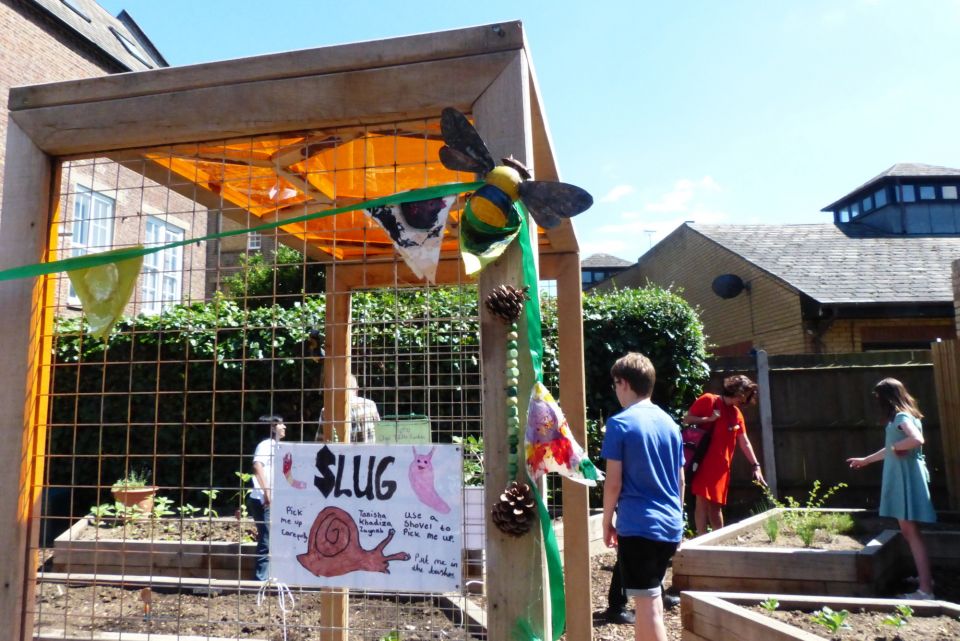 Donate to Trees for Cities and together we can help cities grow into greener, cleaner and healthier places for people to live and work worldwide.
Donate