Children's Mental Health Week: How Learning Outside Improves Wellbeing
For Children's Mental Health week, we want to highlight how beneficial it can be to pupils' wellbeing for them to have the opportunity to learn outside and connect to the environment and nature around them.
February 6th marks the start of Children's Mental Health week and it's reported that 1 in 6 children are already feeling the effects of poor mental health. This year's theme is 'Let's Connect' and as part of our work in schools, we build unique outdoor learning and food growing gardens so that pupils can not only connect with each other, but connect with nature too!
With our Edible Playgrounds, children are given the chance to learn about growing, greenery and eating healthy via our lively, interactive and multi-sensory gardens. Most importantly, pupils have the opportunity to learn outside in the fresh air and we all know that spending time outside is good for both the mind and body.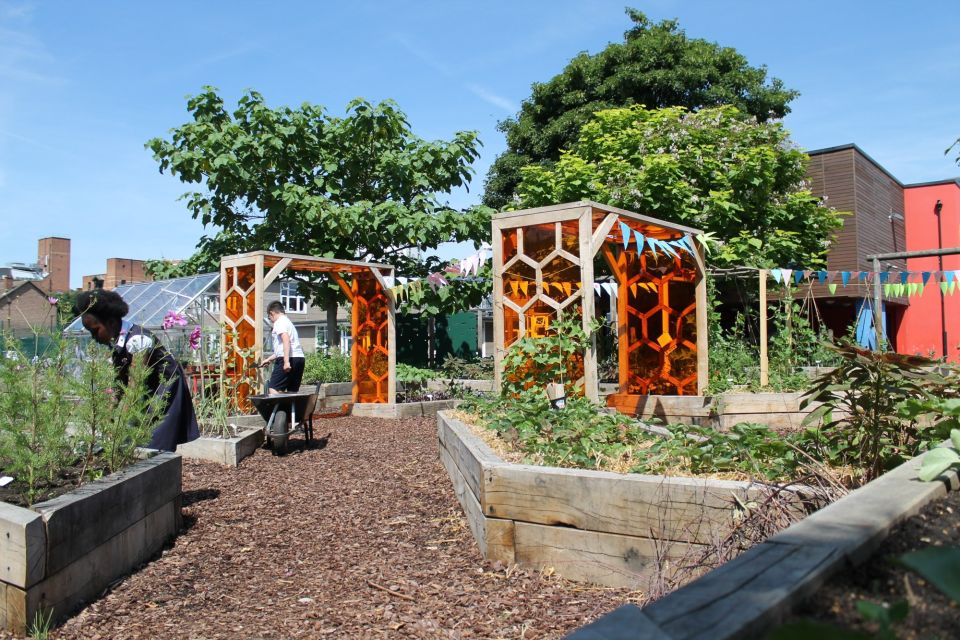 86%
of survey respondents to our Lead Teacher Survey said their Edible Playground had moderate to significant positive effect on pupils' moods, self-esteem and mental health.
It's said that a lack of playing, exploring and learning outdoors is increasingly resulting in a 'Nature Deficit Disorder' which is the idea that spending less time outside could lead to behavioural problems (Stephen Moss/National Trust 2012). However, learning in an outdoor environment can combat Nature Deficit Disorder and has been shown to increase mental health by boosting mood, confidence and self-esteem. According to DEFRA, the benefits of outdoor play and learning contribute to happy, healthy childhoods.

Since launching our first Edible Playground back in 2005, teachers have consistently told us how crucial the Edible Playgrounds have been towards increasing the wellbeing of the school in general. Tracey Langridge, Rockmount's head teacher, told us:
"Once we noticed the impact it had on wellbeing, we enrolled on the Wellbeing Award for Schools programme and a big part of our application was food growing. It all came from the work we started with the Edible Playground as a whole school project on mental health. I believe it could not have happened without the garden as it's so instrumental in getting everybody involved".

Tracey Langridge, Rockmount's head teacher
As part of our Lead Teacher Survey, we also heard outstanding feedback highlighting the support the gardens have given to both pupils and teachers, especially during the pandemic.
Snaresbrook Primary School in East London has had an Edible Playground since 2018 and teacher Lyndsey Clifton tells us the garden has been important for both children and staff's wellbeing.
"Our Edible Playground has been an invaluable resource during the pandemic. During the first lockdown the Edible Playground was used by our key worker children on a daily basis for planting, growing, playing and a quiet calm space for reflection. When the whole school was allowed back after lockdown measures were eased the playground was a great resource for all children and staff, especially for those who did not have access to a garden or green space. The sense of being somewhere which was 'alive' with flowers and vegetables growing and a haven for minibeasts proved a wonderful resource for mental well-being."

Lyndsey Clifton, teacher at Snaresbrook Primary School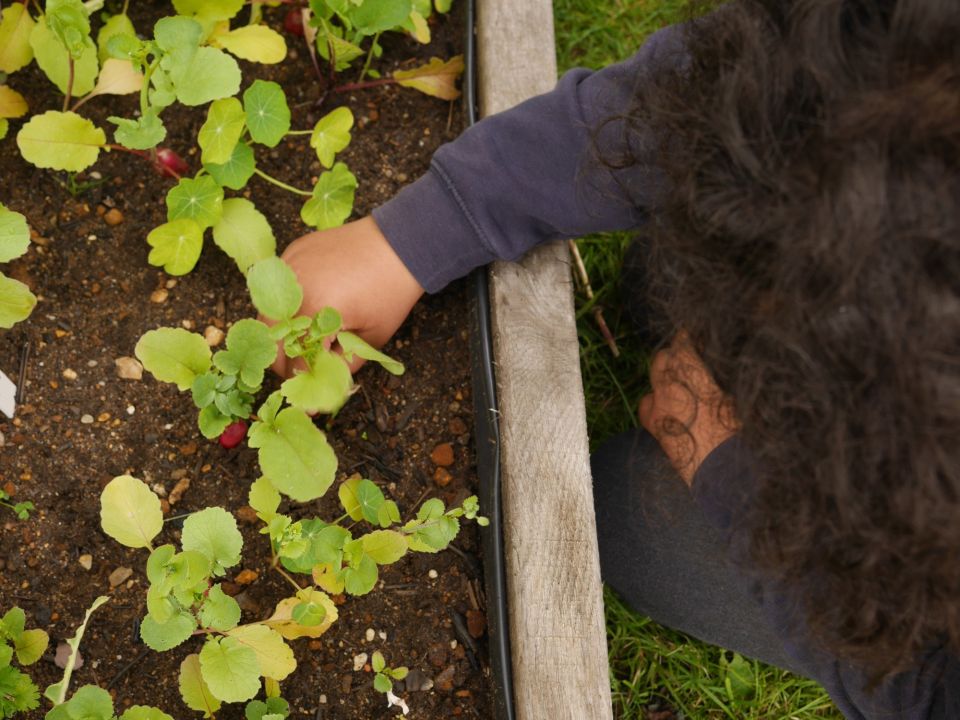 CONNECTING WITH NATURE
Learning outside in one of our Edible Playgrounds also offers the benefit of connecting with nature - for both children and adults. Regular access to nature through outdoor learning in schools enables children to develop their understanding and capacity to deal with the world around them (Malone and Waite 2016), and more and more studies are showing that spending time in green spaces helps people relax by reducing stress.
93%
of schools said the Edible Playground had a moderate to significant effect on pupils' connection to nature.
More and more research is highlighting the restorative properties of spending time in nature is an excellent remedy for improving our mental health and wellbeing. The benefits of outdoor learning are also becoming widely publicised showing that allowing pupils out of the classroom and into a more natural setting boosts their development and health in a number of ways.

At Trees for Cities, we believe children should spend more time outdoors all year round. Through our Edible Playgrounds programme, we've seen first-hand how some fresh air and physical work can decrease levels of stress, increase focus and motivation and improve behaviour overall. As pressures on children increase and mental health challenges rise, it becomes more and more vital that we utilise these easy-to-achieve benefits.
Our School Work
Find out more about the fantastic work we carry out in schools across the UK and download our free teaching resources.
Learn More

Our work is made possible thanks to our partnerships with local councils, funders, the support from players of People's Postcode Lottery and of course, our dedicated volunteers.
Donate to Trees for Cities and together we can help cities grow into greener, cleaner and healthier places for people to live and work worldwide.
Donate