Late summer harvest recipes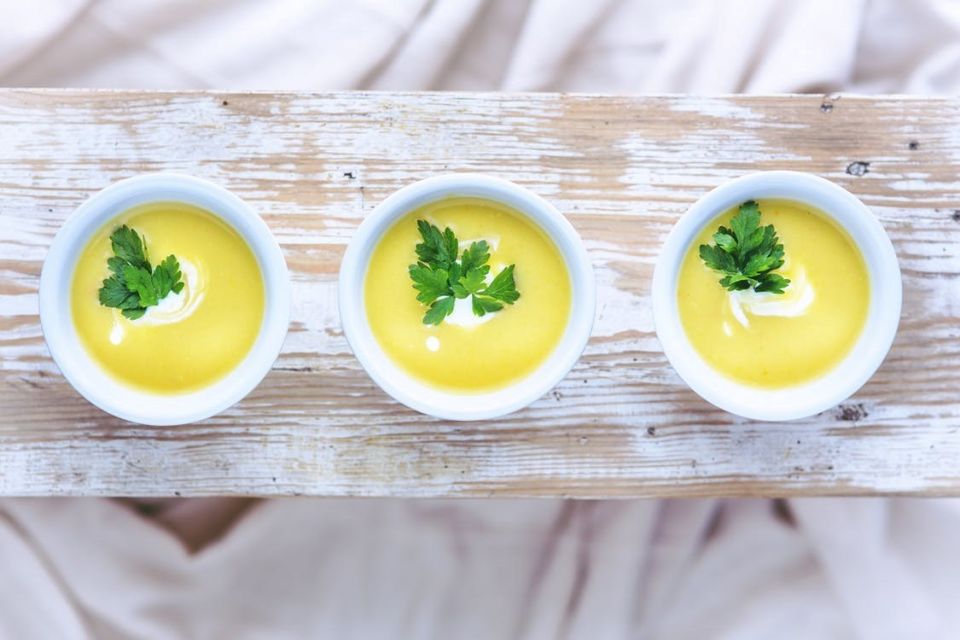 Cooking with seasonal food isn't just a great way to use up the crops in your garden, it also helps you connect with the natural rhythms of the earth and has the environmental benefit of not needing air miles to reach your plate.
This time of year, gardens are starting to get overcrowded with potatoes, cabbages, tomatoes, squash, carrots, beetroots, spinach and chard. Tempting though it may be to keep them growing to maximise size, vegetables lose flavour the larger they get, so it's best to pick them soon as they're a good, edible size. You'll want to have some recipe ideas to ensure you use everything you've grown, so here are a few simple dishes you can prepare in no time.
Potato leek soup
Fast, easy and delicious, the potato leek soup is an autumnal classic that's bound to warm the soul of any gardener.
You'll need: 3 tablespoons unsalted butter, 4 large leeks roughly chopped, 3 cloves garlic peeled and smashed, 1 kg potatoes peeled and roughly chopped, 7 cups chicken / vegetable stock, 2 bay leaves, 3 sprigs fresh thyme, 1 teaspoon salt, black pepper to taste, 1 cup double cream, fresh herbs to serve. Makes 6 portions.
Method: Melt butter in large soup pot. Add leaks and garlic and cook until soft. Add potatoes, stock, bay leaves, thyme and seasoning. Bring to boil, then turn down heat and simmer until potatoes are very soft. Remove thyme sprig and bay leaves before pureeing until smooth. Add cream and bring to simmer. Adjust seasoning when desired. Serve with garnish of fresh herbs.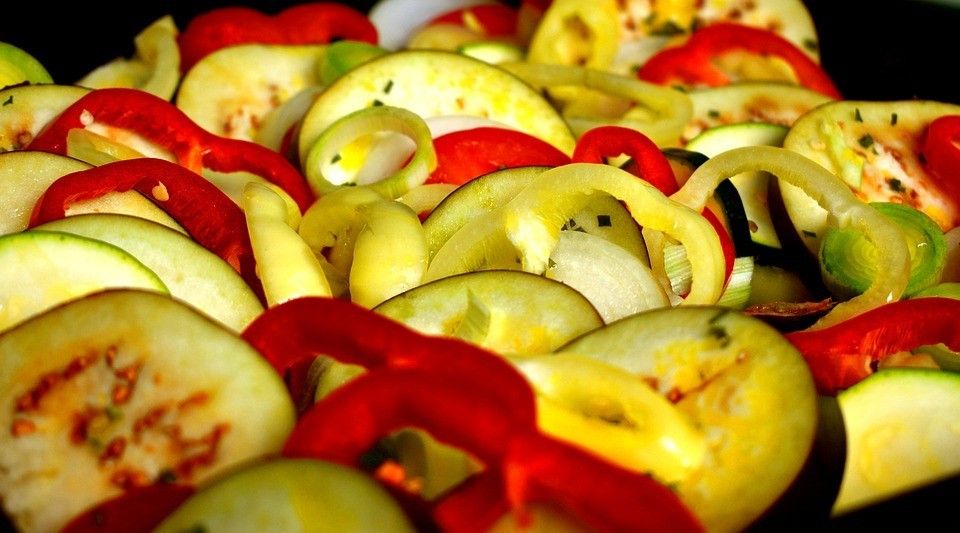 Ratatouille
This recipe has the potential to use up a host of autumn veg, including onions, peppers, courgettes and aubergine.
You'll need: 2 tablespoons oil, 2 red onions, 3 cloves garlic, 1 yellow pepper, 1 red pepper, 2 bay leaves, 1 teaspoon thyme, 1 teaspoon oregano, 2 courgettes, 1 aubergine, 800 grams chopped tomatoes. Makes 6 portions.
Method: Slice onion, garlic and peppers. Heat oil in saucepan. Add all ingredients except courgettes, aubergines and tomatoes. Place lid on saucepan and cook gently until veg have softened. Add tomatoes. Slice courgette and aubergine and place in baking tray with the rest of the ingredients, mixing together. Bake in preheated oven at 160°C for one hour.
French peas
This simple French classic makes a wonderful accompaniment to a main meal. Serve alongside cold or cooked meats, fish or a vegetarian dish.
You'll need: 50 grams butter, 4 spring onions, 1 iceberg lettuce thickly sliced, 5 ml caster sugar, 120 ml vegetable stock, 450 grams fresh peas, 30 ml crème fraiche, 2-4 stalks fresh mint. Salt and pepper to season. Makes 6 portions.

Method: Heat butter in large saucepan, add onions and lettuce. Cook until soft. Add vegetable stock and caster sugar, bringing to the boil. Keep boiling for 3 minutes. Taste and season. Add peas and simmer until peas are cooked through but not mushy. Stir in crème fraiche. Adjust seasoning to taste. Serve immediately with fresh mint on top.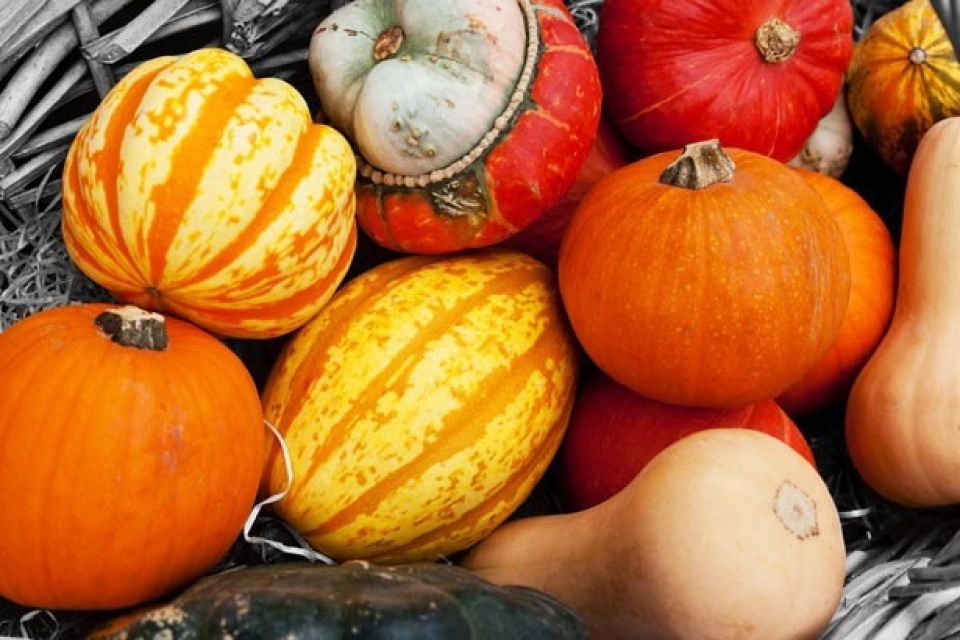 Coconut curry
What better to warm yourself on the cooling autumn evenings than preparing and enjoying a delicious curry from food you've grown yourself? This vegan recipe can be made with pumpkins or squashes, so if you have any growing, think about turning them into this tasty meal.
You'll need: 1 pumpkin or squash peeled and cut into 1.5 inch chunks, 3 tablespoons olive oil, 1 chopped onion, 1 or 2 green chillies (choose the variety based on how hot you'd like it), 1 cinnamon stick, 6 bay leaves, 1 teaspoon cumin seeds, 1 teaspoon mustard seeds, 1 can coconut milk, 1 tablespoon, lemon juice, half cup chopped coconut, salt to taste.
Method: Sprinkle salt on the pumpkin / squash chunks. Heat 1 tablespoon oil in large frying pan over medium heat. Add half the pumpkin / squash chunks and lightly brown in the oil, turning about 6 – 8 minutes. Repeat with second half of pumpkin / squash chunks in another tablespoon of oil. In separate frying pan, heat remaining 1 tablespoon of oil. Add onion and fry until golden. Add chillies, cinnamon and bay leaves. Cook and stir often, until bay leaves are fragrant. Add cumin seeds and mustard seeds, stirring until spices are fragrant. Return pumpkin / squash to pan and add coconut milk. Bring to boil, then cover, reduce heat and simmer until pumpkin / squash is tender. Add lemon juice and salt to taste. Spoon over basmati rice and sprinkle with chopped coconut.

We hope you have fun making these recipes and experimenting with your own. Let us know how you get along – tweet, Instagram or email us some pics of the dishes you make from the food you've grown yourself!
Donate to Trees for Cities and together we can help cities grow into greener, cleaner and healthier places for people to live and work worldwide.
Donate