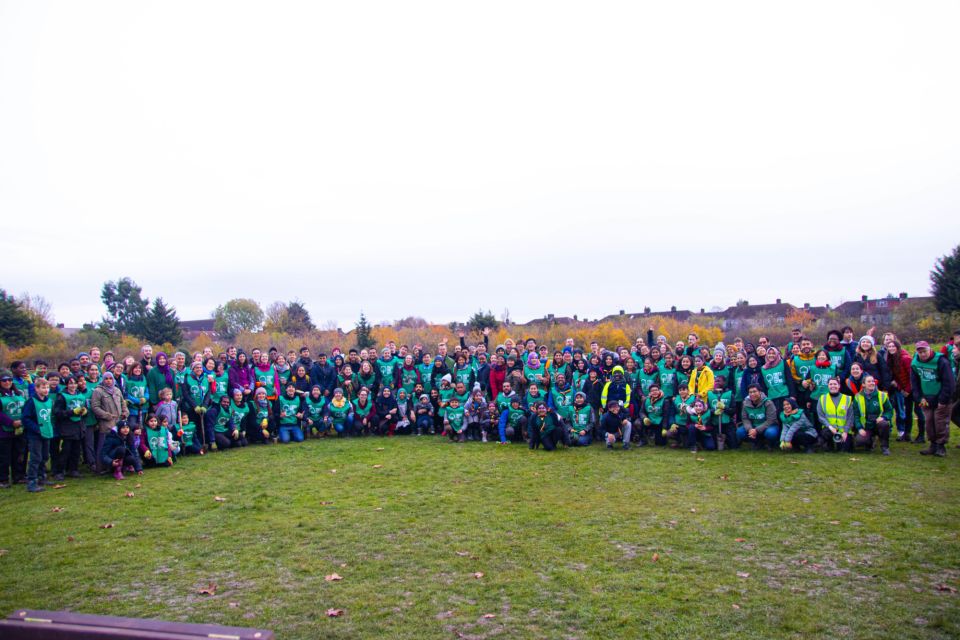 National Tree Week 2019 saw us plant over 29,000 trees with 1000 volunteers across the country! Together, we made cities greener, happier and healthier.
We kick-started the week by planting close to 15,000 trees in Goodmayes Park in London, with hundreds of enthusiastic volunteers and local community groups. The week also included planting new urban woodlands in Bradford, Nottingham and Clacton-on-Sea with our partners. Our 'grand finale' event in Beckton District Park broke our volunteer record with nearly 500 people getting stuck in to make the capital greener! 
This work has been made possible thanks to partnerships with local councils, funders, and the support from players of People's Postcode Lottery.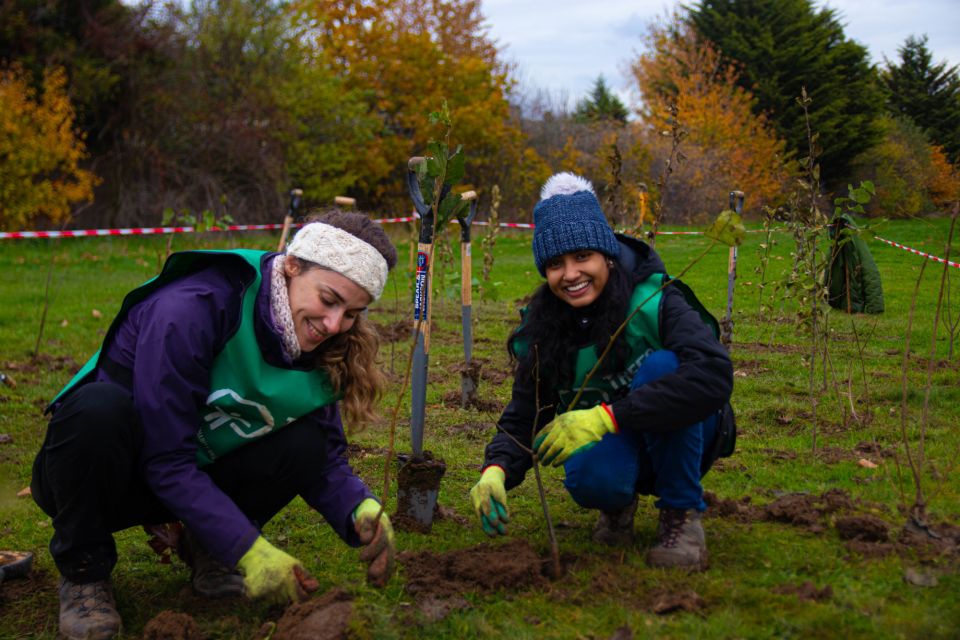 London
Goodmayes Park, 23th of November
To mark the beginning of National Tree Week, we planted 15,000 trees at Goodmayes Park in Ilford with the help of over 400 volunteers, as part of the Mayor of London's #PlantATree programme.
In partnership with the London Borough of Redbridge, we planted new young trees across both Goodmayes Park and Goodmayes Park Recreational Ground. The trees help extend a previous woodland planting to increase the biodiversity value of the area, providing habitat for wildlife and improving the park for the local community.
The projects couldn't take place without our supporters. Thanks to the Mayor of London, The Charlotte Heber-Percy Charitable Trust, The Daniell Trust, The SMB Charitable Trust and All Aboard Charity Shops.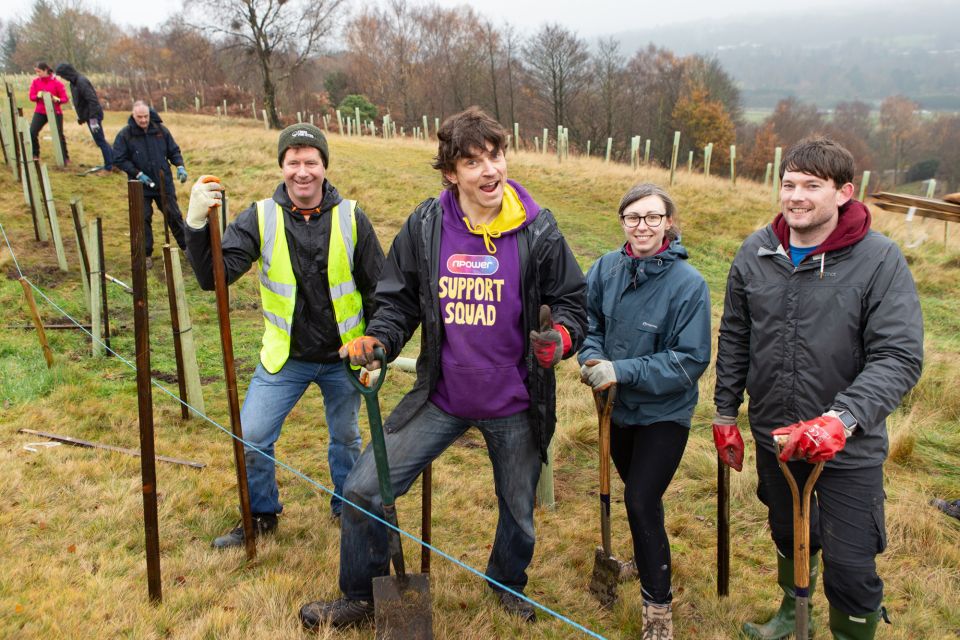 Bradford
Riddlesden Scout Centre, 25th of November
In partnership with Bradford Environmental Action Trust (BEAT) and with funding from energy firm npower, Riddlesden Scout Centre in Keighley will see 7000 new trees planted to help reduce the frequency and intensity of flood incidents in the Aire Valley. 
The second phase of the project started in National Tree Week, when staff from npower got stuck into tree planting at Riddlesden Scout Centre on 25 November. The project was launched last year, seeing the first phase of 28,000 trees planted on the site, and this year we're planting the remaining 7,464 trees with the help from volunteers and community groups.
Bradford Environmental Action Trust's Alan Thornton said: "The climate emergency means there is an urgent need to increase the amount of trees and woodland in the Keighley area. Having npower staff volunteering here today to help start the mass planting at Riddlesden Scout Centre is much appreciated. We are looking for more help after Christmas from local people in the Bradford District."
Nottingham
Southglade Park, 27th of November
Part of the second year of a partnership between Trees for Cities, Nottingham City Council and Nottingham Trent University, we have ambitious plans to plant over 9000 trees across three parks in Nottingham. During National Tree Week, we planted 320 trees in Southglade Park with corporate volunteers from Experian. 
Southglade Park is a large area of green open space in the Bestwood Ward of Nottingham City. The neighbourhood park has vast potential for biodiversity which has not yet been fully explored. The planting in the park will not only enhance the nature conservation interest of the park and provide shelter for park users, but will also engage local people to ensure that there is ownership of the new planting areas from day one.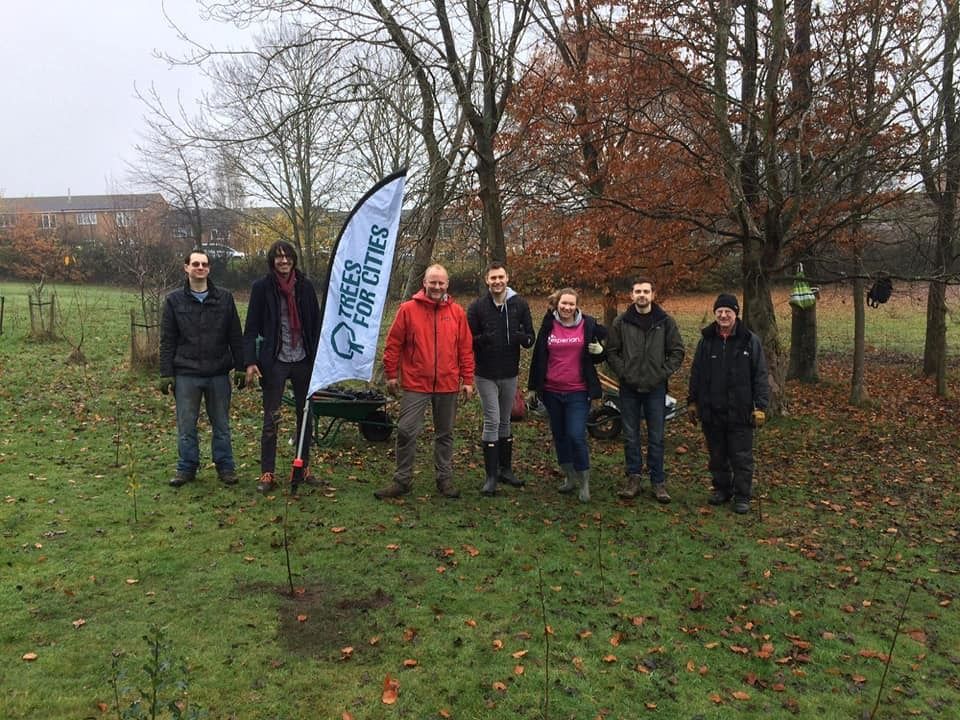 Clacton-on-Sea
Rush Green Recreation Ground, 30th of November
Tendring District Council (TDC) held a successful planting day on the 30th of November in partnership with Trees for Cities, to celebrate National Tree Week in Clacton-on-Sea. Around 60 local volunteers, as well as three local councillors planted over 2,400 trees as part of a new woodland at Rush Green Recreation Ground. This year's planting was the second phase of the project - last year Trees for Cities planted 2,561 trees at a former landfill site, and this year 2,439 trees were planted and the project completed. 
Councillor Alan Coley, Chairman of TDC's cross-party working party on Climate Change, said: "Having declared a Climate Emergency and set an ambitious target of being carbon neutral by 2030, anything we can do to help our environment and offset our emissions has to be a good thing. This new woodland will help to create a green lung for Clacton, as well as an open space for people and wildlife to enjoy."
National data shows that Clacton-on-Sea has a regional canopy cover percentage of 8.2%, Forest Research has suggested that regions should be aiming to have a canopy cover percentage of 20%.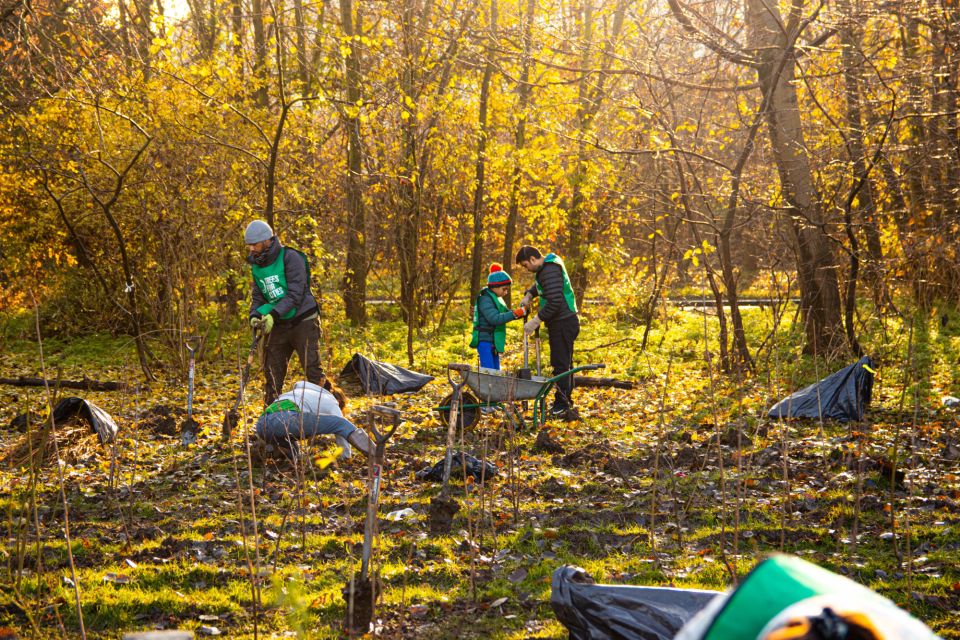 London
Beckton Park, 30th of November
To end the week, we held a celebratory event at Beckton District Park South where we planted up to 9,000 trees to breathe new life into the area. We broke our volunteer record, and welcomed nearly 500 volunteers to our event! 
Beckton is home to a thriving local community, where the need for high-quality green spaces is vital to help counteract the impact from busy roads and London City Airport. 
The urban woodland habitat in Beckton District Park South will create natural spaces where local people can enjoy being outdoors and engage with nature, while providing a diverse woodland habitat for wildlife. We hope this planting event and our campaign #GenerationTree will bring communities together to improve their environment and plant trees for future generations.

David Elliott, Chief Executive of Trees for Cities
Sanjay Singh, senior programmes manager at People's Postcode Lottery, said: "We're thrilled to be play a part in National Tree Week and that support from our players will help Trees for Cities plant thousands of trees in Beckton District Park. Planting trees is crucial to tackling climate change, keeping the local wildlife and environments healthy and, in turn, improving our own wellbeing."
The planting event was kindly supported by the Mayor of London, Players of the People's Postcode Lottery, Newham Council, Society of the Holy Child Jesus CIO and Gemma and Chris McGough Charitable Foundation CIO, and corporate partners Fast Up, Docusign, Heartwood Investment Management and Zouk Capital.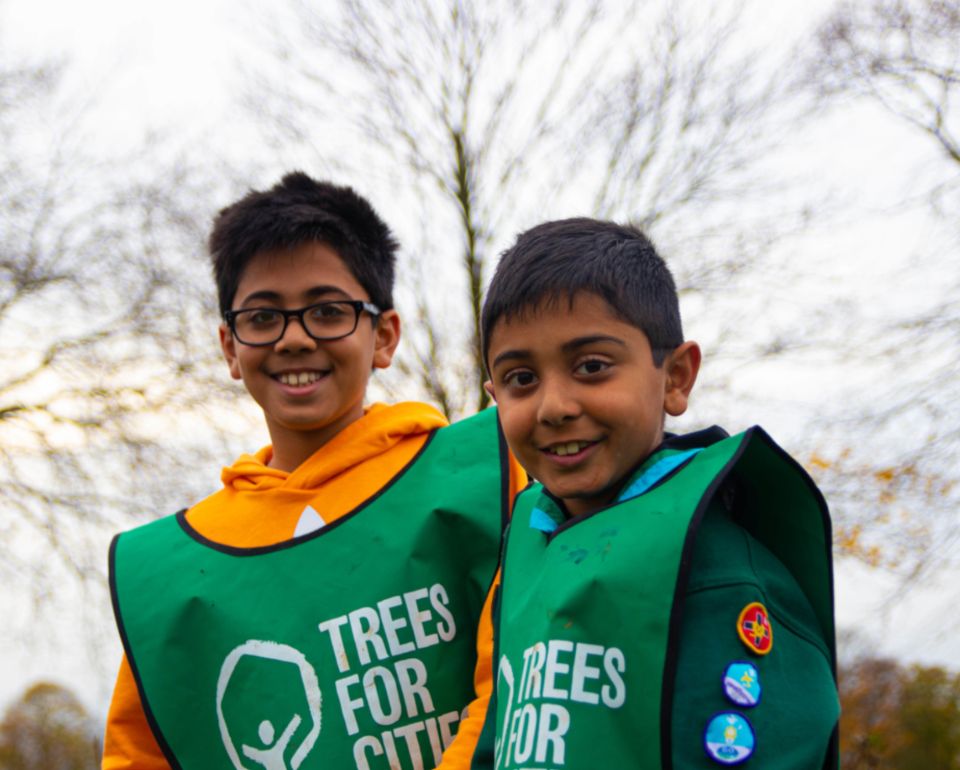 Huge thanks to all the volunteers who came out to plant with us, and to our brilliant partners! The trees will benefit the UK's population for generations to come. You made it possible.
Donate to Trees for Cities and together we can help cities grow into greener, cleaner and healthier places for people to live and work worldwide.
Donate