An exciting chance to celebrate all things trees! National Tree Week 2022 is taking place Saturday 26th November – Sunday 4th December!

Our vision is to see 'Urban Trees for All, By All' and ensure that the wide benefits of trees are not just for the few but for all. National Tree Week is the perfect opportunity to mobilise as many dedicated people as possible in recognising their role in planting, protecting and promoting urban trees!

This year's national theme for the week is 'Hidden Connections' and amongst all of our busy activities, we want to also highlight the important role urban trees have in connecting local urban communities with each other and nature.
PLANTING
We are kicking off the week by planting over 6,000 trees in Philpot's Farm in Hillingdon on Saturday 26th of November with hundreds of dedicated volunteers. In addition to this exciting event, we have volunteer opportunities on that Saturday as well in Bradford as part of the Tree for Every Child initiative!
Throughout the rest of National Tree Week, we are planting 1,500 young whip trees in Bexhill Down and a further 500 trees with The Queen's Green Canopy across Stockton-on-Tees. This is part of our greening coastal towns and cities work, which will see us plant in total 55,000 trees in 2 years across selected seaside towns!

We are also entering the final year of planting at Racecourse Estate in Ealing, a project we have been working hard on for the last 4 years, and delivery will be happening throughout National Tree Week and into December to add the final green touches to the Estate.
PROTECTING
Whilst we know it's important to make sure the right tree is planted in the right place, maintenance tasks such as mulching, watering and weeding are the key for an urban tree's success. For this year's National Tree Week, we are excitingly hosting our first in-person planting/maintenance training event in Stockton-on-Tees as part of our work to green coastal towns and cities. Local residents can sign up for free to learn how to plant urban trees and the importance of maintenance and aftercare.
As part of our corporate volunteer opportunities, we are then closing National Tree Week with a maintenance event with NetCompany and Queen Mary University to ensure that Victoria Park's Orchard is maintained and looked after so it can continue to benefit the local area and thrive for generations to come!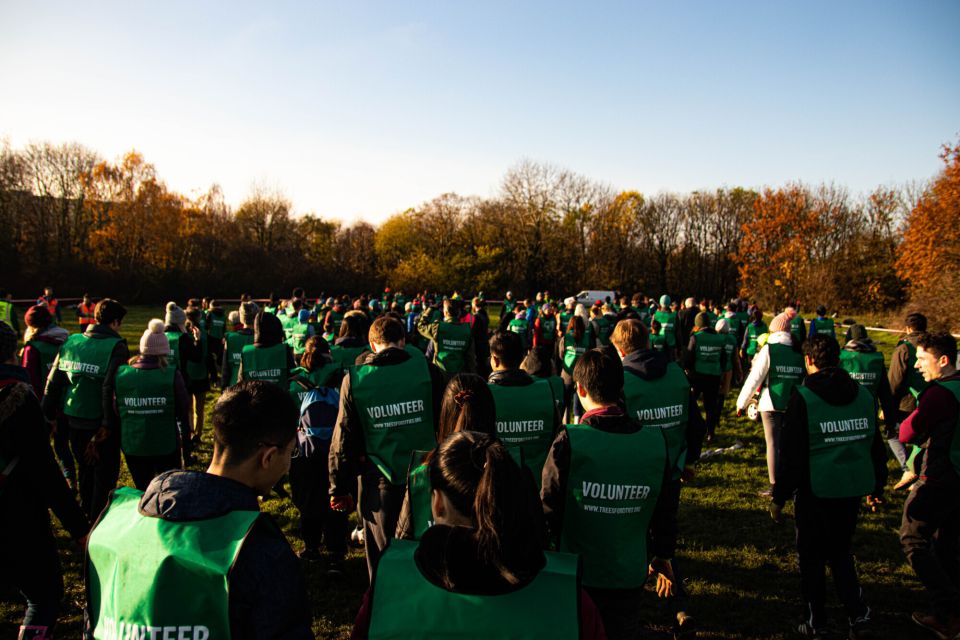 PROMOTING
The extreme weather seen in 2022 has been a stark reminder of how important it is for our towns and cities to have urban trees, and why we need more of them!
In 2022, the UK has faced record breaking temperatures of over 40ºC and due to our changing climate, more intense heat and weather conditions will continue to increase as our towns and cities become 'urban heat islands'. Lucky for us, trees are a great way of reducing the effects of this! They provide shade for humans and buildings, create cooling effects by releasing water vapour and also store less heat than concrete surfaces.

So, it is vital that Trees for Cities continues to green our urban landscapes by planting more trees - and we hope you can help us get there. With the fantastic support of our volunteers and supporters, we are able to make our cities greener, happier and healthier places to live and National Tree Week is the perfect opportunity to celebrate this!

HOW CAN I GET INVOLVED WITH NATIONAL TREE WEEK?
There are plenty of ways you can celebrate National Tree Week with us. From volunteering at a planting day, sharing our messages online or doubling your donation at no extra cost! Take a look at all the ways you can join in below.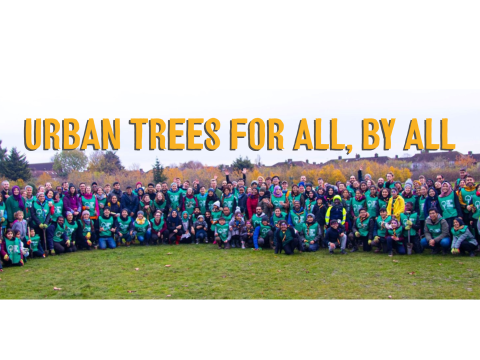 TWICE THE IMPACT
Trees for Cities is taking part in The Big Give, the UK's largest match-funding campaign, which will run from Midday 29th November until Midday 6th December. During this period, any donation you make will be doubled at no extra cost to you. This means that every £1 you give is worth £2!
DOUBLE YOUR DONATION
VOLUNTEER
See if there is an upcoming planting day in your local area looking for volunteers this November and December. If not, please sign up to our volunteer mailing list so we can let you know when there is one in your area!
CHECK OUT UPCOMING OPPORTUNITIES
Learn with us!
If you are a Stockton-on-Tees resident, join us on November 28th to learn more about the wonders of planting trees, specifically in urban areas.
Tree Training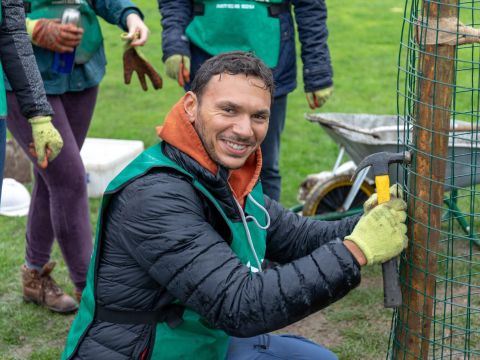 Newsletter
If National Tree Week is inspiring you to keep up to date with all things trees and green, sign up to our monthly newsletter Tree Times!
TREE TIMES
SHARE YOUR PICS
We'd love to see your photos this #NationalTreeWeek! Whether it be from our previous planting events or your favourite urban trees - show us what you would like to celebrate this National Tree Week. Tag us on social media using our handle @treesforcities.

Don't forget to join in with the #NationalTreeWeek fun by following us on Twitter, Instagram, LinkedIn and Facebook!


The Players of the Peoples Postcode Lottery help make our work possible. We're delighted to have them on board and supporting our incredible mission to plant more trees and connect communities!
Donate to Trees for Cities and together we can help cities grow into greener, cleaner and healthier places for people to live and work worldwide.
Donate