Our edible playgrounds scheme in Cardiff officially launches
Our multi-award winning programme, which transforms school playgrounds into vibrant outdoor fruit and vegetable gardens, has been officially launched in Cardiff.
In partnership with Cardiff Council and Grow Cardiff, we have so far delivered 15 Edible Playgrounds to schools across the city with the aim of getting children excited about growing and eating healthy food, whilst providing valuable outdoor learning resources.
Hosted by Glan-yr-Afon Primary School in Llanrumney, the project was officially launched on March 8th by Cardiff Council's Cabinet Member for Education, Employment and Skills, Cllr Sarah Merry, alongside TfC Chief Executive, David Elliot, and Director of Grow Cardiff, Isla Horton. They were joined by staff and pupils from the school who performed a song especially composed for the event.
We are extremely proud of the work that is being done across Cardiff. The enthusiasm from the schools, the hard work from delivery partners such as Grow Cardiff and the continuing support from the Council enables this programme to grow from strength to strength.

David Elliott, Chief Executive at Trees for Cities
Through closely working with each school, we have been able to create bespoke playground designs, where food growing can be accessed across the entire school, encouraging healthier diets and good eating behaviours for the future.
Each project typically includes everything needed for the school to grow its own food successfully including raised beds, a greenhouse, compost, wormery and tool shed as well as an outdoor teaching space for an entire class.

One of our aspirations at Glan yr Afon Primary School is to develop each child to be a healthy, confident individual, ready to lead a fulfilling life as a valued member of society. Encouraging children to eat a nutritious, balanced diet early on is important for a number of reasons and our Edible Playground will help us to educate them on healthy eating during childhood, encouraging them to make healthier choices as they become adults. The scheme will also enable us to help children and their families understand where their food comes from and the benefits home grown produce can have such as helping them get the right vitamins and minerals in their diet, promoting energy, development and support their ability to learn.

Headteacher at Glan-yr-Afon Primary School, Rhian Lundrigan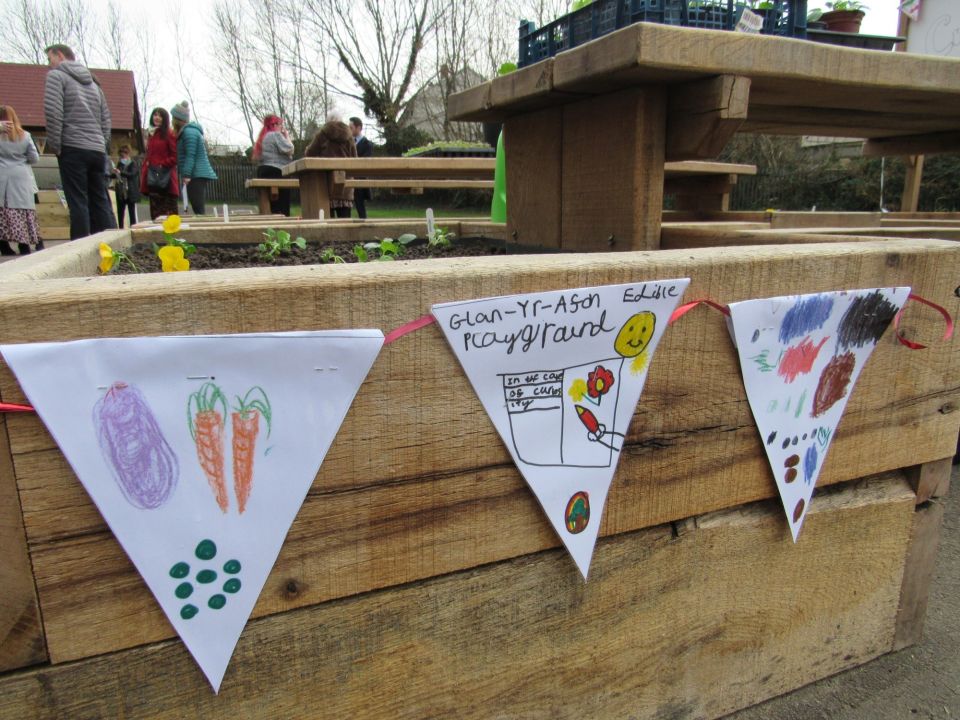 Schools to have already benefited from the scheme include; Coed Glas Primary, Moorland Primary, Ysgol Y Berllan Deg, Glyncoed Primary, Ysgol Pwll Coch, Grangetown Primary School, Meadowbank Primary School, Herbert Thompson Primary School, Ysgol Glan Morfa, Ysgol Pen y Pil, The Hollies School, Ysgol Bro Eirwg, Greenway Primary School, Ysgol y Wern and Glan Yr Afon.
Continuing the partnership, Trees for Cities and Cardiff Council now intend to expand the programme to include up to 40 schools across the city over the next three years. This will support the delivery of the Cardiff 2030 Vision and promote a range of air quality, tree planting and holistic greening schemes for the future.
In Cardiff we recognise the valuable benefits that green space has on the health and wellbeing of young people and we remain committed to promoting the use of outdoor space for learning and play, whilst delivering on our agenda for a "greener" Cardiff. Children have the right to live a healthy life and our partnership with Trees for Cities further supports Cardiff's ambition of becoming a UNICEF UK Child Friendly city, where the voices and views of children are at the heart of everything we do.

Cabinet Member for Education, Employment and Skills, Cllr Sarah Merry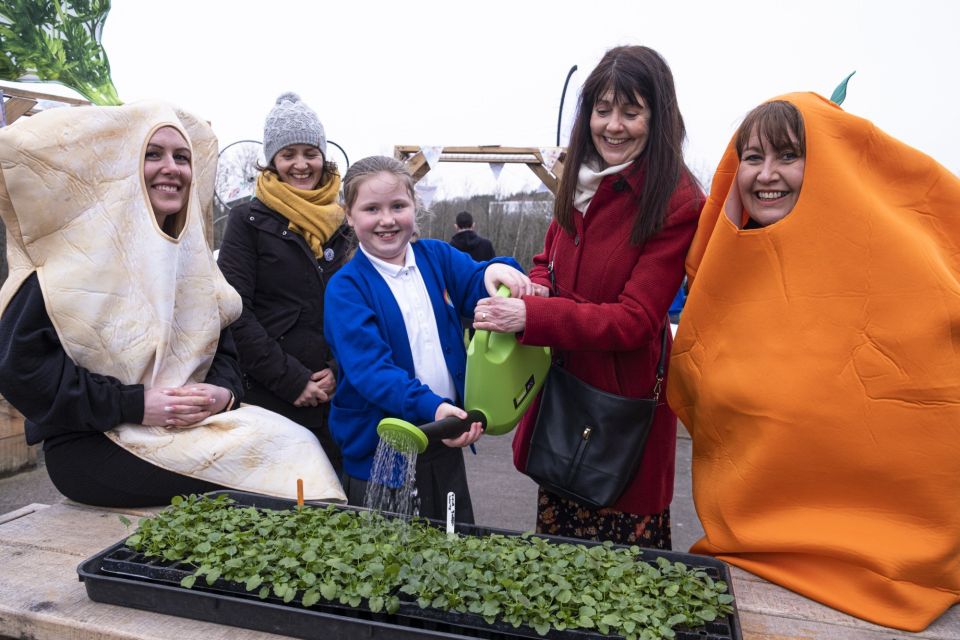 Since we began working in Cardiff, 15 projects have been delivered with the first to complete at Ysgol Y Berllan Deg in 2019. In total, we have delivered over 180 Edible Playground projects across 14 UK cities since 2005 when the programme began.

The Edible Playgrounds Programme provides transformational greening projects to schools through urban tree and nature-related activities and training. Pupils and teachers are provided with everyday access to higher quality greenspace and build the capacity of staff to teach outside, helping pupils increase their knowledge, skills and awareness of urban trees, nature and wider environmental issues.

There is growing evidence showing that pupils who spend more time playing and learning in high-quality greenspace can experience improved health and well-being, a closer connection with nature and more environmentally sustainable attitudes. Experiencing the tangible benefits greener environments can provide can lead to a greater understanding and appreciation of the need to plant and protect trees from an early age and a motivation to take action to do so.
Thank you to our partners Cardiff Council and Grow Cardiff for their on-going support on this project.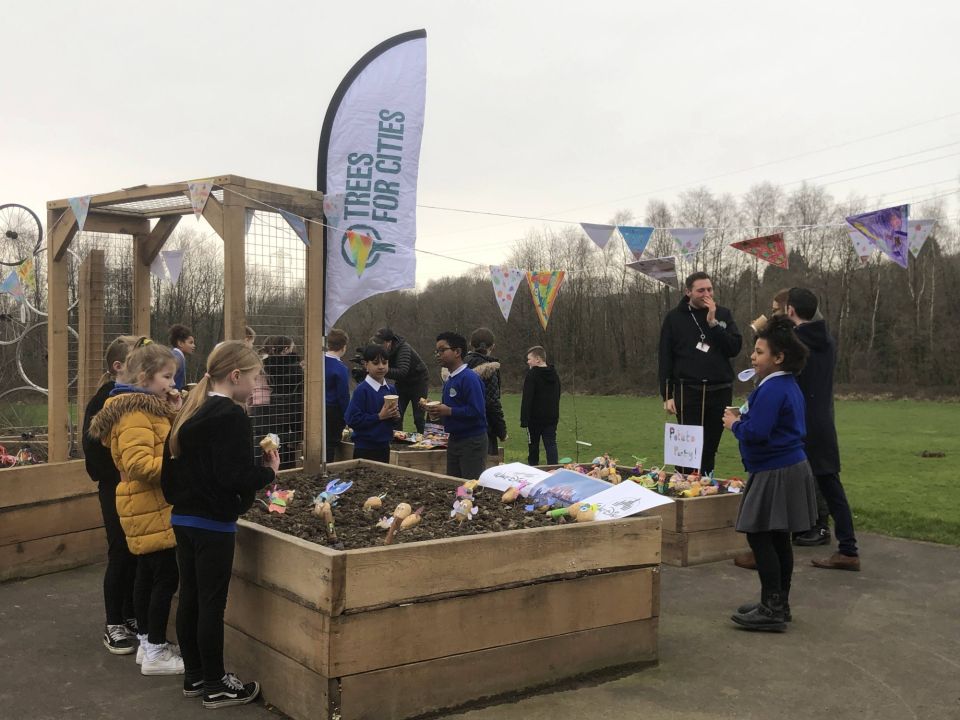 Our school work
Find out about the fantastic work we carry out in schools across the UK and download our free teaching resources.
Learn more
Donate to Trees for Cities and together we can help cities grow into greener, cleaner and healthier places for people to live and work worldwide.
Donate