Our 2021/22 Planting Impact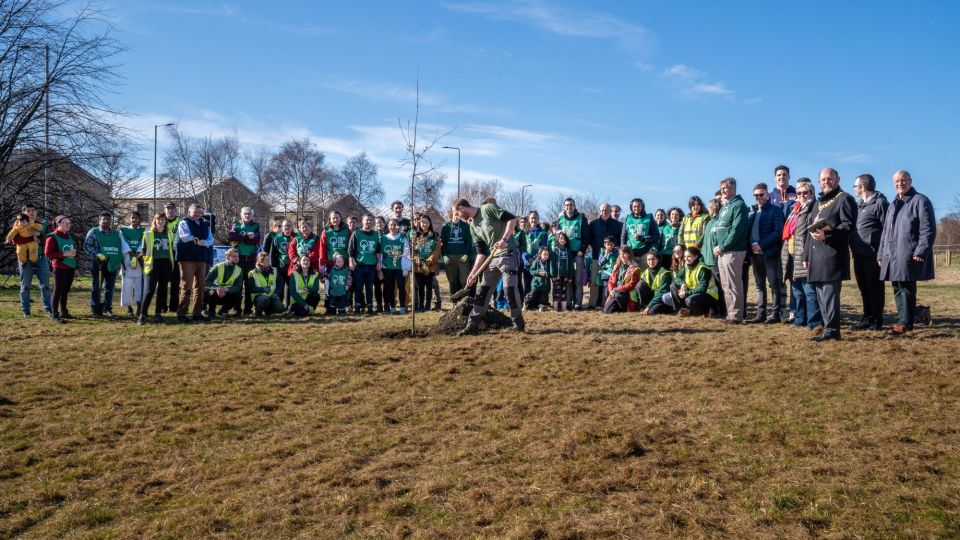 Our latest planting season was a record breaker and one of the best yet in our 29 year history! After a challenging few years of delivery due to many lockdowns, our fabulous community planting days were BACK in full swing! We even had the opportunity to bring our planting days to other cities across the UK for the first time ever to engage and educate new people about planting and protecting our urban trees.
We couldn't have accomplished all of our achievements this season without the help of our dedicated volunteers and partners so a huge thank you to you all. Now, let's get stuck in to the stats...
266,794
TREES PLANTED THIS SEASON
That's the most trees we've ever planted in one season! Check out below the full break down below.
UK WIDE TREES
211,489 trees were planted across 51 planting projects from around the UK.
INTERNATIONAL TREES
54,654 trees planted across Embu and Kiambu in Kenya and Kigali in Rwanda.
TREES FOR STREETS
651 trees planted by our National Street Tree Sponsorship Scheme Trees for Streets in their first year.
21,410
INCREDIBLE PEOPLE CONNECTED WITH US, INCLUDING...
Corporate Volunteers
918 people helped plant trees and maintain green spaces through our corporate volunteering opportunities.
London Volunteers
2,539 volunteers got stuck in at our community planting days in the capital.
People engaged from across the UK
In addition to our London volunteers, 3,469 people from across the 33 UK areas we worked in this year engaged with us too.
International project participants from across the world
14,484 people from Kenya and Rwanda engaged with the international tree planting projects
60
SCHOOL PROJECTS WORKED ON ACROSS THE UK
This includes 31 brand new school projects we built during this season.
PUPILS ENGAGED
24,380 school children engaged with us on our school projects.
STAFF ENGAGED
2,364 teachers and staff also engaged with us.
1,551867
TREES PLANTED OVERALL!
We're happy to announce we have now officially planted over one and a half million trees!
Phew..! That's a LOT of work. Now that we've seen the main stats, let's go through a few highlights from the season.
The Glasgow Children's Woodland
Our planting season kicked off back in October 2021 by supporting the Glasgow Children's Woodland, a volunteer-led initiative from The Lost Woods, created to empower 151 primary schools in Glasgow to use their voice ahead of COP26 and inspire world leaders to take action.
17,000 new trees were planted on a 13ha site that overlooks the city of Glasgow. The project looked to call for change at the COP26 summit (which was hosted in Glasgow that month) and to leave a lasting legacy for today's and future generations to enjoy. We were so proud to support this fantastic initiative.

NATIONAL TREE WEEK
We marked the start of National Tree Week by partnering with The Queen's Green Canopy and Bradford Metropolitan District Council to begin the planting of 10,000 trees at Newhall Park, Bradford. Despite what turned out to be a snowy and windy day, over 100 dedicated volunteers and local community groups braved the elements and turned up to plant urban trees with us. We think it's safe to say that no matter the weather, and with the support of our fantastic volunteers, we will always continue to make our cities greener, happier and healthier places to live!
We then celebrated the end of National Tree Week with a planting day at Ashton Playing Fields in Redbridge, London. Thanks to the help of corporate volunteers, our community payback scheme with the Ministry of Justice and the hundreds of volunteers who showed up on the day, we were able to plant 12,000 trees at this site.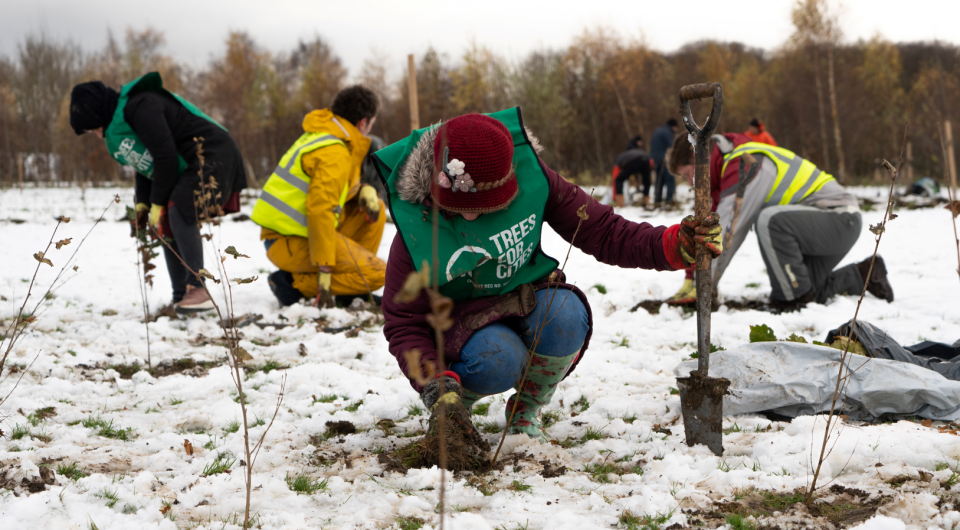 GREENING COASTAL TOWNS AND CITIES
This planting season saw us 'branch out' to new areas across the country to green the UK's costal towns and cities as part of our new project, Forgotten Places: Greening Coastal Towns and Cities. Our new urban tree planting initiative focuses on growing tree cover in coastal cities and towns that have low canopy cover to increase resilience against the effects of climate change.
In total, 55,000 trees will be planted across Bexhill, Brighton, Great Yarmouth, Hull, Portsmouth, Ramsgate and Stockton-On-Tees. This season, we planted 49,817 of those trees with the remaining trees being planted in the next planting season.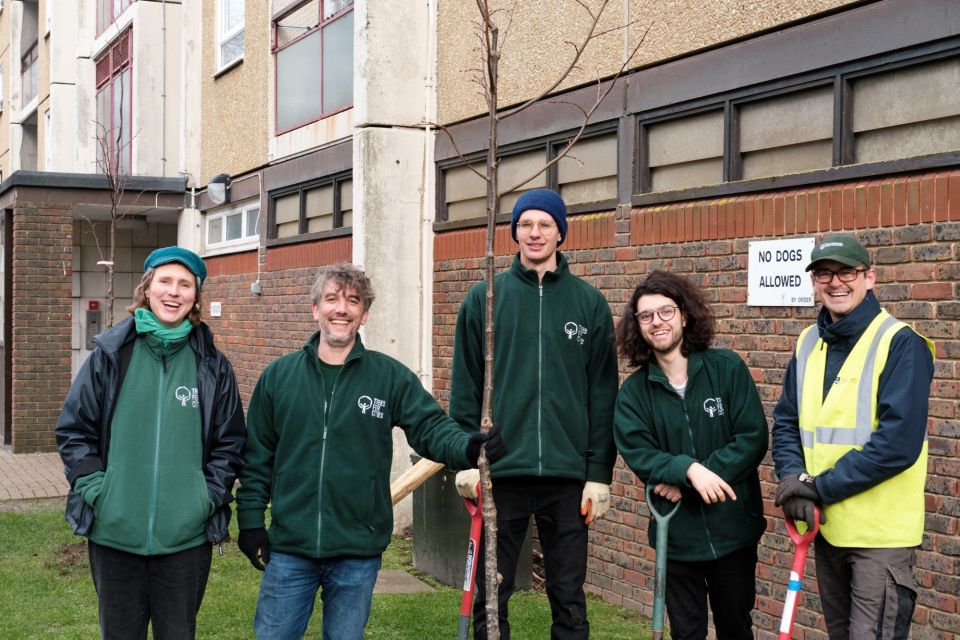 PLANTING HEALTHY AIR
With help from the pupils from Grange Primary in London, we transformed their school playground into a leafy oasis for learning and play. With funding from Impact on Urban Health and Grange Primary, we worked in partnership with Davies White Landscape Architects, to co-design with the pupils a healthy playground that encouraged play and learning outside. We then supported pupil led teams with help from Lancaster University to use portable monitors to investigate pollution levels in their playground.
We found that from a result of the transformation, activity increased amongst the pupils, lower pollution levels were found in the new woodland area and a positive change in attitudes from the children towards outdoor learning and healthy food options. As the fantastic findings show, with careful design and planting, green infrastructure can be a powerful tool to help reduce pupils' exposure to pollution.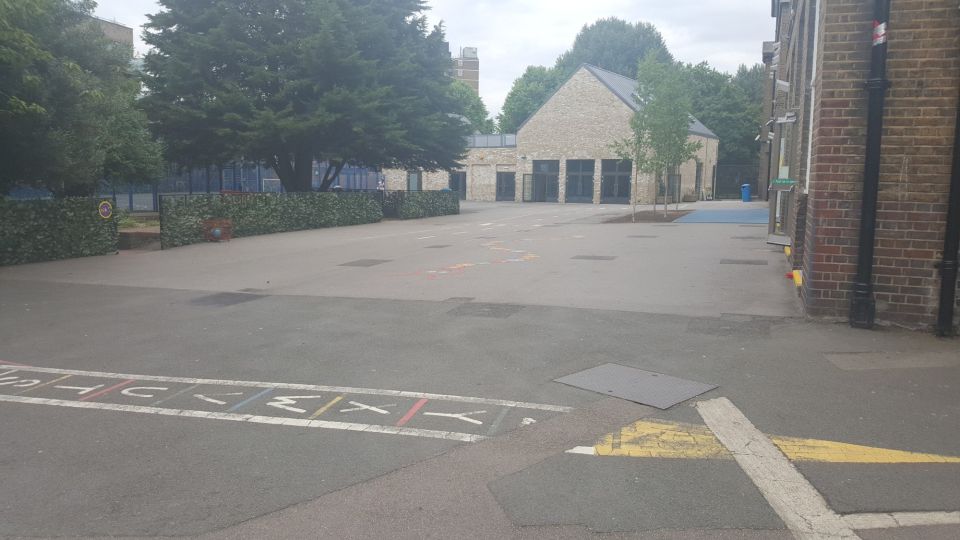 I get more shade and I can smell the plants. The flowers smells nice and I feel happy!

Pupil, Grange Primary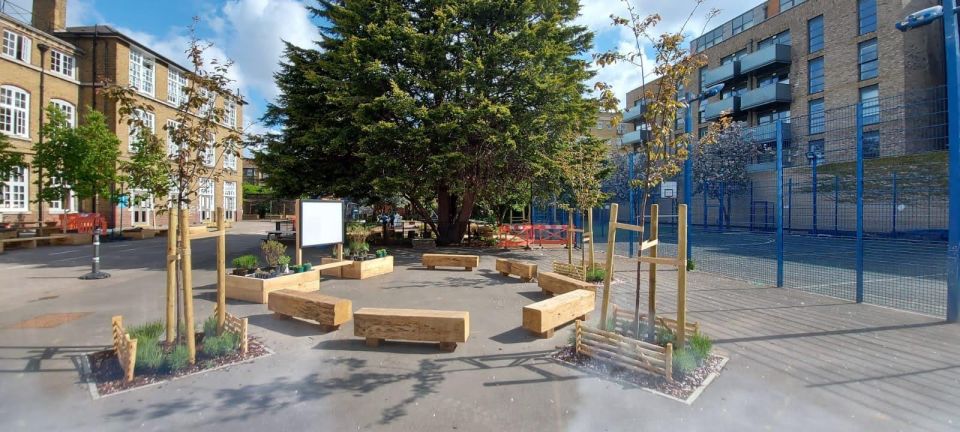 We also received a very special visit to our Planting Healthy Air project at Gascoigne Primary School in Barking, London from Mayor of London Sadiq Khan, who helped plant trees at the school.
Over two days, we worked with the pupils and staff at Gascoigne Primary School to plant 300 beech hedgerow plants and 5 ornamental cherry trees along with a new wildlife area. This greenery will act as a living shield between the playground and road, helping to block noise and pollution from traffic. Our Schools Engagement Coordinators also provided educational workshops so that pupils had the opportunity to learn about the importance of urban trees and how they mitigate the effects of air pollution.
Planting trees plays a vital role in our efforts to tackle climate change and air pollution and I'm delighted that London has been made a Champion City for The Queen's Green Canopy initiative. This is a fitting way to mark Her Majesty's Platinum Jubilee and I'm pleased to be joining pupils at Gascoigne Primary School to create a healthier, more beautiful and wildlife friendly school environment.

Sadiq Khan, Mayor of London
CARDIFF EDIBLE PLAYGROUNDS
Working in partnership with Cardiff Council, we delivered ten new Edible Playgrounds across primary schools in Cardiff for the 2021-2022 school year. As part of the Cardiff 2030 Vision, this project was introduced to help improve the current and future livelihood and wellbeing of school children in Cardiff.
The schools we helped transform in 2021-22 were:
Grangetown Primary School
The Hollies School
Ysgol Bro Eirwg
Meadowbank School
Herbert Thompson Primary School
Ysgol Glan Morfa
Ysgol Pen y Pil
Trowbridge Primary School
Greenway Primary School
Glan Yr Afon
We officially launched the scheme in March at a special event hosted by Glan-yr-Afron School in Llanrumeny to celebrate all the hard work that went into making this project happen!
We are extremely proud of the work that is being done across Cardiff. The enthusiasm from the schools, the hard work from delivery partners such as Grow Cardiff and the continuing support from the Council enables this programme to grow from strength to strength.

David Elliott, Chief Executive at Trees for Cities
Tree Cities of the World
This year 19 cities in the UK received special recognition as Tree Cities of the World for their commitment to effective urban forestry management. Tree Cities of the World is a programme founded by The Arbor Day Foundation and the United Nations' Food and Agriculture Organization to recognise cities around the globe that have committed to creating and maintaining green spaces in their community. At Trees for Cities, we lead and drive forward the initiative in the UK.
The total 19 Tree Cities of The World recognitions is a new record for the UK and an increase from the 11 towns and cities who were awarded the title the previous year. This year's cohort also marks the first Tree Cities of The World in Wales with Cardiff taking home recognition.

The towns and cities granted Tree Cities of the World status include:
Birmingham
Bradford
Cardiff
Chesterfield
Coventry
Hull
Ipswich
Leeds
Middlesbrough
Newry Mourne & Down
Portsmouth
Sheffield
Solihull
Welwyn Hatfield
Each year the Tree Cities of the World programme grows and adds another set of incredible cities around the world. Every single city recognised as a Tree City of the World has done a fantastic job of making urban forestry a main focus in its community. Through this recognition cities all across the world will join a network of like-minded communities who recognise the importance of planting trees to contribute to their urban tree canopy.

Dan Lambe, Chief Executive, Arbor Day Foundation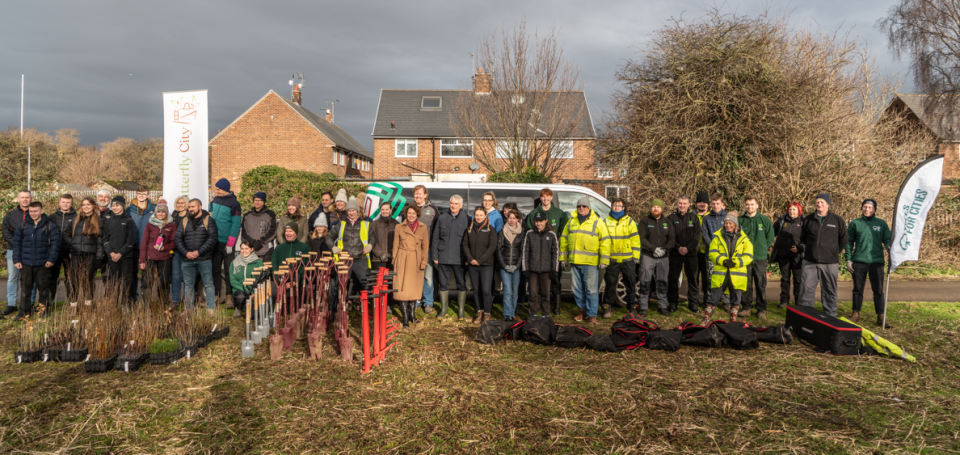 INTERNATIONAL
We worked closely with our non-governmental organisation partners Trees for Kenya and COSDEP to green both schools and towns throughout Kenya by planting 10,000 trees. The planting featured a mixed species of trees, including fruit trees, to help improve pupils' nutrition whilst also providing fresh air, protecting buildings from strong winds and creating habitats for birds and other wildlife.
With COSDEP, we also supported the creation of organic gardens in schools so that pupils' have the opportunity to learn about food growing and healthy eating. Through sustained growing in the established gardens, the schools will be able to improve students' diets through the school feeding programmes as well as sustain an income from the sale of surplus produce.
We also continued to work in partnership with ANA in Rwanda to plant an additional 25,000 trees across 10 schools. The new trees will provide benefits to the local environment and the school community by contributing towards climate resilience, improving air quality and creating shade.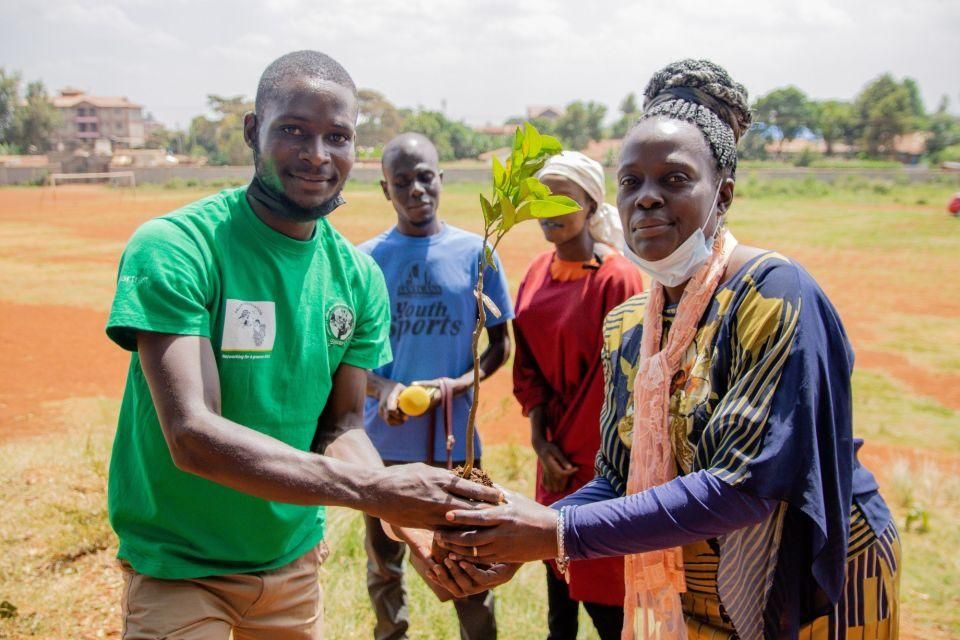 Looking ahead
Whilst we have had major successes like no other this planting season, the extreme weather we have seen this year shows us that there is still work to be done to mitigate the effects already being felt by the climate crisis. Our trees and green spaces play a critical role in the fightback against climate change and Trees for Cities will continue to invest in our urban forests. We have recently released our new organisational strategy which outlines our 3 year vision and commitment to continue greening our towns and cities.

In terms of our school work in Cardiff, we intend to expand the programme to include up to 40 schools across the city over the next three years! This will support the delivery of the Cardiff 2030 Vision and promote a range of air quality, tree planting and holistic greening schemes for the future.

This year, we were also awarded the Level Two Social Value Certificate, which means that our audiences can trust the claims we make about our social impact as a charity - including the above planting stats! We have implemented better systems and processes to measure the changes of our work we are able to report on it with even greater accuracy than before, and use our data to make internal changes to improve our work going forward.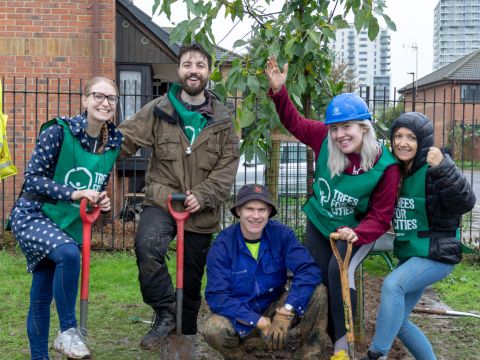 Donate to Trees for Cities and together we can help cities grow into greener, cleaner and healthier places for people to live and work worldwide.
Donate