The power of planting trees and sharing stories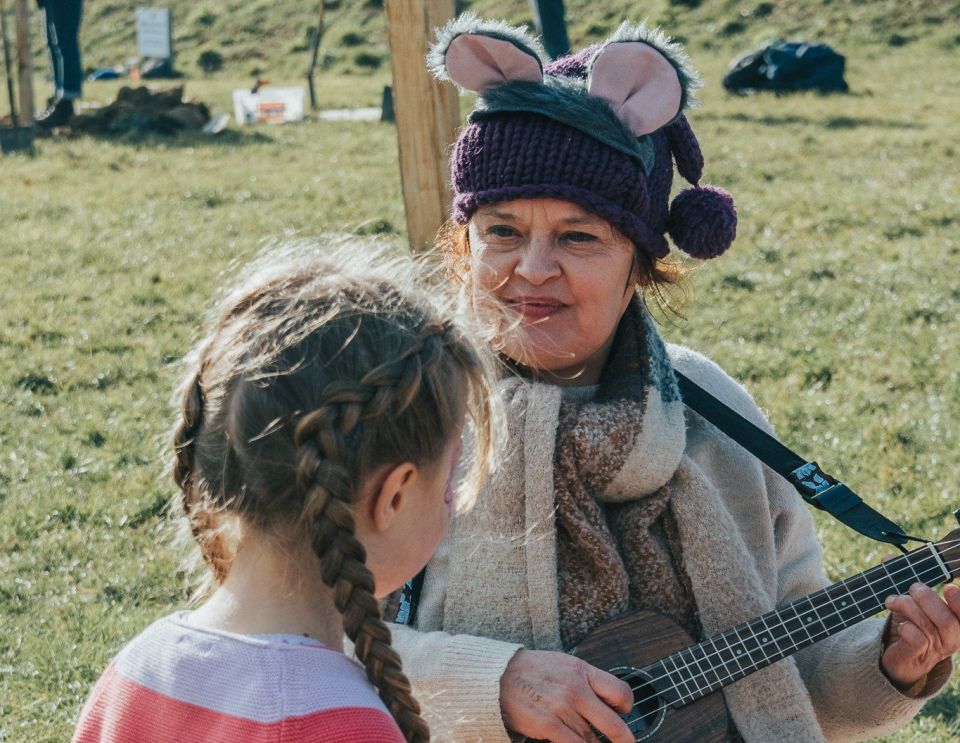 Trees for Cities' Volunteer Supervisor Bernadette Russell shares her experiences planting with us, and how it's impacted her nature-infused storytelling and deepened connections with others. Bernadette is a tree planter, environmentalist, author and spoken word storyteller.
I started planting with Trees for Cities in 2018, around the same time I was writing an audio story walk about the history of my local area, which is Deptford in South East London.
As soon as I planted my first tree in the Pepys Estate opposite my home, I was filled with hope, instead of despairing about climate change and wondering what I could do about it. Here I had found something tangible, practical and doable in the company of supportive, fun, and generous people. Soon afterwards I became a tree planting supervisor, which is still one of my favourite things to do.
To be able to help people plant trees in their local area, to spend some time with them laughing and getting to know the local stories, is such a treat.
Trees ended up being the narrators of "Evelyn's Roots", our story walk, specifically an Oak, Plane, Ash, and Rowan. It was fun giving the trees personalities and voices, and it seemed perfectly right that it was the trees that delivered the stories of the local area, for it is the trees that had been around the longest and seen it all.
Inspired by planting with Trees for Cities, I began to research tree folklore and legends, and the folklore of the wildlife that we glimpse every day in London: squirrels, foxes, crows, even rats and pigeons. I started working with stories about all these wonderful earthlings, and in studying them I began to consider the world from their perspective; a humbling and enchanting experience.
Around 2019 I began delivering storytelling sessions for Trees for Cities, and I have told a mixture of traditional and original stories, making sure that the stories contain a mix of scientific fact but are infused with myth and playfulness. They are an invitation to the listeners big or small to consider the world from a more-than-human perspective. Imagine what it would be like to fly like a sparrow, to be able to hear as well as a deer, to see in the dark as well as an owl, to walk as quietly and carefully as a fox, or to be as patient as a tree.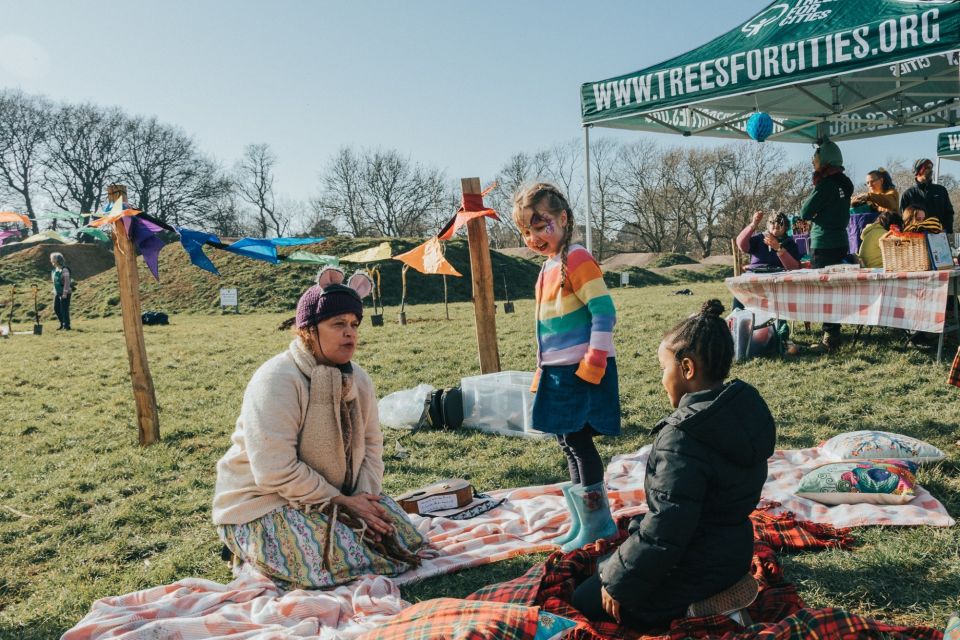 I've had wonderful conversations on planting days with people about how trees exchange information underground via a mycorrhizal network, about how crows communicate and leave gifts for kindly human friends, about how foxes survive and thrive in the harshest urban environments, and how awesome and mighty ants are, how London soil is full of broken crockery and concrete in many places, but still how much wildlife thrives. It's been fun discussing all of this whilst digging away in all weathers.

But it wasn't just these stories that I paid attention to - I began to realise the ways that stories tie communities together. In the words of the great poet Ben Okri, "Stories can conquer fear…they make the heart bigger".
When we share stories and experiences, our bonds and connections with each other become stronger, and when we plant together in a shared green space, our bonds and connections with that area become stronger too. This always feels like an incredibly powerful and positive thing. Every time I plant trees with Trees for Cities, I notice how this shared activity draws people together, as they plant together and share stories about their local area.
Some people have told me they were planting trees to remember loved ones, others told me the trees they planted reminded them of home, and others told me of plans to come back and visit the trees to see how they were getting on. I've seen neighbours meet each other for the first time on planting days, I've had groups sing together, dance together (dancing around the tree is a good way of treading the earth in!), share tea and local knowledge. I've seen people of all ages and backgrounds united in doing this simple and powerful thing. I always find it uplifting and inspiring.

So, with the stories I tell and the stories I hear on planting days, I hope we can all be a small part of a bigger change, which is about the deep understanding that we are part of a vast and beautiful interconnected world, and that every living thing in the world has a language and a story, if only we slow down enough to listen and are patient enough to begin to understand.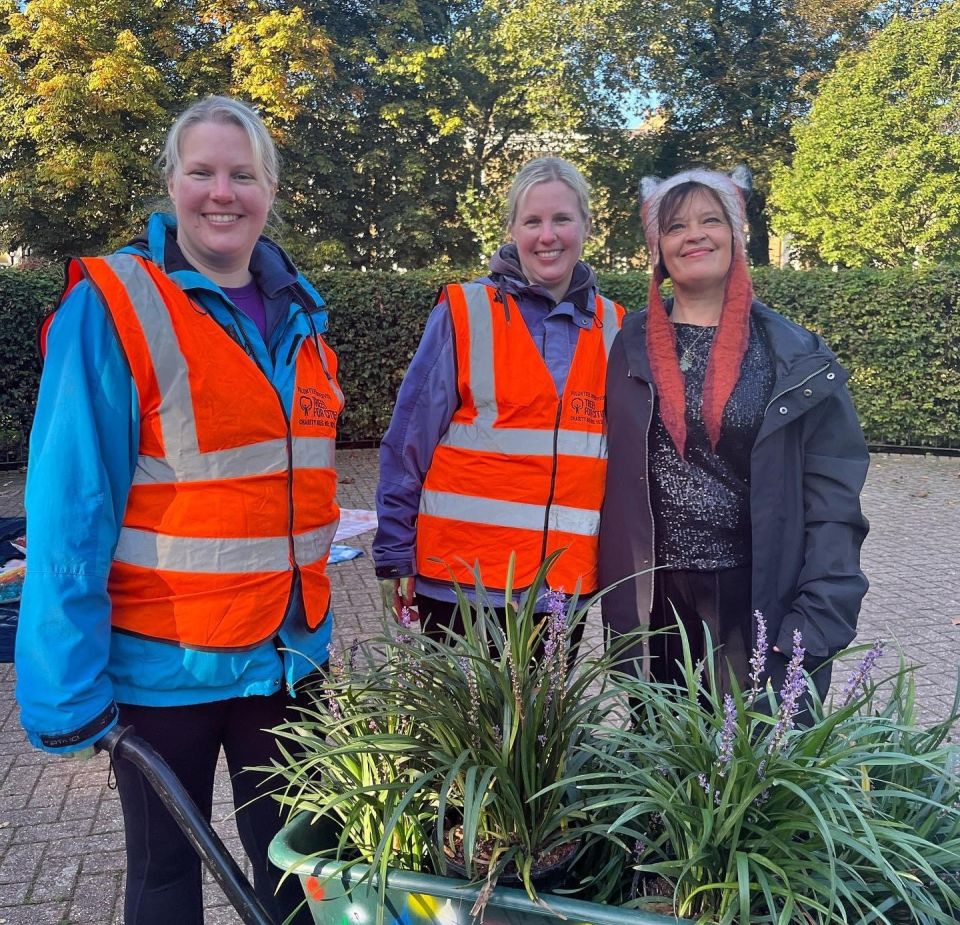 Hear some of Bernadette's wildlife and tree inspired story walks at Lore of The Wild (written with Sophie Austin for Lesnes Abbey Woods) and Evelyn's Roots (written with Gareth Brierley for Deptford Folk).

Interested in volunteering with us? Check out our upcoming opportunities.
Donate to Trees for Cities and together we can help cities grow into greener, cleaner and healthier places for people to live and work worldwide.
Donate