Rachel's Marathon Journey - Month 4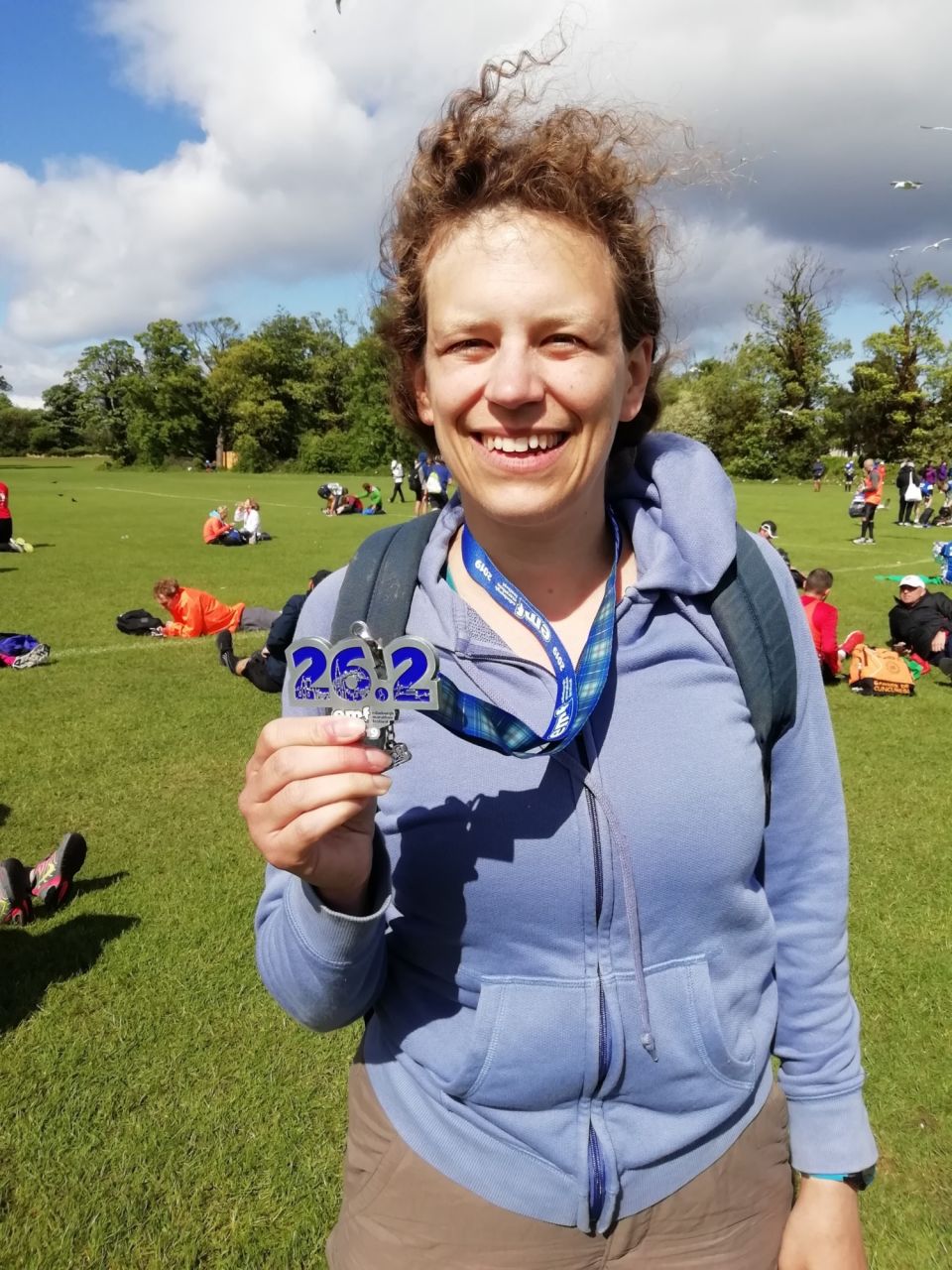 It's the month leading up to the marathon, and the end is in sight. But is anything going to stand in Rachel's way?
Week 12
This week presents a new challenge apart from the increasing distances - I'll be running in a city and a country I've never visited before! My mum visits me every Easter and most years we take a trip somewhere else in the UK or Europe: this year's destination is Split, Croatia.
I find out the hard way that some things that make Split a lovely place for a holiday also make it less than ideal for running: warm temperatures, cloudless skies and a seafront paved in white stone and lined with palms mean my first run is best described as a hot mess. I've also been suffering from stiffness in my right hip since my half-marathon two weeks ago and running along the Riva brings it out with a vengeance. I resolve to give myself as much time off as I can before my long run.
Sunday morning I'm up at the crack of dawn for three loops around the Marjan Peninsula; a wooded, mountainous area to the west of town. It's the day of the London Marathon, so I mentally dedicate this run to my fellow marathoners. It's much cooler than my previous run and the route is well shaded, but pain/discomfort begins to give way to enjoyment after around 45 minutes. I couldn't have asked for a more beautiful setting, and I can see why it's popular with runners. On each circuit I pass another woman around my age running in the opposite direction, and the second and third times we flash each other grins of recognition and encouragement. One of the unsung benefits of running is the sense of solidarity you feel with total strangers.
I notch up 17.3 miles – a new record – but spend the rest of the day hobbling around. Clearly I need new shoes. Or a visit to a physiotherapist. Or both.
Total mileage: 27.7
Week 13
On Monday, I'm back in London, and I hobble into the running shop near work with my old shoes (which I have to admit I've had for far too long). The salesman just about bites my head off; "Why do you still have those!? Not even Kipchoge could run in them!" Okay, point taken. He fits me with a different brand and they do feel better, but over my next two runs I still can't shake the problem in my hip. I'm getting scared. This is the week I have to do my longest run - how am I going to get through it?
After my second run, I book an appointment with a physiotherapist and he gives me good news – the problem is in one of my inner thigh muscles and my sartorius, which stretches the length of the thigh (incidentally, this is the longest muscle in the human body). Thankfully, it's not critical, will not prevent me from running, and can be fixed with some simple exercises. I start doing them religiously and they do seem to help.
Sunday morning I set out on the longest run I've ever done in my life, a distance that even a few weeks ago would have seemed insane – 19 miles. Starting from Tower Bridge, I run through Wapping, along the Regent's Canal, then down through Hyde, Green and St James's Parks and along the Embankment, finishing where I started.
I'm not going to lie: running 19 miles isn't fun. Happily, I manage to shake the hip stiffness in half the usual time, and there are parts of the run I genuinely enjoy (the section of canal between Broadway Market and the Islington Tunnel is a delight) but on the whole it's a long, tough slog, and the last five miles are as much a mental feat as a physical one. By the time Tower Bridge looms into view again I'm all but plodding, but at least this time I don't wipe out on the cobbles!
I'm beyond exhausted, but I'm hugely relieved. I've made it through the three toughest weeks of training (with an injury, to boot) without falling apart. It's all downhill from here… well, apart from the fact that there's a marathon at the end of it.
Total mileage: 29.4
Week 14
This is the start of tapering (gradually decreasing the length and intensity of my runs) and I couldn't be more ready for it, or better appreciate the wisdom of doing so.
Strangely, it's this week (not the three previous 'hell weeks', or when I was ill) that I feel I've hit my low point. I'm tired in a profound, all-pervading way I've never experienced before. I'm tired of being tired. I'm tired of being desperately hungry all the time. I miss gentler forms of exercise, like swimming, and Parkrun. In short, I want my life back. I think back to the early days of training, when every run was a joyful experience, and realise I haven't really felt that way since I ran the half-marathon.
That said, my weekday runs slowly start to improve. The physio exercises are working: the stiffness is easing more quickly, and the pain has migrated down to mid-thigh, which is easier to deal with than it was in my hip.
On Saturday morning I head out for my long run, which I almost want to put in inverted commas because after last week's 3.5-hour ordeal, 90 minutes is a doddle. Still, the first 30 are tough and I have to push myself much harder than I expected to. But when I reach Brockwell Park, something wonderful happens: I find myself picking up speed and running more easily than I have in weeks. Better yet, I'm back to my old average pace of about 9:30/mile. (Over the last four weeks it's gradually crept past the 10-minute mark – a product of fatigue, injury or both.)
Things are looking up – and not a minute too soon.
Total mileage: 18.2
Week 15
This week I really start to feel the benefits of tapering. When I go out for my weekday morning runs, I feel fresh in a way I haven't in ages. Last weekend's long run wasn't a fluke – I'm now solidly back in the 9:30-mile range and I'm not even breaking a sweat (well, no more than normal). My injury has dwindled to sporadic, barely noticeable discomfort. On Friday I have my last physio appointment and he pronounces me fit to run the marathon as long as I keep doing the exercises and following his advice about warming up.
On Saturday morning I go for my last long run – 70 minutes. It feels fantastic and I enjoy every minute of it. I finish feeling as if I'm ready to conquer the world – definitely ready to take on the marathon.
Not that I don't also feel nervous about it…
Total mileage: 15.7
Week 16
With my final two runs under my belt and a week of carb loading behind me, and almost a year to the day since I first started running, I'm standing on the cobbles of George Square, Edinburgh, being pelted by sporadic showers, wearing a raincoat improvised from a bin bag (next season's must-have accessory, I'm convinced) and waiting for the starting gun. It all feels completely surreal.
My marathon only properly begins fifteen minutes after the gun because I'm in one of the last pens to start, but from the moment I cross the starting line I'm surfing a wave of pure adrenaline. I'm being careful not to start off too quickly as I know it will only lead to tears later, but for the first ten miles I finally learn what a runner's high feels like. The course is beautiful (through the Old Town, around the base of Arthur's Seat, then out to the coast). The sun comes out around the one-mile mark. But perhaps the best part of all is the people of Edinburgh, who've come out to cheer the runners on – my absolute favourite is the scores of children holding their hands out to high-five us as we run past.
Miles 11-18 are a little harder, but I'm running with more ease and speed than I did on any of my training runs and I'm still feeling confident. Around mile 17 my right heel starts hurting – something that's never bothered me before – but I've come prepared and, without missing a beat, I swallow the paracetamol I'd stashed in my running belt. The pain begins to recede – not completely but enough to allow me to keep going.
Mile 18 is where the course doubles back on itself and it's now, with the end in sight, that I start to struggle. I find myself needing to take short walking breaks, but I always manage to get myself back up and running after two, three, four minutes. I wonder briefly if I'm hitting the fabled 'wall', but no – my legs don't feel impossibly heavy, and at no point do I actually feel that I won't make it through to the end. I start counting down tenths of a mile. I'm extra thankful for the people cheering me on by name (my name is on my bib, something for which I'll be forever grateful to the marathon organisers). Come on. You can do this.
Sometime past mile 23, I stumble right into the teeth of the fiercest wind of the day. I can't keep running through it and slow to a walk. When I'm through the worst of it I look down at my watch and see I have just over 2.5 miles to go. There's no way I'm going to walk them. I dig in with reserves of energy I didn't know I had and pick up speed.
The crowds thicken as the finish approaches and the cheering is deafening. And then there it is, the finish line is finally in sight, and in the middle of a crowd of thousands there's my boyfriend standing right up against the barriers shouting my name. That's the final push I need, and I'm over the line.
It takes me a while to process what I've just accomplished (and also just how wrecked I feel – not surprising as I've just done something to my body that it's never had to endure before). It's really only when I'm back in my hotel room in Edinburgh, finally feeling human again and getting ready to head out to a celebratory dinner, that it hits me.
I've run a marathon. My first ever.
Total mileage: 32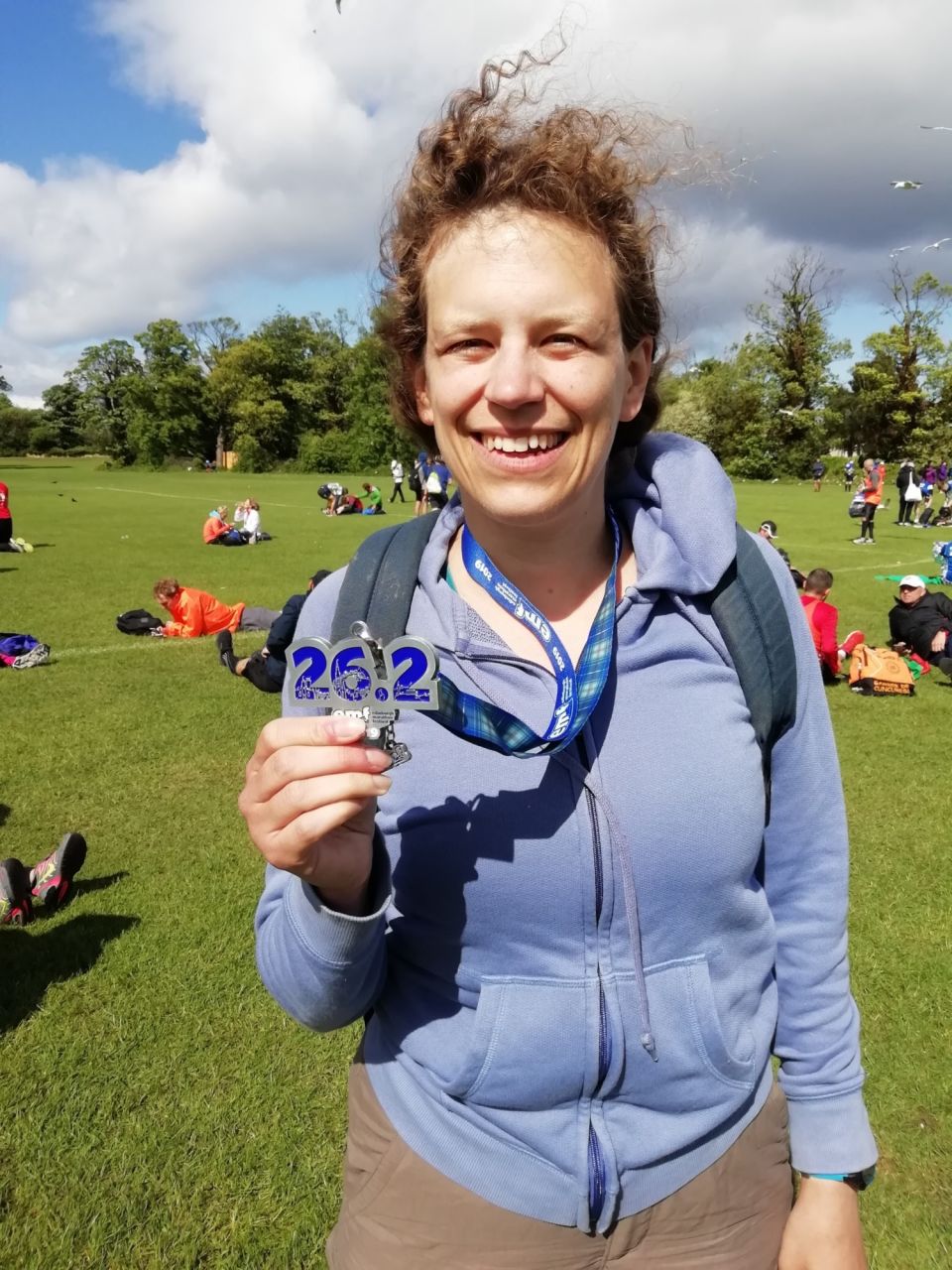 Postscript
I finished in 4:32:27, more or less what I'd predicted. I'll certainly never give Mo Farah a run for his money but for someone my age who only started running seriously a year ago, it's a respectable result and I'm pleased.
Will I ever run another marathon? I'm not sure. In the 24 hours after finishing I was convinced that I'm a 'one and done' person – I was exhausted, and I certainly don't enjoy being injured (that sore heel turned out to be a sprained ankle). Another two days on, though, the memory of the pain is fading and the good memories and feelings of accomplishment are coming to the fore. Who knows…
What's not in doubt is how proud and pleased I am to have run my first marathon as part of Team Trees. I managed to raise enough money (so far!) to plant 170 trees. And now… I'm looking forward to helping plant them this autumn.
Donate to Trees for Cities and together we can help cities grow into greener, cleaner and healthier places for people to live and work worldwide.
Donate