The Lost Words campaign has lift off!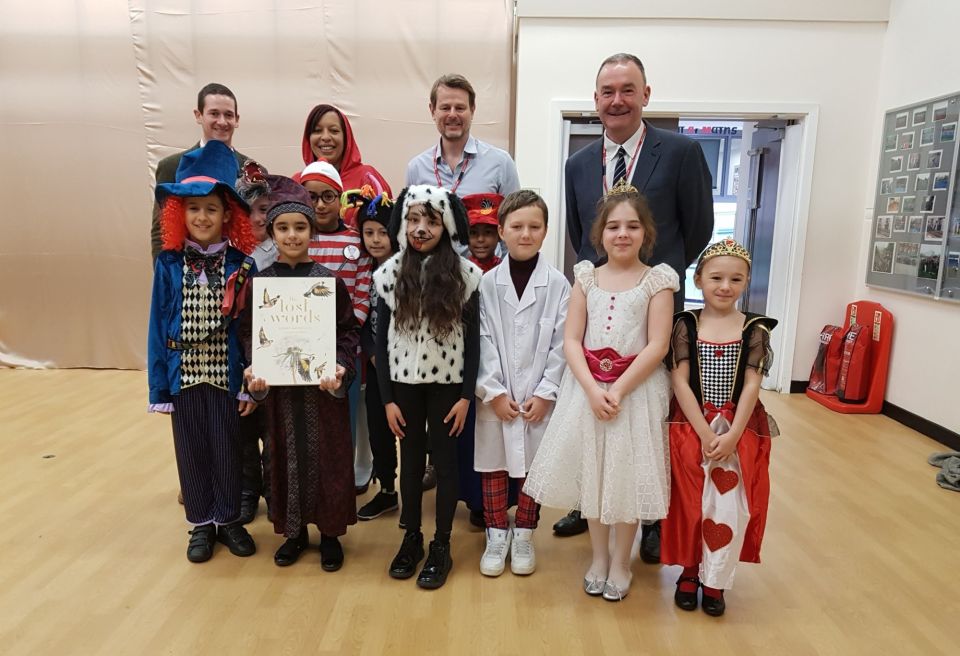 Earlier this month we kicked off our London-wide Lost Words campaign with an event at Beam County Primary School in Barking & Dagenham.
The event marks the start of our ambitious programme to deliver copies of Robert Macfarlane and Jackie Morris' wonderful book spell book to every non-independent primary school in the capital*. 

On World Book Day – March 7th – the Trees for Cities team headed to Beam County to hand them a copy of The Lost Words, and in so doing celebrated the first of nearly 2,000 schools that we'll be delivering the book to. 
With the children dressed as characters from their favourite books, we ran a quiz to Year 4, asking them to name the British birds in a number of Jackie's illustrations. Izzy came first in the quiz and won her own copy of The Lost Words to take home.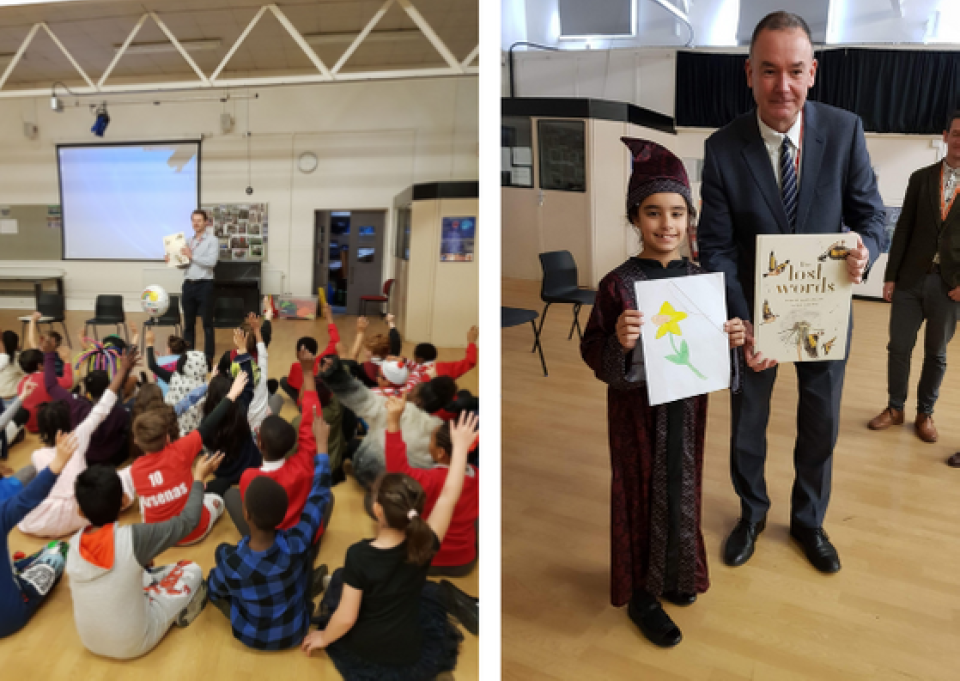 Jon Cruddas, MP for Dagenham and Rainham, spoke with the pupils and read an excerpt from The Lost Words to them. He said:
This launch is the start of something very special in our schools. Not only does the book highlight the natural world, it will also broaden young people's vocabulary and creativity with its excellent use of language and art.

Jon Cruddas, MP for Dagenham and Rainham
Andrew Achilleos, local councillor and governor for Beam County, said: 
I have no doubt that the book and resources will complement the astounding work teachers at Beam and across the borough are already doing to teach our children about the environment.

Andrew Achilleos, local councillor
Backed by Bulb – renewable energy company and partner of Trees for Cities – we will now make a start on packaging and delivering the books. It will be rolled out borough by borough, in alphabetical order to mirror the sequence of spells from the book. Schools in Barking & Dagenham will be first to receive it, then Barnet and right through to Westminster. 
We're hugely excited by this campaign and we look forward to the challenge of getting so many hundreds of books delivered. Connecting children to the natural world is an important part of what we do, as exemplified by our Edible Playgrounds programme.
Our Chief Executive David Elliott explained why we feel it is important for schools to be given a copy of the book: 
The Lost Words has already inspired thousands of children and adults to rekindle a love of the natural world. At a time when children are spending less time outdoors, it makes perfect sense to bring this magical book to every school in the capital, so thousands more children can learn about all their natural surroundings have to offer.

David Elliott, Trees for Cities' Chief Executive
And as Robert Macfarlane has put it, The Lost Words has become much more than 'just' a book. It has got children, teachers and parents excited about exploring the natural world again, with classes and entire schools venturing out into woods, parks and gardens to discover more about their surroundings. The author said:

What is being given away with each copy is, really, hope and change. Jackie and I could not have foreseen it during the years we spent writing it, but The Lost Words has been an acorn from which a wildwood has grown. We feel very lucky to be part of a much broader movement underway in Britain, bringing everyday nature back into our everyday lives, especially those of our children.

Robert Macfarlane, author of The Lost Words
If you are a member of staff, parent or pupil of a non-independent primary school in London (the boroughs outlined above excepting) the school will get hold of their Lost Words copy in the coming weeks. If your school is in a borough that is lower down in the alphabet, please be patient – we will get to you.  
Find out more about our Lost Words campaign here.
_______

*With the exception of schools in the some boroughs where they have already been provided copies of the book through separate crowdfunders. 
Donate to Trees for Cities and together we can help cities grow into greener, cleaner and healthier places for people to live and work worldwide.
Donate