Trees for Cities Appoints New CEO
Trees for Cities has announced that Kate Sheldon has been appointed as its new CEO.
Kate takes on the role from former CEO David Elliott who is leaving the charity after seven years, and will be stepping up from her current role as Deputy CEO and Director of Development.

Kate originally joined the charity as Capital Woodlands Project Officer and over 19 years has played a pivotal role in shaping the values, mission and expansion of the organisation into the UK's leading urban tree planting charity. Talking about her appointment, Kate Sheldon said:
I joined Trees for Cities in 2004 and am immensely proud of the charity's achievements to date; it is an honour and privilege to lead the organisation going forward. We will continue to collaborate widely across different sectors, offering nature-based solutions for businesses, creating opportunities that inspire young people to pursue green jobs, and designing more trees into our everyday lives.
As an urban tree planting charity with people at its heart, Trees for Cities has worked with local communities, schools and businesses over 30 years to establish more than 1.5M trees in towns and cities across the UK and around the world. Its vision 'Urban Trees for All, By All' seeks to harness the power of mass community participation to enable and inspire direct local impact on a national and global scale. Kate says:
Urban trees really are "magic machines". They suck carbon from the atmosphere, nurture wildlife, clean and cool the air that we breathe - and are strikingly beautiful besides. As we start the year with widespread reports of 2022 being the hottest on record, we know that now is the time for us all to 'step up' and do more together to halt climate change and reverse the loss of biodiversity'.
With 80% of the UK population now living in towns and cities, Kate will spearhead the next phase of the organisation's ambitious three-year strategy, which puts nature-based solutions at the core of tackling the climate crisis, breaking down barriers to nature in some of the most deprived urban areas of the UK.
Our organisational strategy sets out how it is the "Turn of Trees" to play a significant and leading role in the collective effort to help tackle these global crises. As an urban charity, Trees for Cities has the wonderful ability to galvanise communities, persuading people to care and empowering them to take action in their neighbourhoods.
Last year alone, Trees for Cities engaged 21,410 people to plant 266,794 urban trees and deliver 60 school projects connecting kids with nature. Kate says:
We are uniquely placed to mobilise people in cities - across the UK and overseas - to plant and care for their trees. We stand out from the crowd in our ability to engage people of all ages and abilities and to establish trees in places that need them most. Planting trees plants hope for the future! My hope is that future generations will grow up in the towns and cities of tomorrow among the thriving, nature-rich urban forests that we must plant today.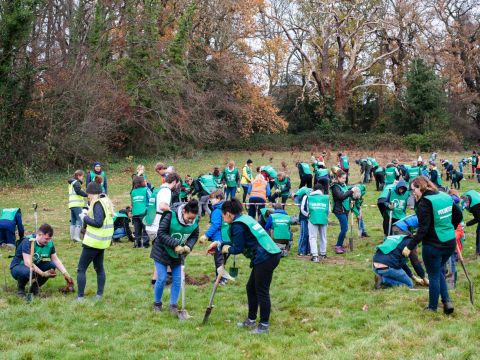 About us
Trees for Cities is building resilience against threats facing the natural environment. Planting a range of tree species enhances structural and functional diversity in woodlands and on city streets, as well as building resistance to pests and disease.
FIND OUR MORE ABOUT OUR WORK
Donate to Trees for Cities and together we can help cities grow into greener, cleaner and healthier places for people to live and work worldwide.
Donate