TREES FOR CITIES REVEALED AS THE MASKED DANCER UK'S CHARITY PARTNER
The UK competition show, The Masked Dancer UK, has announced environmental charity Trees for Cities is an official charity partner for its second season!
Kicking off on ITV on Saturday the 3rd of September 2022, The Masked Dancer UK is back for its latest season. Season 2 features a panel of famous faces trying to piece together clues and dance moves to 'unmask' 12 celebrities dressed in extravagant, head to toe costumes.
To celebrate the charity partnership, Trees for Cities will be running its very own #UrbanTreesUnmasked social media campaign on both Twitter and Instagram. In line with the show's broadcasting, for the next 8 weeks we will release clues and riddles to 'unmask' a different tree species each week and the benefits they bring to urban areas. Our first tree and its clue can be found below and will be 'unmasked' on Monday the 5th of September.
I can be quite thorny but am a great pollinator as I produce pretty flowers and red fruits. When I blossom, it's a sign that spring is nearly over and Summer is on the horizon. Which urban tree is behind the mask? 🎭

Our first clue...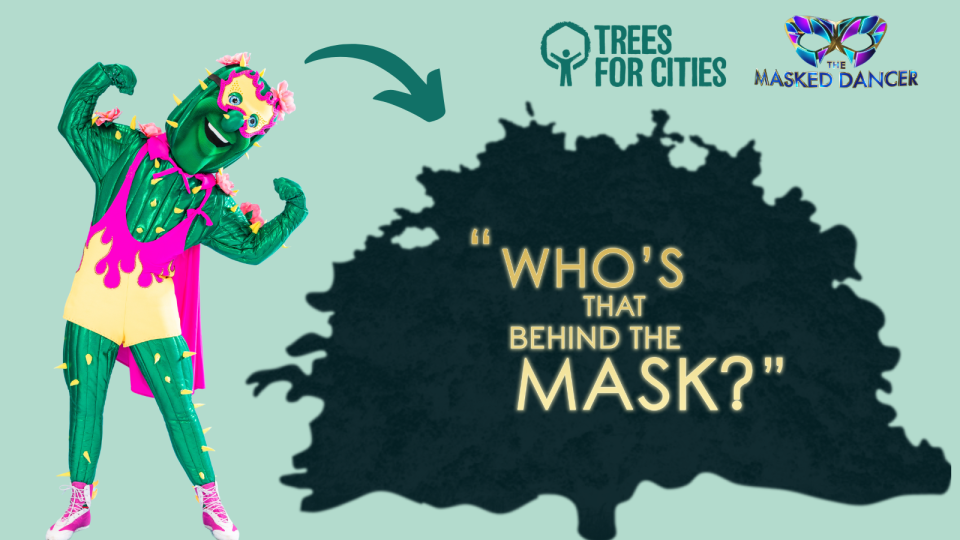 Followers are encouraged to get involved with the challenge over on our Twitter and Instagram pages by taking part in the interactive polls and quizzes. There's even a chance to win Trees for Cities and The Masked Dancer UK merch for a lucky few who guess the right tree!
In addition to the social media campaign, an exclusive and limited edition water bottles designed by the show's famous panel are available via The Masked Dancer UK webstore. Funds raised from each purchase will then be donated to Trees for Cities to help us continue planting more trees both in the UK and internationally.
WHY DO WE NEED TREES IN CITIES?

With 8 in 10 of the UK population now living in an urban area, we believe trees are an essential part of the urban landscape and planting more of them is a practical and effective way of making our cities greener and healthier.

Urban trees bring many benefits to our towns and cities such as releasing oxygen, keeping the air clean and mitigating the effects already felt by the climate crisis. They create shade, shelter and habitats for wildlife and create beautiful, tranquil spaces for everyone to enjoy.
And just like dancing (!), urban trees are great for improving our mental health. Studies show that spending time outside with trees is a great way of improving our mental wellbeing so why not try visiting your local green spaces, connect with nature and see if you can spot any of our 'masked' trees!

Donate to Trees for Cities and together we can help cities grow into greener, cleaner and healthier places for people to live and work worldwide.
Donate