WATCH: Our first ever flash mob!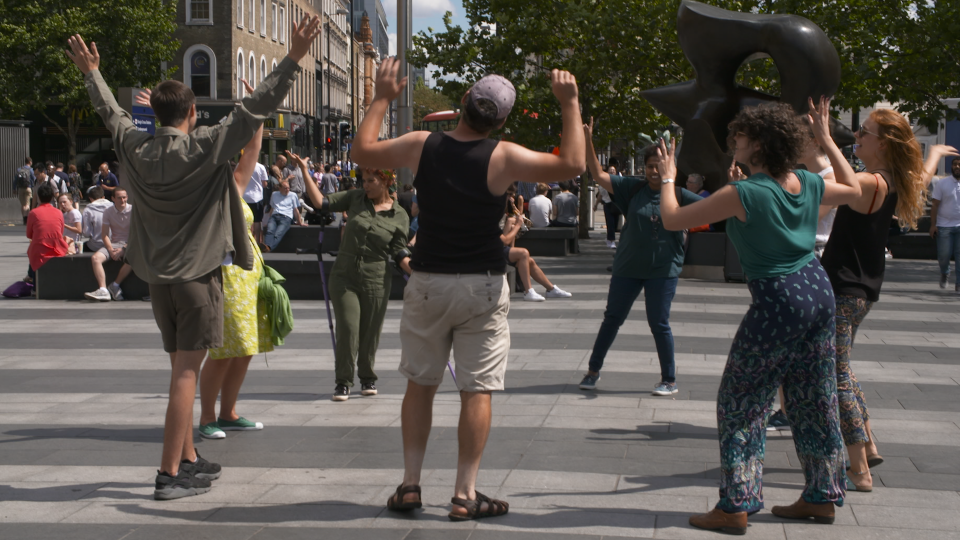 Trees for Cities took on King's Cross for a special performance of 'musical trees' in front of a large (though unsuspecting) audience. This is how it went down.
You might love or hate flash mobs – defined as groups of people who assemble suddenly in a public place and perform an unusual act – but it's a brilliant way to reach out to new people. It's also pretty fun for the people involved, as we learned at our first ever flash mob at King's Cross Station in London. 
Check out the video from the event below!
While David Bowie's 'Let's Dance' and Earth Wind & Fire's 'September' blasted through our speakers, our volunteers – dressed mostly in green – started the game of musical trees. Why, you haven't heard of it? When the music stops everyone have to stop dancing and stand like trees. Easy, peasy! Despite having everyone at King's Cross square looking curiously at them, the volunteers really let loose – and even managed to get passers-by to join in for a little impromptu waltz.
Volunteer Matthew Hull, whose excellent moves won him our dancing competition medal, wanted to join the flash mob because he thought it'd be a fun activity and would give a clear message.
"I wanted to join the flash mob because I thought it'd be fun - it was - and it is a cause that I believe in strongly. Nature deserves much more credit and appreciation that it currently gets."

Matthew Hull, volunteer

The flash mob dispersed after a few songs, but by then we'd managed to get the audience intrigued and we used that opportunity to chat to people about #GenerationTree. A special thanks to everyone who donated to plant more city trees!
Now the only question left is: shall we do it all again? Matthew sure thinks so.
"The music was great, the people that came were very positive and lovely, and I wish it could happen again, bigger and better!"
Donate to Trees for Cities and together we can help cities grow into greener, cleaner and healthier places for people to live and work worldwide.
Donate