What we got up to in National Tree Week 2021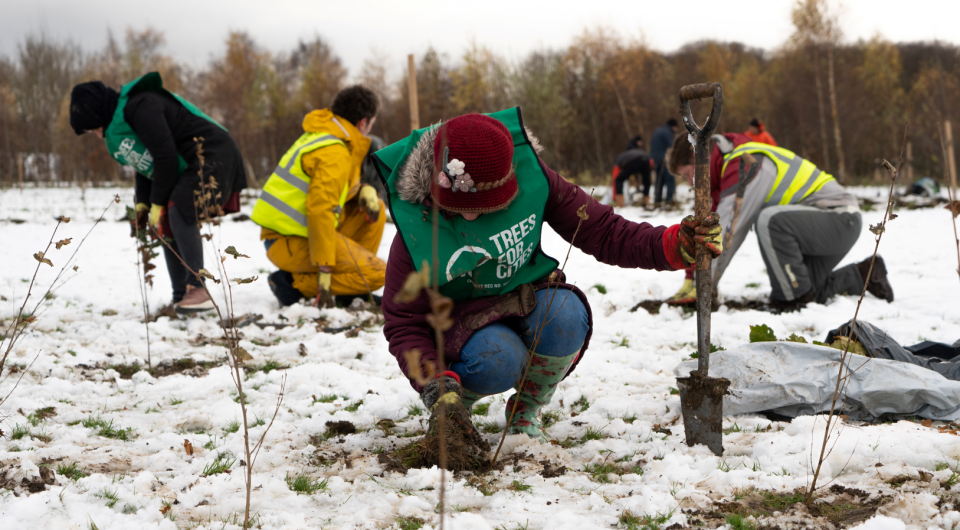 As well as planting thousands of trees up and down the country, we smashed our Big Give fundraising target in just a matter of days!
NEWHALL PARK, BRADFORD
We marked the start of National Tree Week by partnering with The Queen's Green Canopy and Bradford Metropolitan District Council to begin the planting of 10,000 trees at Newhall Park, Bradford. Despite what turned out to be a snowy and windy day, over 100 dedicated volunteers and local community groups braved the elements and turned up to plant urban trees with us. We think it's safe to say that no matter the weather, and with the support of our fantastic volunteers, we will always continue to make our cities greener, happier and healthier places to live!

We were also excited to welcome Alastair Campbell and Bradford MP Judith Cummins, along with many local councillors, who all got stuck in to bring the many benefits of urban trees to Bradford.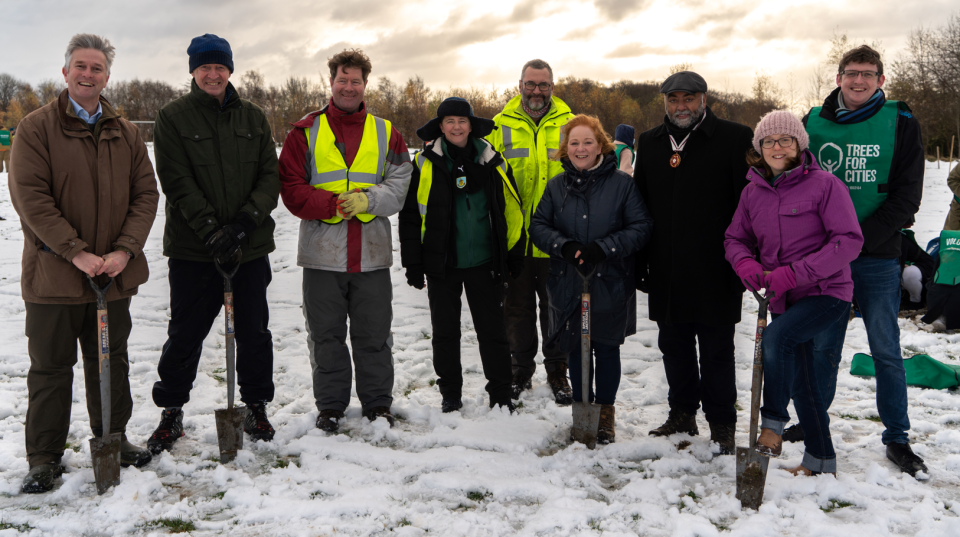 Thousands of young whips were planted on the day and those left over were planted by local school children and community groups throughout the rest of National Tree Week. These trees will grow to create an urban forest at Newhall Park, increasing tree cover, supporting habitats for wildlife and bringing splashes of colour to the park during each season.

For the Newhall Park planting site, we worked closely with Bradford Metropolitan District Council to support their Tree for Every Child project which will see 55,000 trees planted in the area. We also worked with The Queen's Green Canopy to celebrate their Plant a Tree for the Jubilee campaign for Her Majesty's Platinum Jubilee in 2022.

OUR ENOUGH TALK, MORE URBAN TREES CAMPAIGN
This year, we took part in The Big Give's Christmas Challenge, the UK's largest match-funding campaign, which ran between 1st of December to the 7th. Our Big Give appeal focused on the imminent need to combat the climate crisis in our towns and cities, and to create and strengthen a social movement for urban trees. There is an urgent need for more urban trees and there is still more work to be done - we no longer need to talk, we need to act now and plant trees in towns and cities across the UK and around the world.
Our campaign had a fundraising target of £20,000, which would be matched by The EQ Foundation, giving us a total target of £40,000. We had an overwhelming response to the campaign and managed to smash our target within 3 days! Once the campaign closed, we had raised £48,024.

When we took part in the Big Give for the first time in 2020 we raised £7,907, so it's fantastic that we were able to fundraise 5 times as much for this year's campaign! It's thanks to people like our incredible donors that we are able to continue planting trees across the UK and internationally. A huge thank you to everyone who donated.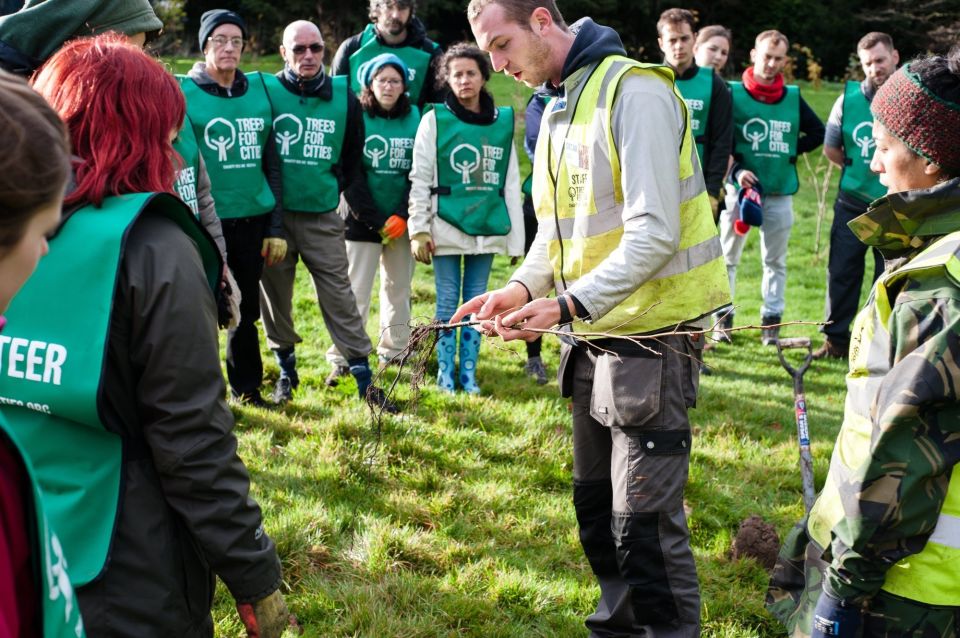 FORGOTTEN PLACES - GREENING COASTAL TOWNS AND CITIES
As part of a new £1.2M funding initiative through the Green Recovery Challenge Fund, we have begun planting 55,000 trees across seven coastal towns and cities to support green jobs and provide a boost for nature recovery. The first planting phase of the Forgotten Places: Greening Coastal Towns and Cities initiative has started to take place in Portsmouth and Brighton this December, with Bexhill, Great Yarmouth, Hull, Ramsgate and Stockton-On-Tees following suit in early 2022.

In addition to enhancing green spaces and improving air quality, over 9,000 local residents will have the opportunity to undertake training to build their environmental knowledge and learn tree-related skills that are relevant towards the green sector. The project will also support over 40 full time green jobs/traineeships, with newly developed jobs ranging from tree-planting coordinators to ecologists, horticultural officers and many more environmental roles.

We can't wait to bring the many benefits of urban trees to these coastal areas!

COMMUNITY HUB
We were proud to launch our new grassroots community platform during National Tree Week - Trees for Cities Community Hub!

It's a brand new membership website for people who are passionate about all things trees and urban greenery. We want to support and teach a new generation of local grassroots individuals and groups to develop their very own projects to plant, protect and promote urban trees. We hope that through the community hub, we can connect more people with not only nature but each other, and ultimately empower urban communities to make their towns and cities greener, happier and healthier places to live.
Simply sign up for free as a member and you'll have access to the following benefits:

The option to set up local volunteer community events where you can manage attendees and information
Useful tips and tricks about nature, planting and maintenance so that you can feel equipped to help out in your local area
Through our member directory, you can connect with other like-minded groups and individuals, either locally or from across the country, and share your experiences.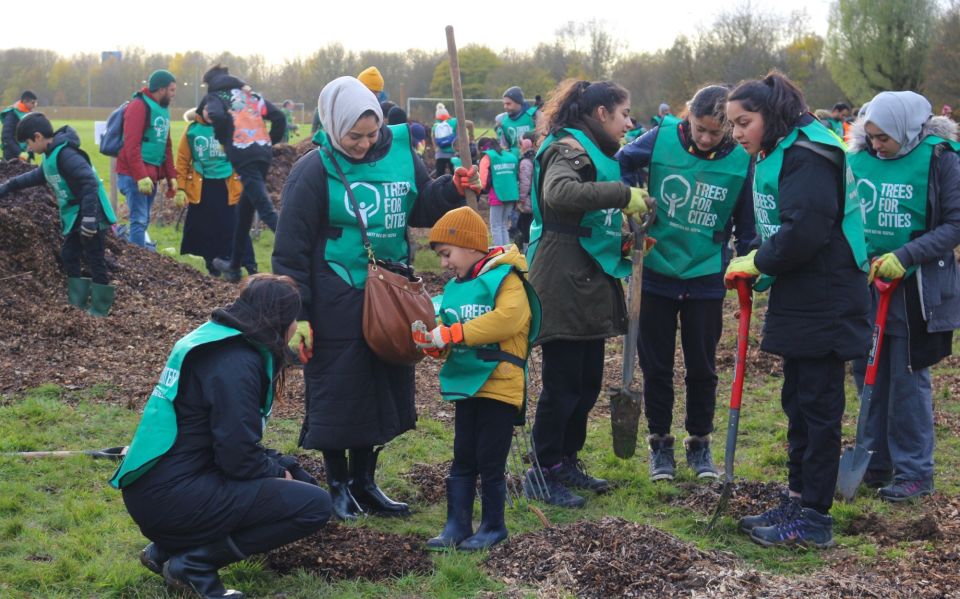 ASHTON PLAYING FIELDS, LONDON
We celebrated the end of National Tree Week with a planting day at Ashton Playing Fields in Redbridge, London. We were pleased to be working in partnership with the London Borough of Redbridge, Gett UK, The Queen's Green Canopy and Vision Redbridge Culture & Leisure to plant young trees on the borders of the playing fields. The trees will help block noise and sound pollution from the M11, support wildlife biodiversity and help create beautiful spaces for residents to enjoy.

Thanks to the help of corporate volunteers, our community payback scheme with the Ministry of Justice and the hundreds of volunteers who showed up on the day, we were able to plant 12,000 trees at this site!
During the week, we also worked with local communities and partners around the UK to plant thousands of trees in Cardiff, Coventry, Derby and Dundee, helping make more towns and cities across the UK happier, healthier and greener places to live.
Trees for Cities is incredibly proud to work alongside such dedicated and inspiring individuals and communities who take local action to plant and protect urban trees. Every day action matters and the impact from our work during not only National Tree Week but throughout the year will allow both today and tomorrow's generation an opportunity to live amongst urban trees and nature.
Although National Tree Week has come to an end, Trees for Cities will still be here to plant more trees and ensure as many towns and cities as possible can enjoy the many benefits of urban greenery :-)

Our work is made possible thanks to our partnerships with local councils, funders, the support from players of People's Postcode Lottery and of course, our dedicated volunteers.
Donate to Trees for Cities and together we can help cities grow into greener, cleaner and healthier places for people to live and work worldwide.
Donate