We're proud to be part of the Tree Cities of the World programme, connecting cities around the world to create a network dedicated to sharing how we all manage urban trees and forests to make our cities greener and more robust.
2022 APPLICATIONS OPEN NOW
Become part of this global network of cities and achieve international recognition for your leadership in urban and community forestry. Applications close February 17 2023.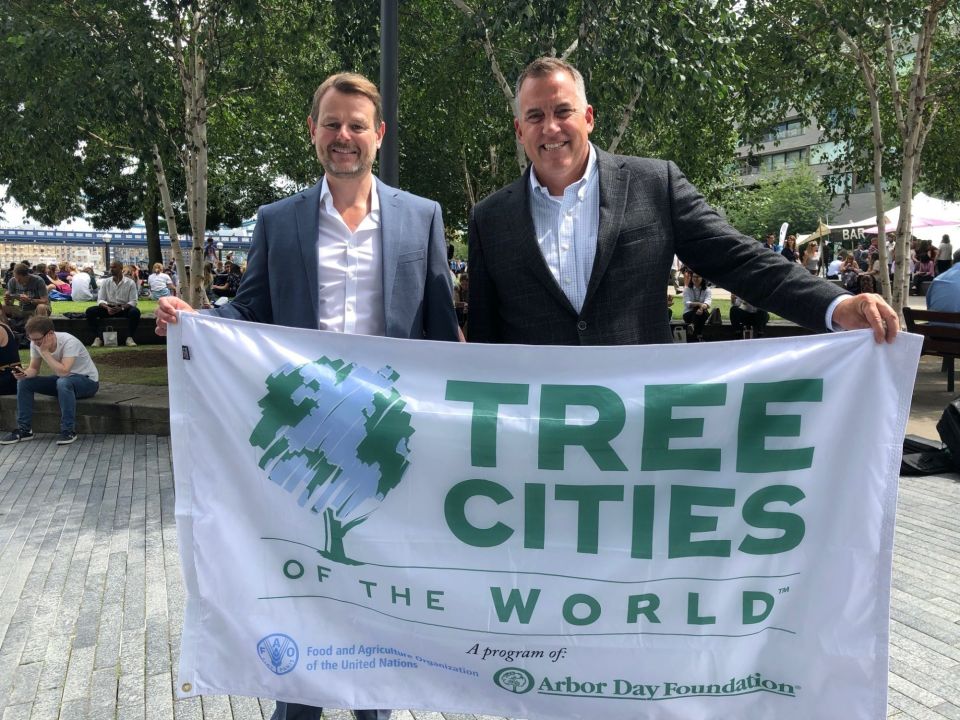 The Tree Cities of the World programme, led by Food and Agriculture Organization of the United Nations (FAO) and the Arbor Day Foundation, is an initiative to recognise cities and towns across all continents that meet core standards for the care and planning of urban trees and forests. Trees for Cities is leading the initiative to recruit and support cities throughout the UK to apply for designation.

To achieve recognition, cities must meet the programme's five core standards: establish responsibility, set the rules, know what you have, allocate the resources and celebrate achievements.
Get in touch with us on info@treesforcities.org or apply below.
A new UK record!
2022 saw 19 areas in the UK awarded Tree Cities of the World recognition

Areas include Birmingham, Bradford, Cardiff, Chesterfield, Coventry, Hull, Ipswich, Leeds, Middlesbrough, Newry Mourne & Down, Portsmouth, Sheffield, Solihull and Welwyn Hatfield. London also saw major success with the boroughs of Barking & Dagenham, Ealing, Tower Hamlets, Camden and Redbridge also awarded recognition. Congratulations!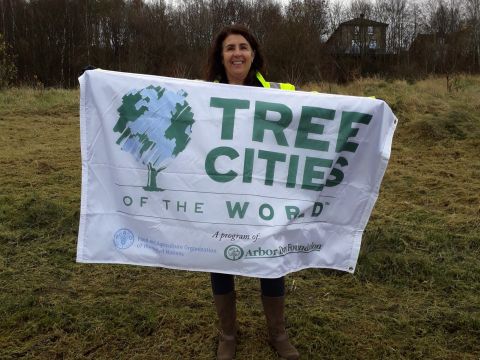 UK Tree Cities of the World - Spotlight on Bradford
The City of Bradford has been internationally recognised in the first cohort of six UK Tree Cities of the World for its commitment to urban forestry management.
This exciting new recognition means that the City of Bradford is now part of a global network of cities dedicated to sharing knowledge how we all manage urban trees and forests to make our cities greener and more robust.
Read more
"The programme brings private and public partners together, and Trees for Cities' work with local communities is an example of the collaboration that is already taking place globally," said Dan Lambe, President, Arbor Day Foundation.
The vision of the Tree Cities of the World programme is to connect cities around the world in a new network dedicated to sharing and adopting the most successful approaches to managing urban trees and forests. Recognition through the Tree Cities of the World programme represents the first step toward achieving a green vision for the qualifying communities.
"Planting trees is our core mission. We have brought together partners from across the sector to form a new UK task force that will support Councils and communities to be recognised as Tree Cities of the World. We believe that this initiative will provide a robust platform through which we can better plant, protect and celebrate our tree heritage," said David Elliott, our Chief Executive.

Trees provide multiple benefits to a community when properly planted and maintained. They help to improve visual appeal, offer shade, remove air pollutants and provide wildlife habitat, among many other benefits.
To learn more about the programme, click the button below:
Big thanks to the players of People's Postcode Lottery for the support which has enabled us to take a lead the initiative in the UK!