Trees for Cities Youth Programme
We're looking for 15 enthusiastic London based 14-22 year olds to join the Trees for Cities Youth Programme and get stuck in with planting and protecting urban trees!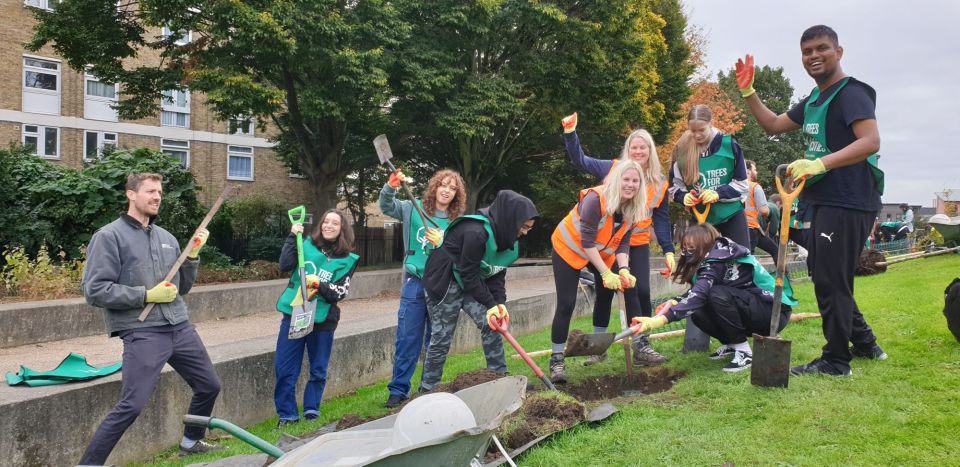 [The programme] was amazing because it can feel really helpless or powerless about getting people to listen to you but this was a great opportunity to have our voices heard and meet other young people who are doing the same thing.

Past Youth Programme Participant
WHAT IS THE YOUTH PROGRAMME?
Starting in October 2022, the Youth Programme is a six month interactive project based in London, featuring a blend of online and in-person training sessions. We will teach young participants how to plant and protect urban trees and how best to inspire their local communities to do the same. Excitingly, participants will also have the opportunity to contribute to their very own youth woodland!
This is a fantastic opportunity for personal development and a great way to gain a first hand experience of working in a leading environmental charity, whilst picking up vital arboriculture skills along the way. Perfect for any young person with a keen interest in the environment, who is passionate about joining the fight against the climate crisis and wants to build a greener future for both themselves and future generations.
I learnt a lot about team work. On the programme, you have to talk to each other to figure out solutions to get people connected to nature and everyone's ideas come together. With planting a tree, everyone has to work together too.

Past Youth Programme Participant
LESSON PROGRAMME
Session 1 - An Introduction to Urban Trees
Learn about the many benefits of urban trees, their role in the fight against the climate crisis and why biodiversity is important.
When? Wednesday 19th October 2022, 5pm - 6:30pm

Where? Virtual video call
Session 2 - Planning a Planting Day and Designing a Woodland
Find out about the importance of tree species selection and how we design urban woodlands. How to pick the right tree and the right place.
When? Wednesday 16th November 2022, 5pm - 6:30pm
Where? Virtual video call
Session 3 - Skills Training at a Community Planting Day
An in person training day at one of our community planting days. Learn how to plant and care for urban trees and woodlands.
When? Saturday 26th November 2022, 11am - 3pm

Where? In person at Philpots Farm Open Space, Uxbridge UB7 8DS
Session 4 - Promoting Urban Trees
A chance to get creative by helping design urban tree resources for local communities and signage for the new Youth Woodland.
When? Wednesday 14th December 2022, 5pm - 6:30pm

Where? Virtual video call
Session 5 - Event planning and resource review
A planning session for the planting day and the option to review your designs and educational resources.
When? Wednesday 5th January 2023, 5pm - 6:30pm
Where? Virtual video call
Session 6 - Planting Day as Volunteer Planting Supervisors
An opportunity to put all those skills you've learnt to practice! You will join us as a Volunteer Planting Supervisor and help show our volunteers how to plant trees.
When? Saturday 25th February 2023, 11am - 3pm
Where? In person at Victoria Park, Tower Hamlets E3 5TB
Session 7 - Tree Maintenance
Find out what how look after trees once their roots are in the ground. Learn basic tree ID skills and how to assess the health of a woodland.
When? Saturday 11th March 2023,
Where? In person, London Location TBC
Register your interest below!

Applications close Sunday 3rd of October 2022.
We will cover expenses for journeys to event sites. Transport to planting days will be provided from Central London by Trees for Cities.
Trees for Cities is committed to the principles of equal opportunity and is committed to promoting diversity within the organisation. We aim to ensure that our employees, interns or volunteers achieve their full potential and that all recruitment decisions are taken without reference to irrelevant or discriminatory criteria.