Trees for Cities Youth Programme
Our Trees for Cities Youth Programme is a brilliant opportunity for London-based 16-25 year olds to get stuck in planting and protecting urban trees!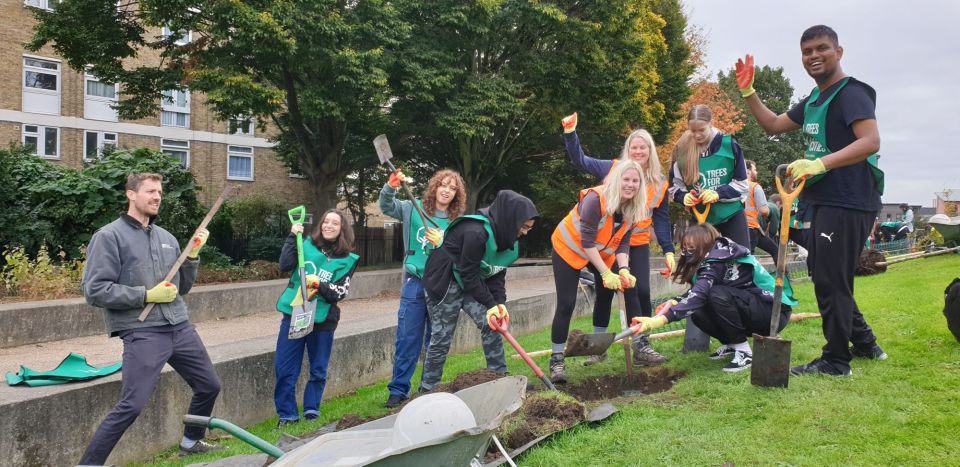 [The programme] was amazing because it can feel really helpless or powerless about getting people to listen to you but this was a great opportunity to have our voices heard and meet other young people who are doing the same thing.

Past Youth Programme Participant
WHAT IS THE YOUTH PROGRAMME?
The Youth Programme is a six month interactive project running from October to March, involving six in-person training sessions in London parks and greenspaces. We teach young participants how to plant and protect urban trees and how to inspire other young people to do the same.

This is a fantastic opportunity for personal development and a great way to gain a first hand experience of working in a leading environmental charity, whilst picking up vital arboriculture skills along the way. Perfect for any young person with a keen interest in the environment, who is passionate about joining the fight against the climate crisis and wants to build a greener future for both themselves and future generations.
Please note that applications are now closed for the 2023-24 Youth Programme. Discover other opportunities to volunteer with Trees for Cities.
I learnt a lot about team work. On the programme, you have to talk to each other to figure out solutions to get people connected to nature and everyone's ideas come together. With planting a tree, everyone has to work together too.

Past Youth Programme Participant
What's in it for you?
Free Tree ID books to help you identify local trees
A space to connect with other young people through events and fortnightly forum catch ups
An opportunity to feel empowered to inspire a new generation to take action against the climate crisis!
Develop knowledge and skills around planning, planting and maintaining urban trees with local communities
A chance to bring real change to urban areas by working with an environmental charity with both national and global impact

This project is funded by the Trees Call to Action Fund. The fund was developed by Defra in partnership with the Forestry Commission and is being delivered by The National Lottery Heritage Fund.

Trees for Cities is being supported by the Trees Call to Action Fund in partnership with the London Urban Forest Partnership and the Greater London Authority.