Growing together in isolation
Are you spending a lot of time at home, but want to stay engaged, positive and productive? Why not start a virtual food-growing club with your friends or colleagues! Here are some tips to get you started.
As all Trees for Cities staff is working from home - and we're generally a green-fingered bunch - we decided to form a growing club. It's keeping us focused on nature and providing some light-hearted competitive spirit, plus it has the added benefit of producing something tasty and healthy that can be eaten in just a few weeks!

We all know how great gardening and the outdoors are for our mental health, so why not use this time of enforced isolation to grow a few seeds? You really don't need much space or equipment: a sunny windowsill, some containers and a little compost will be enough.
More food-growing tips can be found in our Edible Playground crop guides and how-to guides, available as free downloads here. We source our seeds from Tamar Organics and The Real Seed Company, but there are lots of other online options that you could choose.
We've found it really helpful to start a dedicated Gardening Club WhatsApp group, where we can share tips and photos of our progress. We thought it would be fun to share some of our updates with you and hopefully inspire you on your food-growing journey. Read on to see how members of our team are continuing to grow during this challenging time.
Amy, Edible Playgrounds Coordinator
I've now sown seeds into my new veg trug. It's a bit of a squish but I've gone for carrots (Cosmic Purple), lettuce (Lollo Rosso) and radish (Cherry Belle). I made four shallow drills (rows) and scattered the seeds evenly along them. I won't get massive carrots this way but I want variety and crudite-style ones are good enough for me!
I also have a nice big terracotta pot, which looked great when I grew climbing purple beans in it last year. This year I've gone for peas (Kelvedon Wonder) and tagetes (French marigolds). Tagetes are a great companion plant for peas as they repel aphids with their strong scent. I built a bamboo wigwam (very basic!) and then sowed two peas at the base of each cane and then dotted the tagetes around to fill the gaps.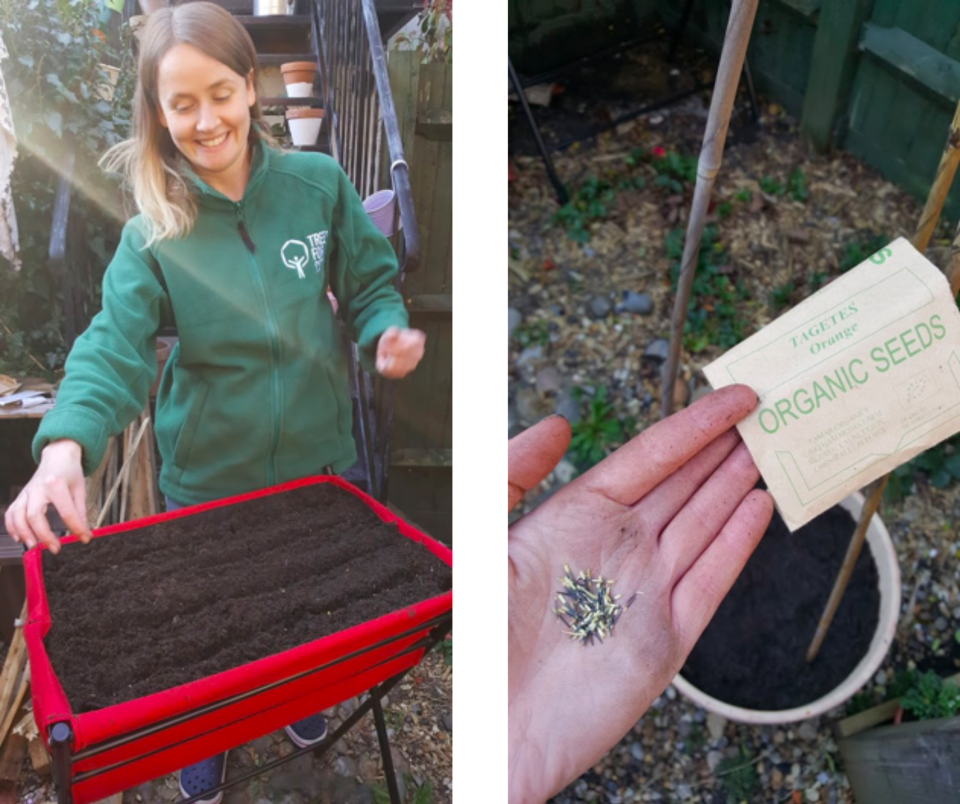 Megan, Edible Playgrounds Coordinator
Our family allotment has to feed a large family spanning four generations. So we grow a lot of veg over the summer including the standard peas, beans, salads as well as an endless supply of courgettes, beetroot, and tomatoes. Slowly we've been trialling new varieties of veg. This summer were growing Oca or New Zealand Yams supplied by one of Trees for Cities' very own Edible Playground schools!
Oca grows very similar to potatoes. They are red skinned with a pale orange flesh inside and have a tangy lemon flavour: we can't wait to taste them. As well as Oca we are growing plenty of edible flowers, including Calendula, Dianthus, Nasturtium, and Viola in the hope of making soaps and balms from them.
I haven't had the chance to go since before the lockdown, but I do plan to pop over in the coming days. So long as I keep the 2 meter distance, it's a great way to get your daily exercise!
Tom, Senior Landscape Architect
I've sown my little ninjas with a bunch of other vegetable friends, including one of my favourite comedy vegetables 'Tromba d'Albenga' and some some herbs the pot. Found some random plastic thing in the back lane which is making a very good cloche. and propped up with some fly tipped paving blocks from the back lane. There were some motley looking strawberry plants on the back step, they may need a little loving.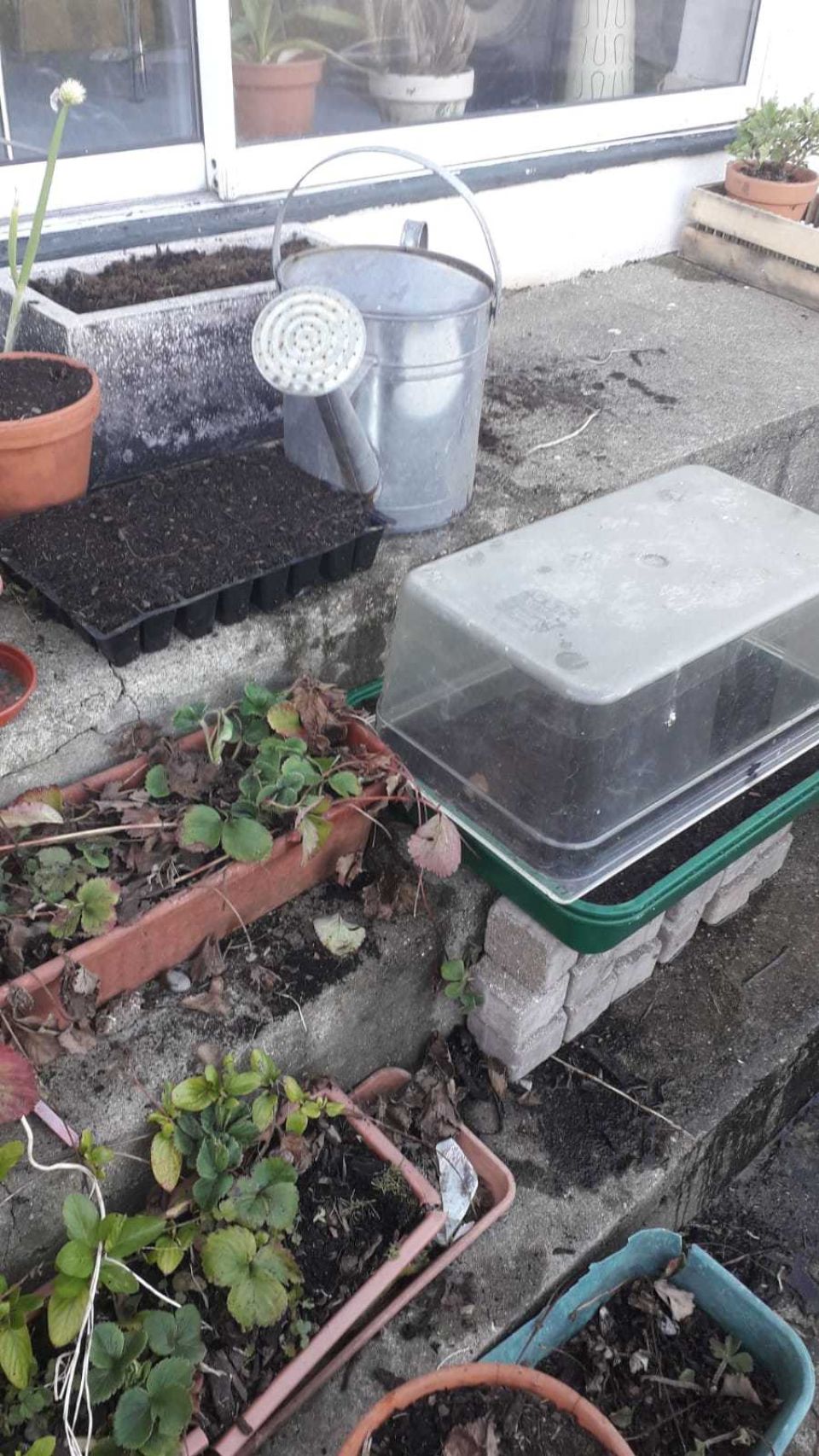 Christina, Edible Playgrounds Coordinator
Early spring is the time of year I most look forward to, the time I can start sowing seeds. I love tomatoes of all shapes and sizes so I'm growing five varieties this year. Sweet Million and Losetto are sweet cherry tomatoes. Then there is Oh Happy Days and Crimson Crush –they are heavy croppers, tasty and, importantly, blight resistant. Finally, there's my favourite: Japanese Black Triefle. This produces dark red, egg shaped tomatoes that have lots of umami flavour. All of them were sown in pots and are pushed up against the windows in my kitchen. Some have already germinated and are starting to bend towards the light, so I need to turn them around every day or two to try and keep their stems straight. 
If you have salad tomatoes then it's good to grow some basil too. I've sown about eight seeds in a pot and will do that every couple of weeks so that I have a continuous supply of fresh basil ready to use for many weeks.
I've been watching a lot of Charles Dowding YouTube gardening videos. He multi-sows many of his vegetables so I thought I'd experiment with multi-sowing leeks. Multi-sowing means there are at least three leek seeds per module and they will be planted out as a group; traditionally they would be planted out singly. I'm looking forward to harvesting them at different sizes all through this year and into 2021.
Some of Christina's recent shoots.
Grace, Landscape Design Manager
I live in hackney in a small house with a south-west facing balcony. The balcony is concrete, sparse and in need of some TLC, but also very sunny. 
With the vision of housebound weeks and maybe months ahead, I decided to utilise the space and start a mini veg growing area. From past homes I have several key components, pots and seeds, though sadly I'm missing compost.
With so much spare time, I think I must be able to solve this issue (within reason).
Step 1. I sacrifice all the houseplants that have perished in my absent housemates bedroom, I crumble the soil off the roots into a large container.
Step 2. Over several days I take trips to a friend's allotment and gather a small amount of soil. - I add this to the container.
Step 3. I hear that the local green waste disposal is giving away leaf compost (in semi stages of decomposition) - I collect one bag and throw it into the mix.
I now have the basic ingredients for veg growing. On the balcony I plant 4 chitted potatoes. Inside I sow rocket and basil into a shallow tray and 15 sweet peas into terracotta pots.
It's a bit of an experiment, but we'll see what happens.
Grace's home-growing set-up. 
Some community-sourced compost.
We would love to see your growing projects! Send us photos, tweet us or get in touch via Instagram @TreesforCities.
Donate to Trees for Cities and together we can help cities grow into greener, cleaner and healthier places for people to live and work worldwide.
Donate