Mayor of London visits our Planting Healthy Air Project
On Wednesday 30th of March, the Mayor of London Sadiq Khan joined us at Gascoigne Primary School in Barking as London was unveiled as a "Champion City" under The Queen's Green Canopy (QGC) initiative. The Queen's Green Canopy, a partner of Trees for Cities, launched the "Champion Cities" programme to celebrate some of the nation's outstanding cities which have trees and woodland as a central part of their plans for green spaces.

To celebrate this recognition, the Mayor visited the school to help plant urban trees and learn about our pioneering Planting Healthy Air project we developed to mitigate against the detrimental effect of air pollution, particularly on children. The programme involves redesigning playgrounds to reduce the impact of poor air quality by introducing green infrastructure, such as trees and hedgerows.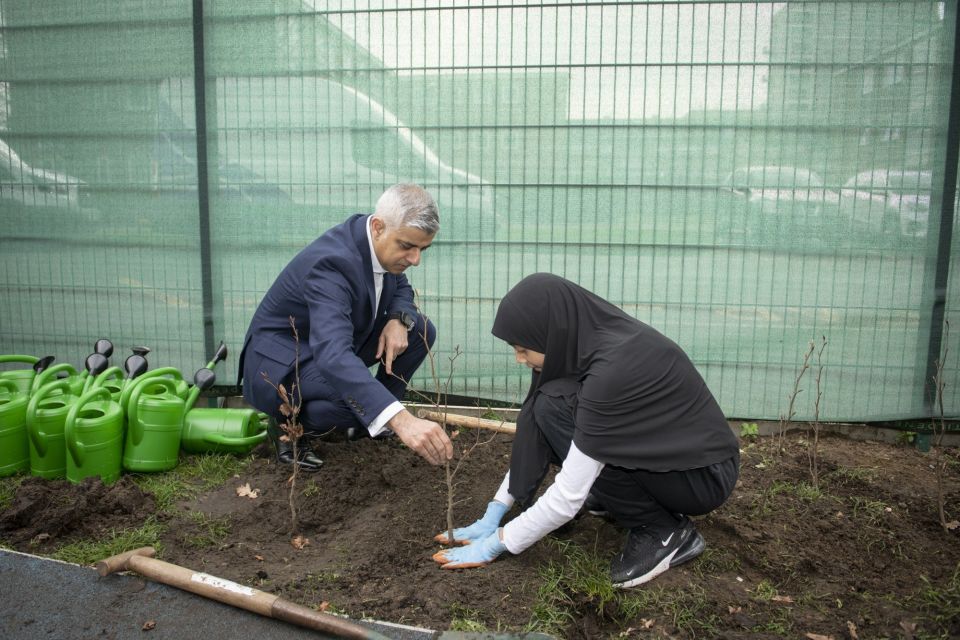 Planting trees plays a vital role in our efforts to tackle climate change and air pollution and I'm delighted that London has been made a Champion City for The Queen's Green Canopy initiative. This is a fitting way to mark Her Majesty's Platinum Jubilee and I'm pleased to be joining pupils at Gascoigne Primary School to create a healthier, more beautiful and wildlife friendly school environment.

Sadiq Khan, Mayor of London
Over two days, Trees for Cities worked with the pupils and staff at Gascoigne Primary School to plant 300 beech hedgerow plants and 5 ornamental cherry trees along with a new wildlife area. This greenery will act as a living shield between the playground and road, helping to block noise and pollution from traffic. Our Schools Engagement Coordinators also provided educational workshops so that pupils had the opportunity to learn about the importance of urban trees and how they mitigate the effects of air pollution.

Gascoigne is one of Britain's largest primary schools with over 1,100 pupils. The London Borough of Barking and Dagenham has the highest Index of Multiple Deprivation (IMD) in London. Every neighbourhood in the Gascoigne ward where the school is situated is among the 20% most deprived in the UK and some neighbourhoods are in 10% of the most deprived.

The greenery planted at the school reflects London's ambitious target to increase tree canopy cover by 10 percent and support ambitions to become a net zero carbon city by 2030.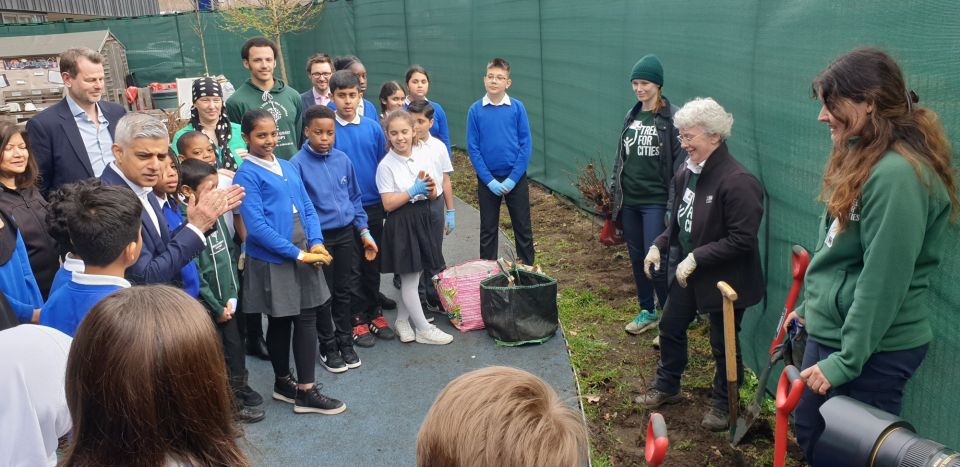 We are delighted that London has been awarded Champion City status by The Queen's Green Canopy. We welcome the Mayor of London to our ground-breaking Planting Healthy Air Project at Gascoigne Primary School, which provides a showcase for the multitude of greening activities taking root across the capital. Through supporting the planting of urban trees as a legacy to Her Majesty's Service to the nation, Trees for Cities is helping to send a powerful message to young people to connect with urban nature and to re-green the city for future generations.

David Elliot, Trees for Cities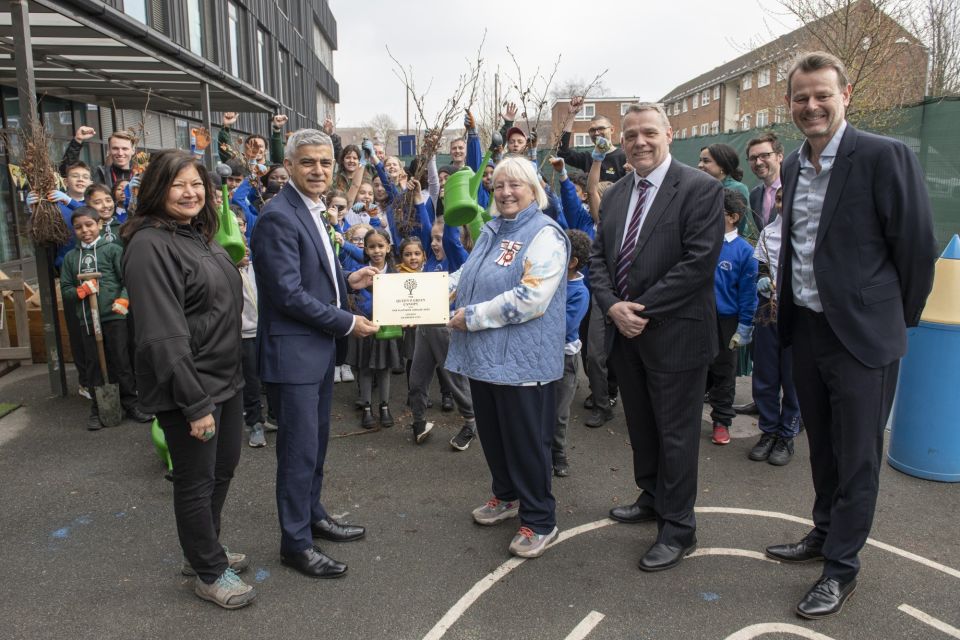 ABOUT THE PROGRAMME
At Trees for Cities, we know there is building evidence showing that pupils who spend more time playing and learning in high-quality greenspace can experience improved health and well-being, a closer connection with nature and more environmentally sustainable attitudes. Experiencing the tangible benefits greener environments can provide can lead to a greater understanding and appreciation of the need to plant and protect trees from an early age, as well as a motivation to take action to do so.Our Planting Healthy Air programme is just one of our tailored Schools Programmes that provide transformational greening projects to schools through urban tree and nature-related activities and training. We provide pupils and teachers with everyday access to higher quality greenspace and build the capacity of staff to teach outside, helping pupils to increase their knowledge, skills and awareness of urban trees, nature and wider environmental issues.


Through the programme, we engage the school community to raise awareness of the problem of air pollution and the ways that trees and vegetation can help to reduce exposure. We work with a number of schools to design and plant green infrastructure - trees, ivy screens and hedgerows to screen against pollution sources - and monitor improvements in air quality around the playground.Trees and vegetation provide an array of benefits such as improving wellbeing, strengthening biodiversity, cooling the air, and absorbing harmful air pollutants. The school ground trees will also offer much-needed shade for the children as well as create new places for learning. Reducing the pupils' exposure to air pollution helps to avoid multiple health problems - or worse.

You can read more about our work in schools here or contact schools@treesforcities.org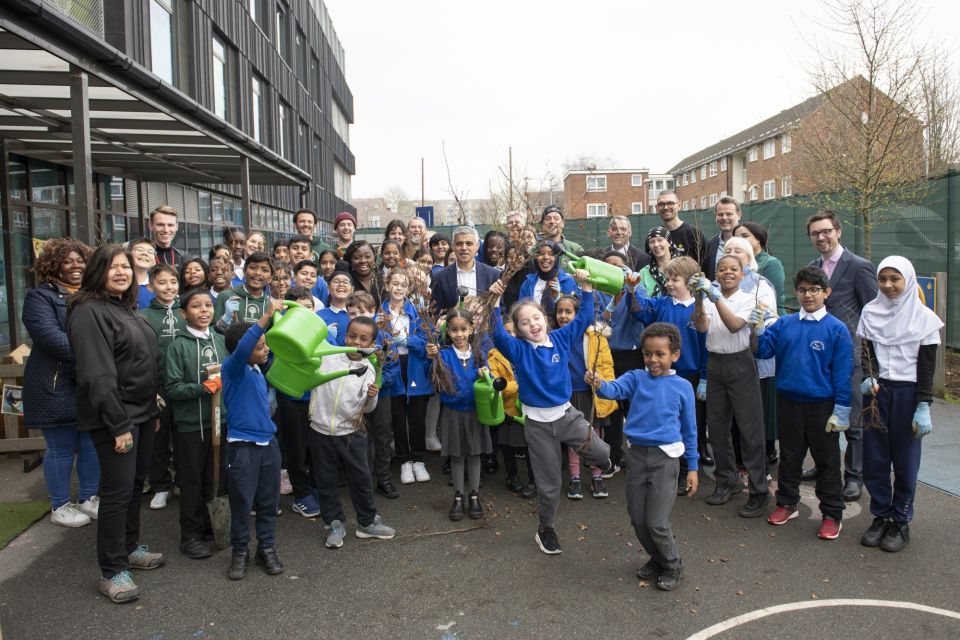 We want to say a special thank you to the Greater London Authority, IG and Moju drinks for their support on this project at Gascoigne Primary School. We wouldn't have been able to carry out our ground-breaking work without their partnership!
Donate to Trees for Cities and together we can help cities grow into greener, cleaner and healthier places for people to live and work worldwide.
Donate