Our 2020/21 planting season in numbers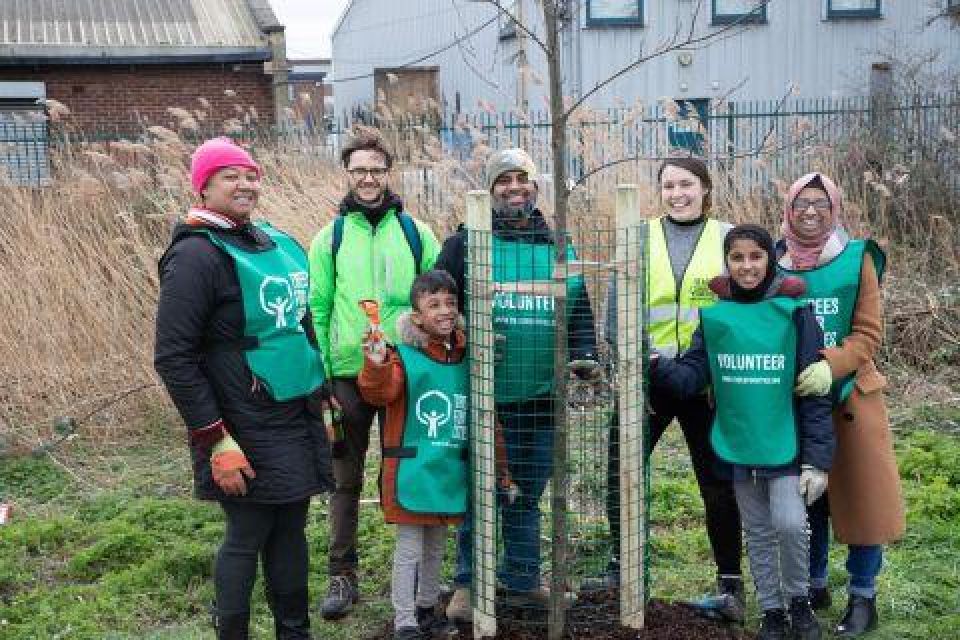 Our last planting season was one of the most challenging we have ever faced, but despite the pandemic, we planted over 150,000 new urban trees in our towns and cities with the support of thousands of fantastic volunteers 💪 Our schools programme also continues to grow bigger and better than ever - helping even more kids build a relationship with nature at such an important time!
Though Covid-19 swept in and caused havoc in March 2020, we managed to deliver a full programme of planting projects for the season (October 2020 to April 2021). We simply couldn't have done it without our fabulous volunteers, who have gotten stuck into tree planting in family and social bubbles, regardless of rainstorms or icy winds - or both - all getting stuck in to take care of our natural world in urban communities for generations to come.
We're very proud of what we accomplished this season with the help of our volunteers and partners, so a huge thank you to everyone. Let's have a look at the results...
167174
trees planted this season, making our total...
1285073
trees planted overall!
2479
incredible volunteers got stuck in, including...
258
in overseas projects!
10
projects in schools across the UK, and...
28343
schoolchildren engaged, and brought closer to nature!
53
projects taking place in 27 cities across the world
Now more than ever, we understand the vital importance of transforming urban spaces to bring the many benefits that urban trees provide, creating greener, happier and healthier cities for today's and future generations. We couldn't have done it without our incredible volunteers and network of partners.

David Elliot, CEO Trees for Cities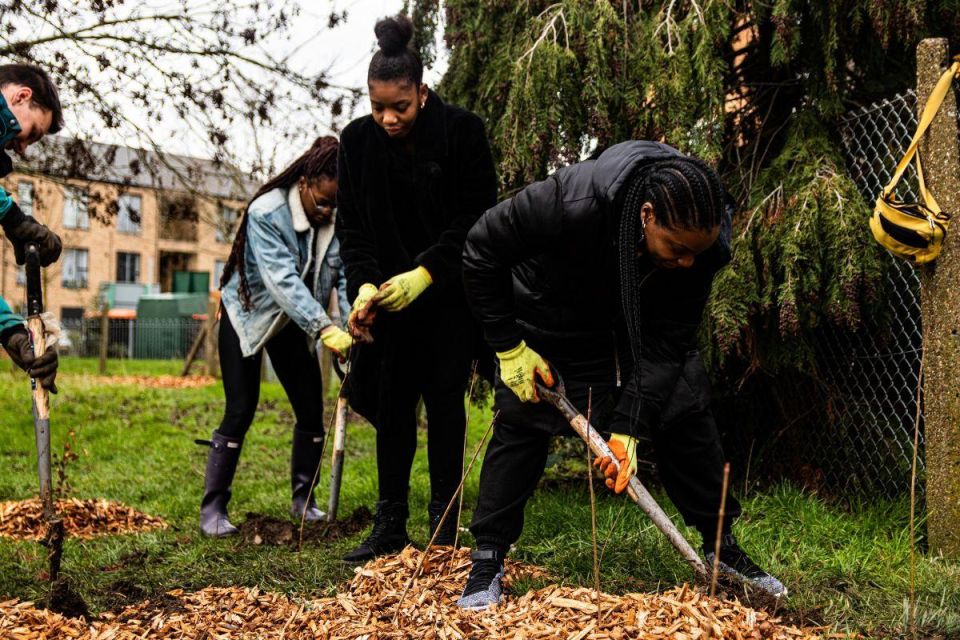 Whew! Now that we've seen the main stats, let's go through a few highlights...
Racecourse Estate
We're continuing to deliver our pioneering flagship project in Ealing, West London, which aims to breathe green life back into the Racecourse Housing Estate and engage the local community through volunteering opportunities on the estate.
Through October, we ran planting workshops at Folkestone Court (part of the estate) in line with government guidance, welcoming small groups of individuals and families to get stuck in with their green spaces by planting fruit trees. Later in the season, we installed seating and created food growing areas and wildlife habitats, as well as planted flowers and so much more.
The trees outside my house have really uplifted the view. I really like the fruit trees because I can pick my own fruit like quince and crabapple. You can never have too many trees so it's great there are more activities planned.

A volunteer at our flagship Racecourse Estate planting in West London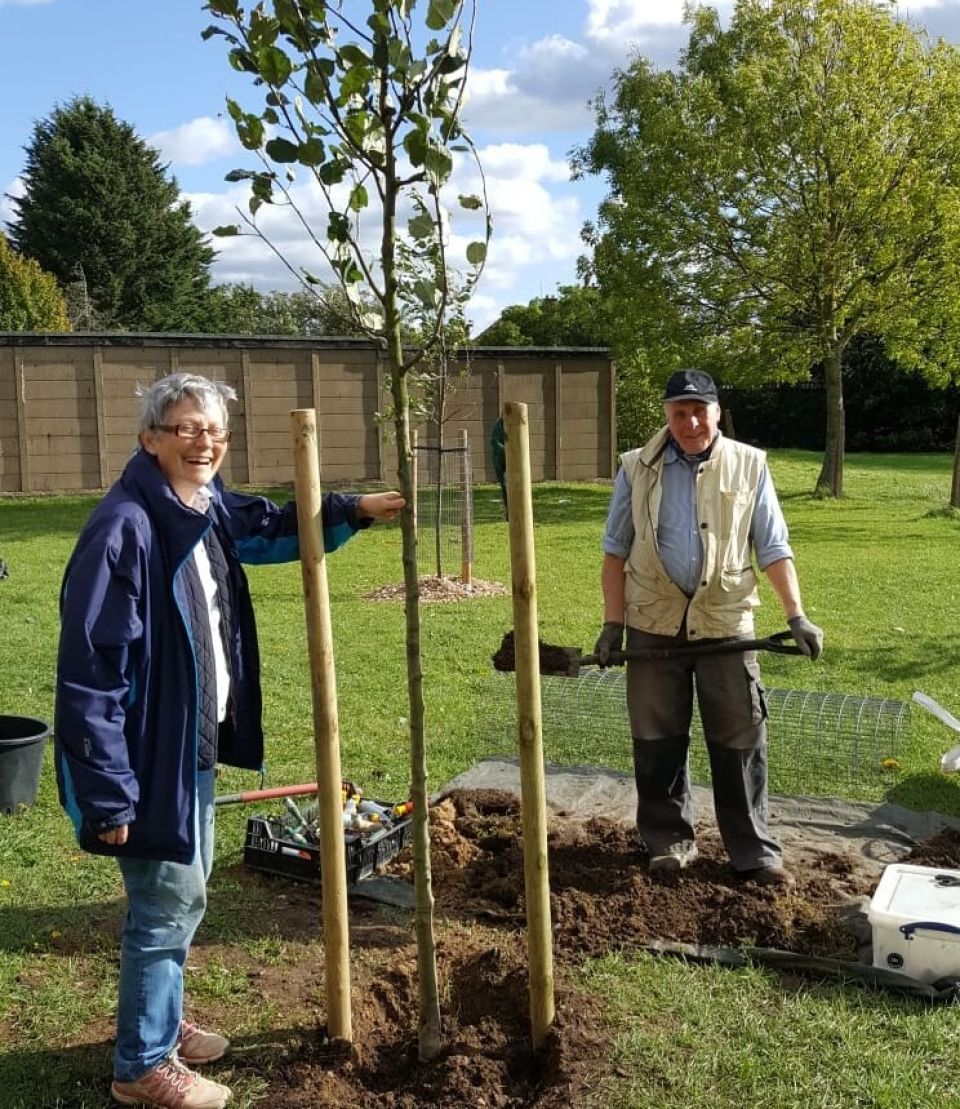 A tree for every child in Bradford
We're helping Bradford Council to deliver an incredible new project called A Tree For Every Child, which was an initiative set up to help green the city by planting around 55,000 trees - one for every child who lives in the city.
Announced in January 2020, we started getting stuck in during National Tree Week in November, and have so far planted over 15,000 of the total! The project's launch was also featured on BBC Countryfile on 29th November.
After its completion, the project will bring a huge boost to the city's greenery, along with increased habitats for wildlife to allow for greater biodiversity.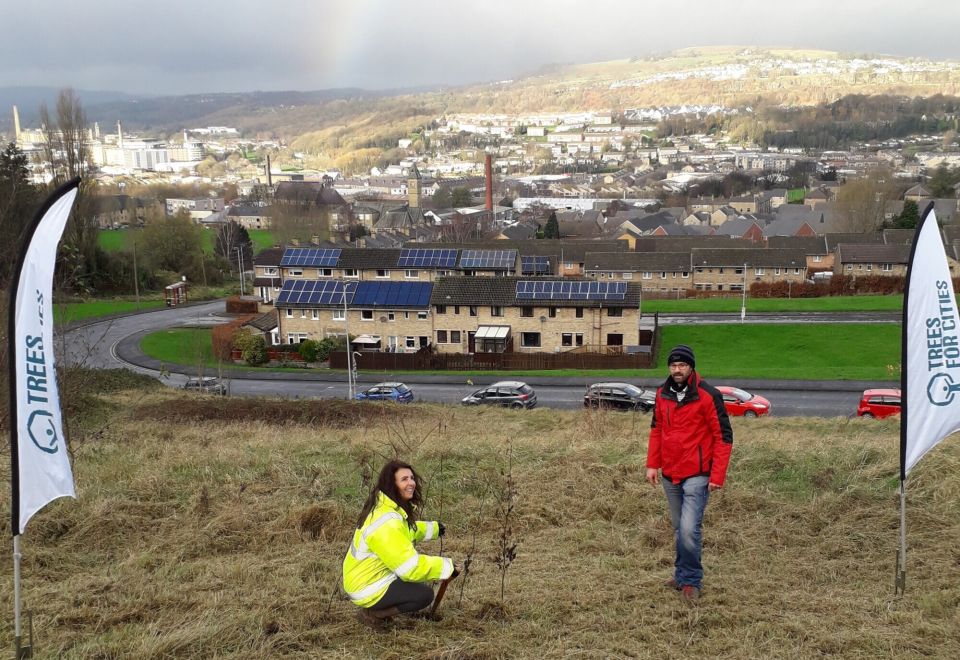 National tree week
Aside from the Tree For Every Child project launch, in National Tree Week (which ran from 28th November - 4th December), we planted thousands more trees up and down the country at hundreds of small, socially distanced events with our incredible local volunteers!

Over the course of National Tree Week, we planted 5,000 whips at Seven Kings Park in East London, with the help of some lovely volunteers as well as our wider staff. In 2018, we planted 50 large trees there with 181 local people, so it felt good to be back.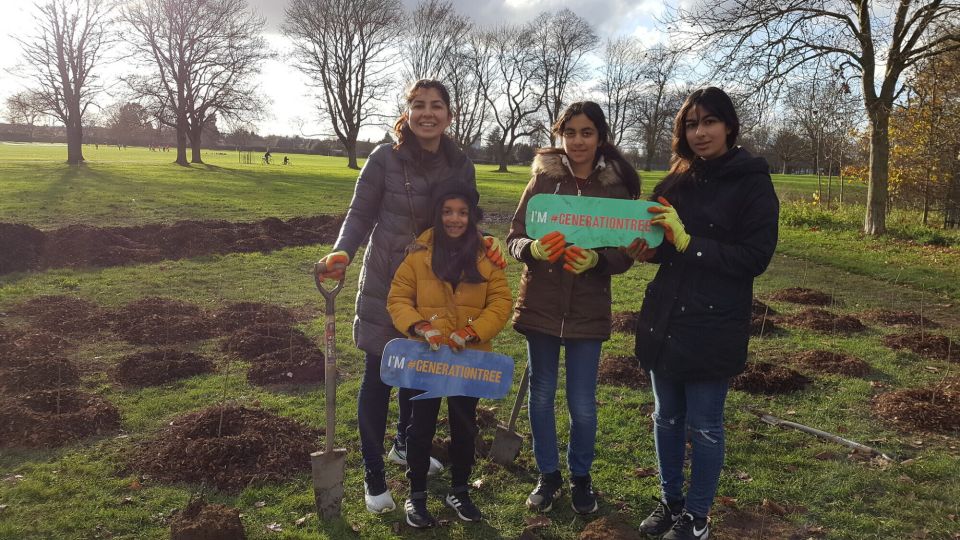 We also made Hull greener during National Tree Week! Together with our partners, we planted 3750 trees at Alderman Cogan School in East Hull. Big thanks to our partner PATT Foundation, as well as The Green Task Force who helped with the planting on the day. This project is contributing to the One 'Hull' of a Forest campaign!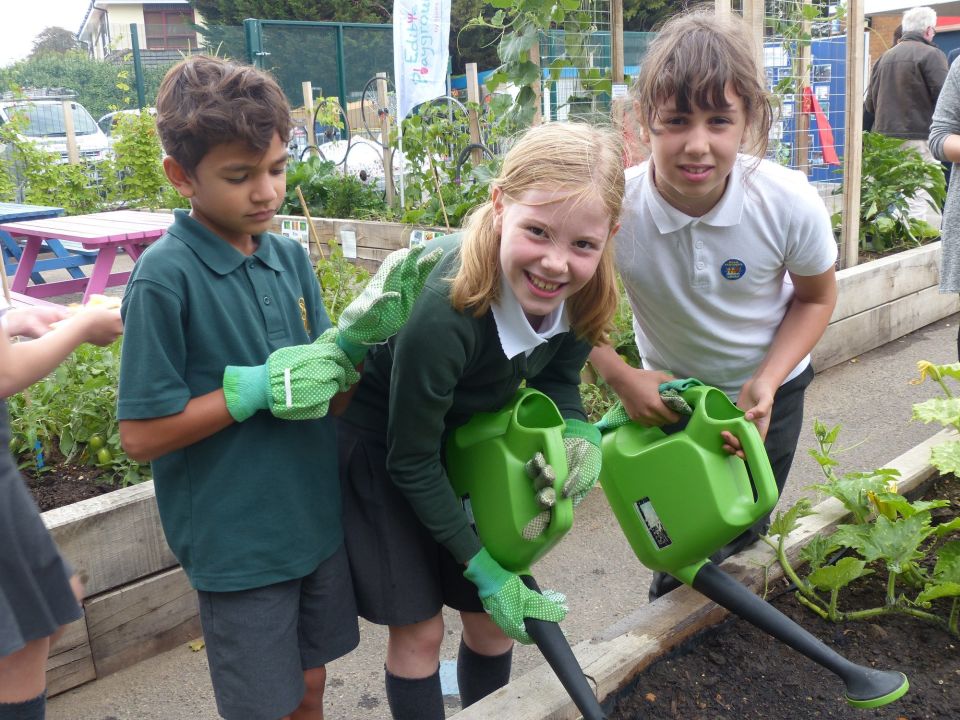 Tree Cities of the World
The Tree Cities of the World programme, led by Food and Agriculture Organization of the United Nations (FAO) and the Arbor Day Foundation, is an initiative to recognise cities and towns across all continents that meet core standards for the care and planning of urban trees and forests.
We're proud to be part of the Tree Cities of the World programme, connecting cities around the world to create a network dedicated to sharing how we all manage urban trees and forests to make our cities greener and more robust.
Thanks to our initiatives to recruit and support cities throughout the UK to apply for designation, the total number of towns and cities in the UK that are recognised under the Tree Cities of the World programme now stands at 11!
The are:
Barking and Dagenham
Birmingham
Bradford
Camden
Ealing
Hull
Hillingdon
Redbridge
Middlesbrough
Newry Mourne & Down
Welwyn/Hatfield
If you would like more information on how to apply for designation, you can email info@treesforcities or check out the Tree Cities of the World Facebook Group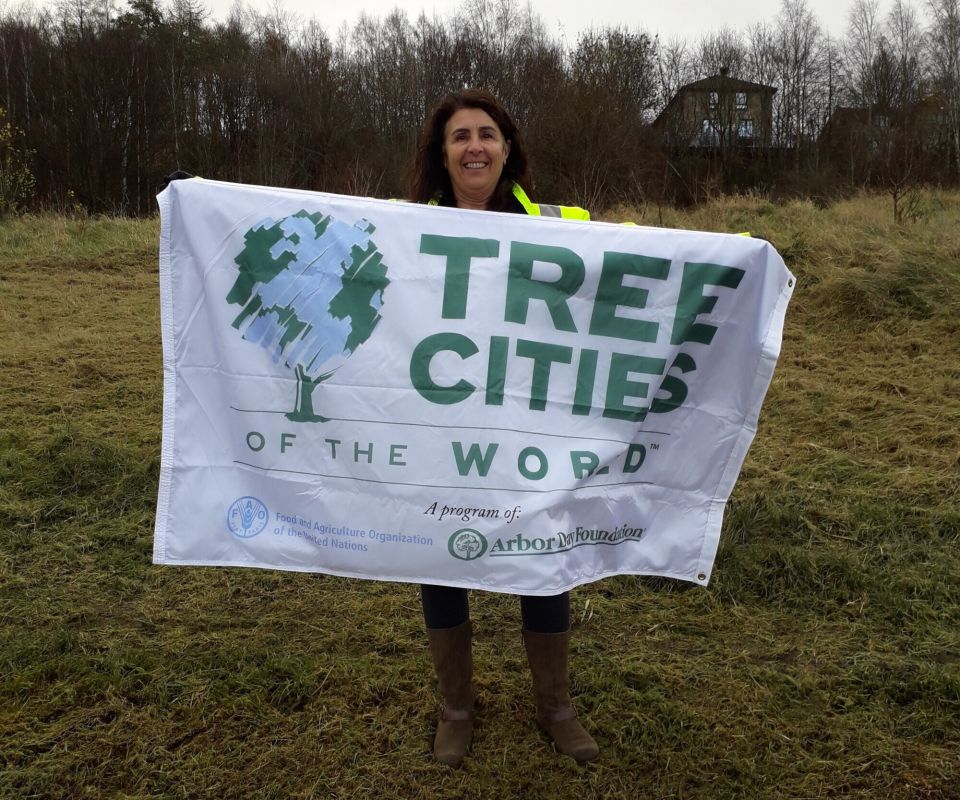 Edible Playgrounds
Despite schools being mostly closed for the last planting season, we still delivered Edible Playgrounds to a number of primary schools across the UK. Here are a few highlights:
Parkside Primary School, Chingford
The students here used their new Edible Playground to plant herbs on science enrichment week, which were then used in cooking classes. Pupils from year 5 also harvested garlic and were amazed at its really strong smell when pulling it out of the ground! They used their crop yield to plan recipes, and took a bulb home each to cook with. Garlic bread, garlic butter, garlic sauces, and spaghetti bolognese were some of the meals that the children made using the bulbs harvested from their Edibler Playground.
This summer term, the school garden is blossoming and Lead Teacher Chris has worked hard to make sure all the classes are out gardening in both class time and at playtime. In June 2021, Year 1 pupils set the wormery up, and were extremely excited about looking after them - the pupils now have designated 'Worm Officers' who were chosen to look after them at playtime, and to make sure they eat their fruit scraps.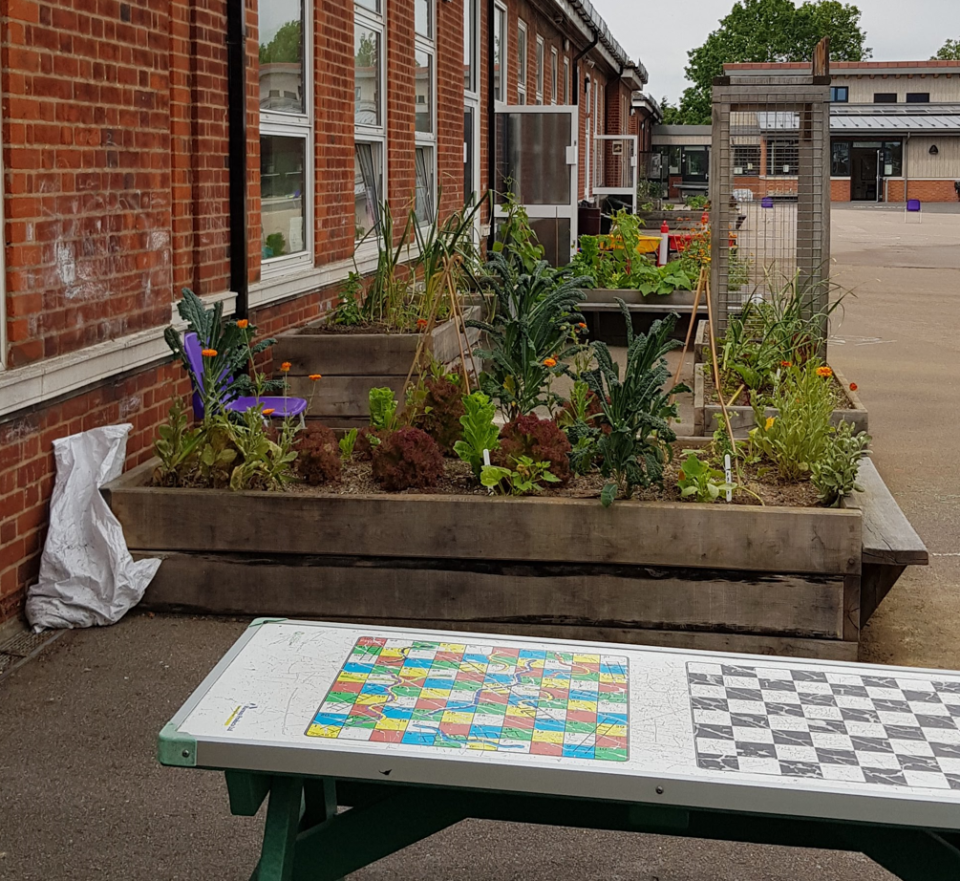 Sacred Heart School, Liverpool
The pupils at one of our flagship Edible Playgrounds had a busy year planting, with peas, garlic, Nasturtium, and lettuce among some of the large variety of plants that the children saw grow through their school year.
The younger children learnt how to plant seeds by covering them with soil and watering them "because they are thirsty!", as one child put it. They then set them inside the greenhouse, which was so warm that one of the pupils wanted to live inside it!
The school's Edible Playground now also has its own wormery, enabling the children to learn about composting, and are looking forward to harvesting the rest of their crops before the summer holidays.
Gilbert Colvin School, East London
The reception pupils planted some potatoes, which are now coming on nicely. The children also planted a selection of herbs and learnt about composting worms - as part of this, they now have dedicated bins to compost fruit waste. They also recorded a video tour of the area to show the difference before and after.
The children of Gilbert Colvin have also won a 'Better Energy School Award' for excellence in environmental education. One of their teachers explained that:
'We had to show them through a PowerPoint how from an unused area of the school, with your (Trees for Cities) help and continued support we were able to change it into an Edible Playground. It is now used daily by classes and staff as an outdoor learning area, and lets the children grow, harvest and taste a variety of produce, along with all the other benefits it brings.'
The pupils also had some incredibly kind words for our Build Team who helped to piece the Edible Playground together, and wrote numerous thank you notes to show their gratitude for this new learning resource.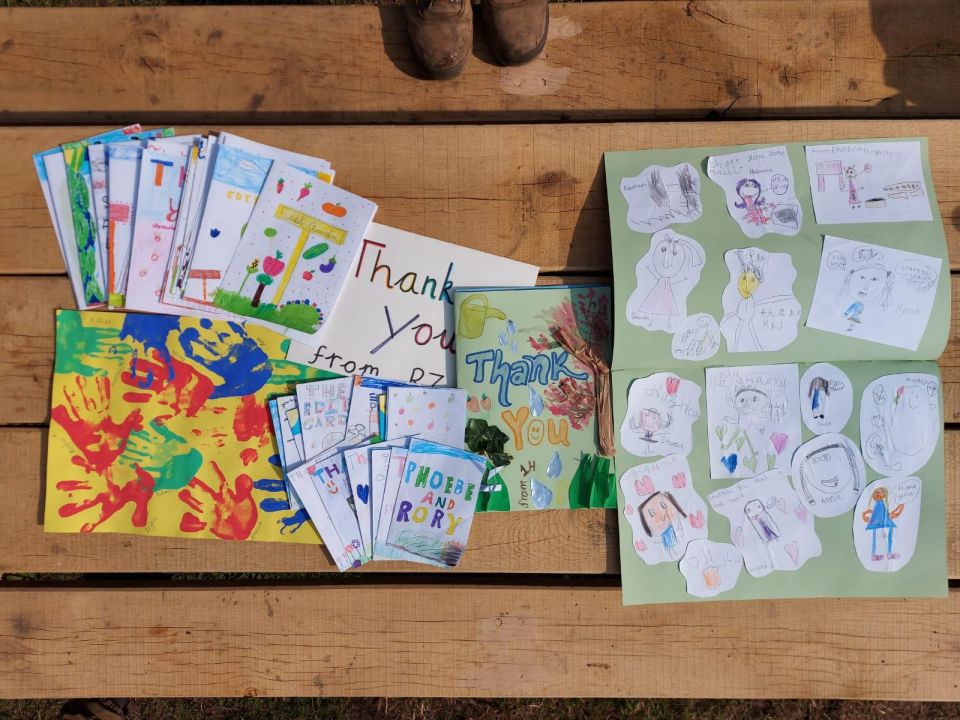 'Our edible garden produced its first harvest in May. Pupils were thrilled to pick and taste vegetables such as chard, spinach and kale along with coriander. After collecting and cleaning vegetables we set up a market stall in the playground and sold our produce for small donations. We were very impressed to see some of our children were excellent sales people, persuading families to try and buy some of our wonderful fresh produce. We are continuing to grow more crops during the summer months. This week we have been tasting fresh broad beans and sugar snaps and have been planting strawberries, and salads. We'd like to thank Trees for Cities for helping us to set up our incredible edible garden.'

The headteacher at St Clements and St James School in West London
Planting Healthy Air
In addition to our Edible Playground programme, we also transform grey, concrete school grounds into vibrant spaces full of nature, where we put in place 'green infrastructure' in schools to help reduce pupils' exposure to harmful air pollution. This also helps us to reach even more pupils and allowing them to spend their early school lives surrounded by plants and the wildlife they bring with them.
Here are a couple of highlights from our Planting Healthy Air projects:
Sunnyhill Primary School, South London
Thanks to the transformational project we delivered in the grounds of Sunnyhill Primary School, they set up an EcoWarriors group for the pupils and together, they entered the "Improving the Air Around Our School" category in the Better Energy School Awards, and were highly commended, winning £100 for the school in the process!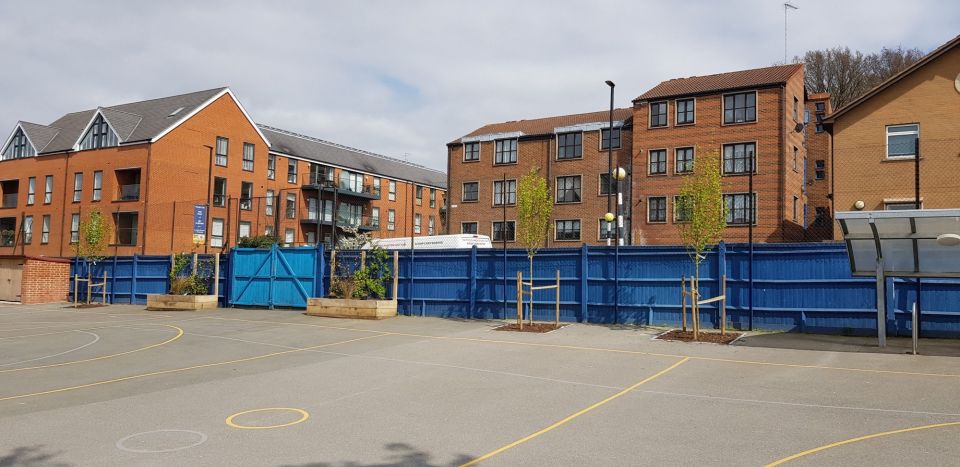 Grange Primary School, Central London
This primary school sits just a stone's throw away from the River Thames on a very polluted arterial road in Central London, but was lacking any significant greenery, save for a few well-established old trees that had been looked after for generations, meaning the air quality around the school was very low.
In one of our new flagship projects, we have been able to transform the school's grounds and create brand new spaces around the existing trees that have already brought the playground to life. The children of Grange Primary School from the addition of new play areas, large amounts of different plant species, and even an Edible Playground for the pupils to learn from. Take a look below to see the transformation...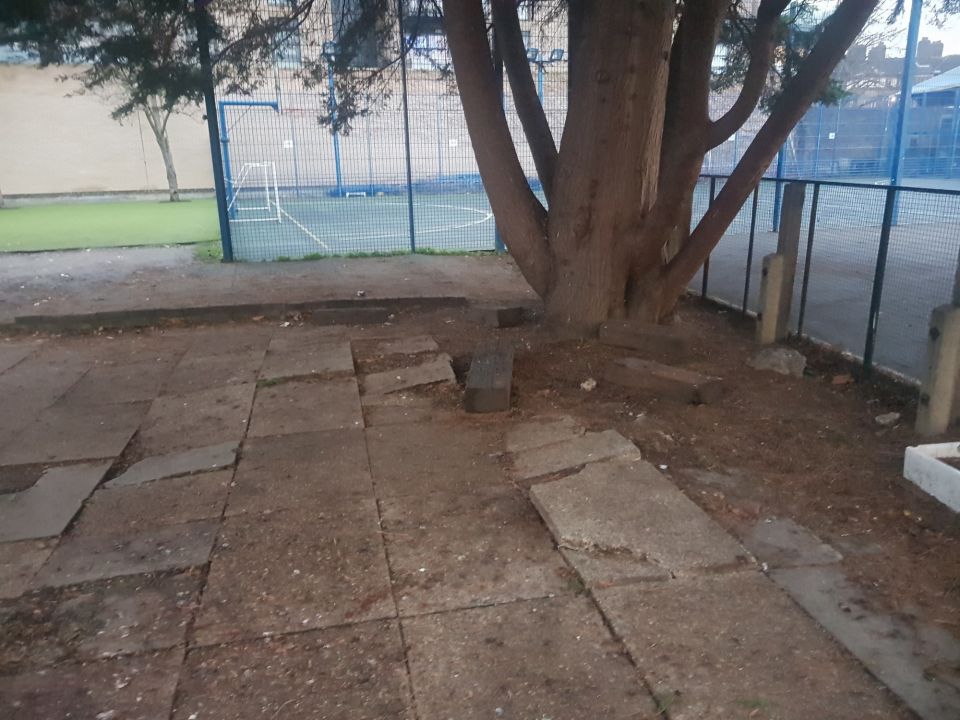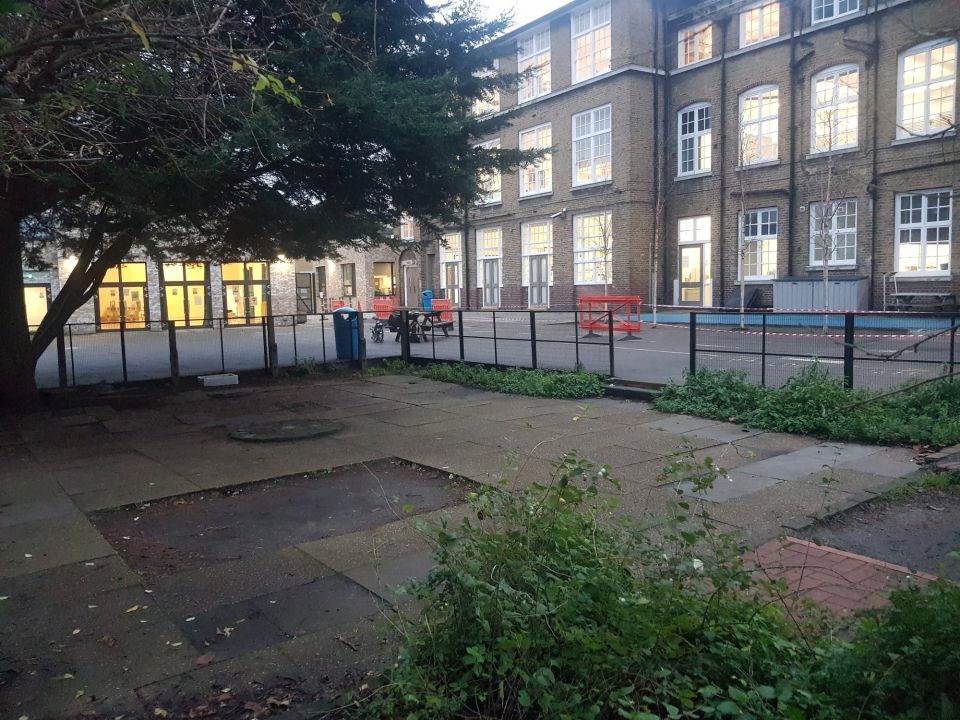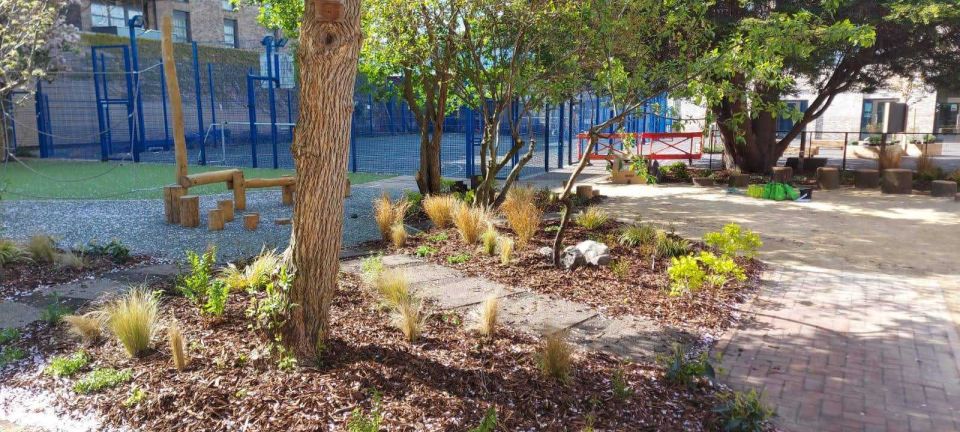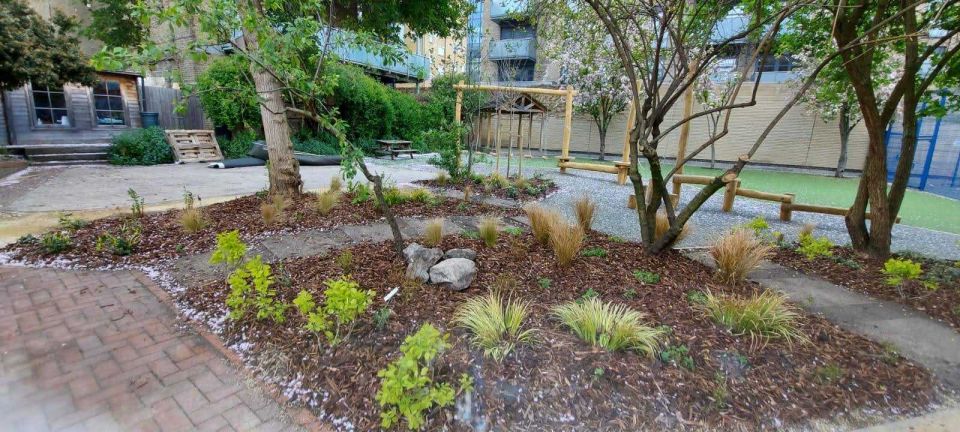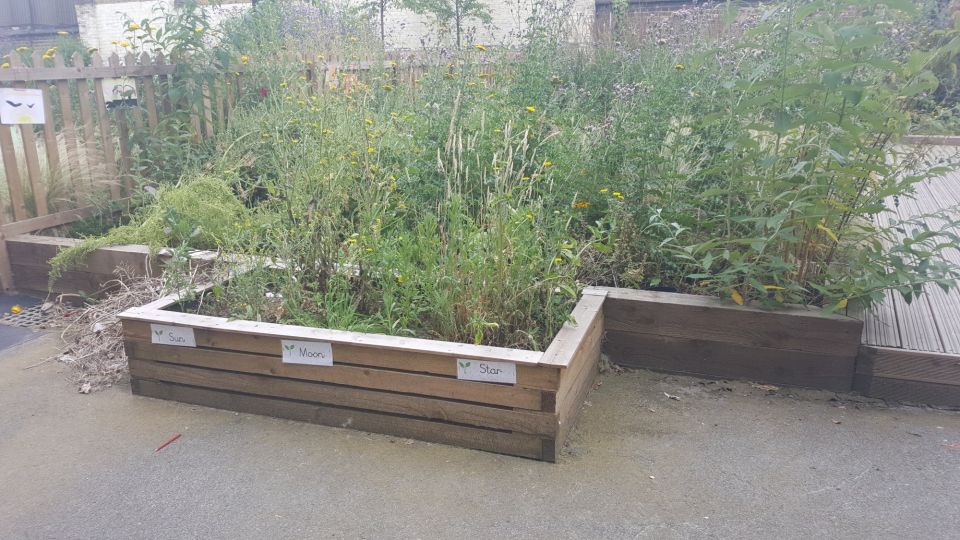 Community Power
Our volunteers are catalysts for change, and together we've created lasting change in urban neighbourhoods across the country. Ranging from planting events with hundreds of volunteers to school workshops, it's amazing to see the impact our projects have had on the community and vice versa. But don't just take it from us - here's what the volunteers and partners who were involved in our projects had to say:
I love how the practice of helping plants to grow helps us to grow as people

A teacher from one of our Planting Healthy Air projects
I wanted to meet like-minded members of my local community who share an interest in making the area in which we live greener and more sustainable. I also wanted to develop a sense of belonging and community cohesion as a result of the project. As a result of the greening activities, the project has been perfect for bringing people together while simultaneously developing and encouraging the use of the green spaces around us. It's been a great project to be involved in!

A local resident from Racecourse Estate
Looking ahead...
While our activities for the next planting season haven't yet been finalised, we have ambitious plans to expand our work even more across more cities, and into more countries. We'll continue to transform grey school grounds into green teaching gardens, create new urban woodland environments with local communities, and plant more street trees.
Last, but not least: we'd like to thank all of our amazing volunteers and partners this season. If you want to get involved, you can donate today to help us continue our work and get ready for this next planting season by signing up to volunteer.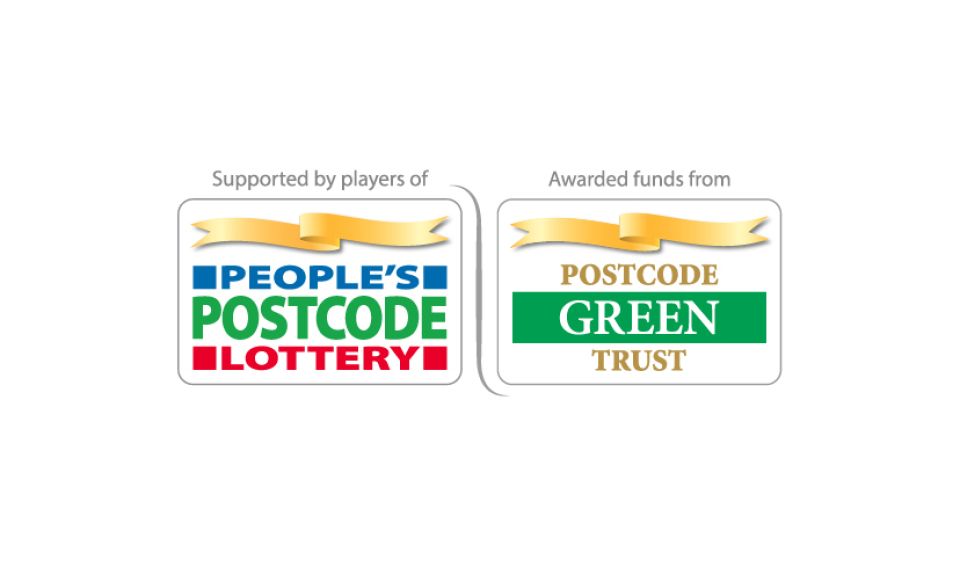 Finally a big thanks to the players of the People's Postcode Lottery for their continued support, which has enabled us to keep planting more urban trees in our towns and cities and bring our communities together and create vital green spaces for future generations to enjoy.
Donate to Trees for Cities and together we can help cities grow into greener, cleaner and healthier places for people to live and work worldwide.
Donate