Our planting season impact in numbers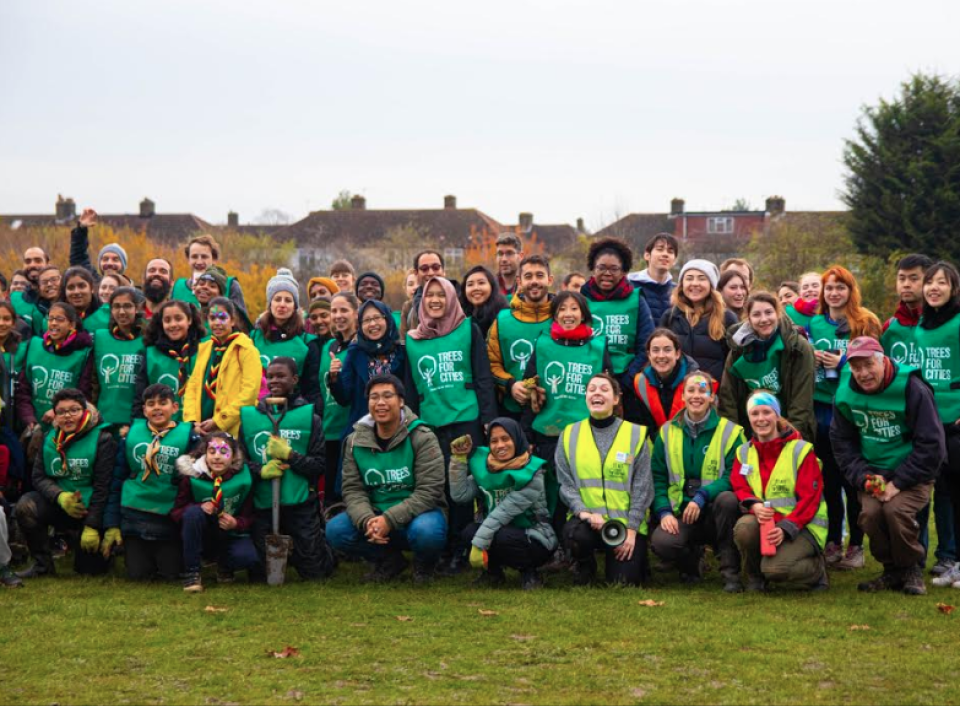 Our planting season saw us plant nearly 100,000 trees with thousands of volunteers 💪 Not to mention our Schools programme which has grown bigger and better than ever - helping kids getting closer to nature! 
Though Covid-19 swept in and caused havoc in March, we still managed to deliver nearly all of our planting projects for the season (October 2019 to March/April 2020). We couldn't have done it without our fabulous volunteers, who have gotten stuck into tree planting regardless of rainstorms or icy winds - or both! In the end, nothing feels better than knowing you're taking care of our natural world for generations to come.
We're very proud of what we accomplished this season with the help of our volunteers and partners, so let's have a look at the results:

99,302
TREES PLANTED this season, making our total...
1108639
trees planted overall!
6422
amazing volunteers got stuck in, of which
858
were corporate volunteers
41
Edible Playgrounds created across the UK
16456
school children engaged
34
planting projects created in 26 cities across the world
We're proud of what we accomplished last planting season - from planting 29,000 trees during National Tree Week and creating 41 Edible Playgrounds in 11 cities, to successfully launching the Tree Cities of the World programme in the UK. Being part of the Guardian and Observer climate emergency charity appeal was also a big moment for us. As always, we couldn't have done it without our brilliant volunteers, donors and network of partners!

David Elliott, Chief Executive, Trees for Cities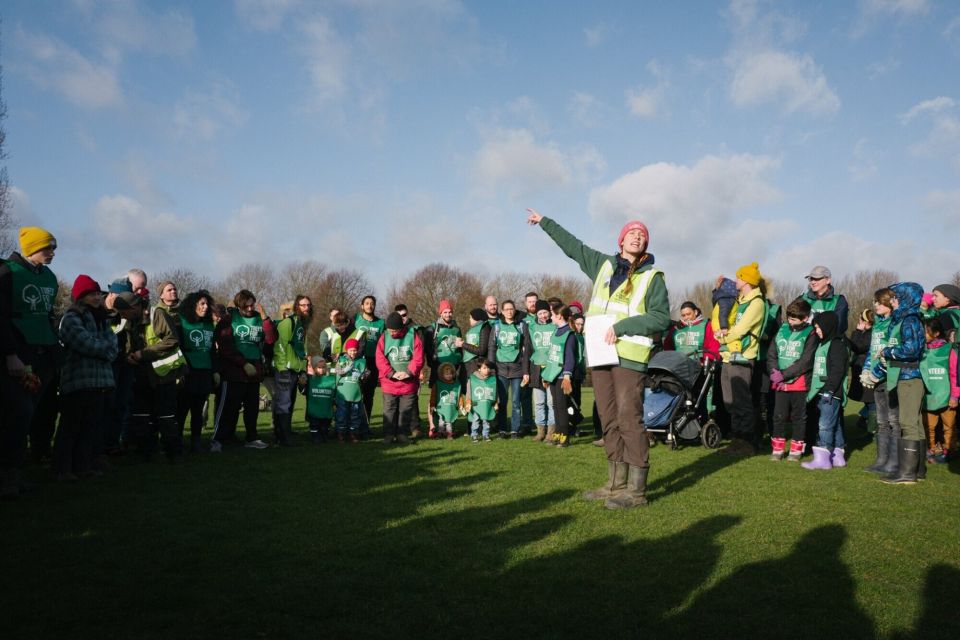 Let's dive right into our favourite bits of the season, shall we?
National Tree Week
In just a week (23rd - 30th of November), we planted 29,000 trees with 1000 volunteers across the country! To kick-start the week, we planted close to 15,000 trees in Goodmayes Park in London, with hundreds of enthusiastic volunteers and local community groups. The week also included planting new urban woodlands in Bradford, Nottingham and Clacton-on-Sea with our partners.
Having declared a Climate Emergency and set an ambitious target of being carbon neutral by 2030, anything we can do to help our environment and offset our emissions has to be a good thing. This new woodland will help to create a green lung for Clacton, as well as an open space for people and wildlife to enjoy.

Councillor Alan Coley, Tendring City Council in Clackton-on-Sea
Our 'grand finale' event in Beckton District Park broke our volunteer record with nearly 500 people getting stuck-in to make the capital greener! This was also covered in The Guardian & Observer, as we were lucky enough to be a selected charity in their Christmas climate emergency appeal. Huge thanks to everyone who donated!
This work has all been made possible thanks to partnerships with local councils, funders, and the support from players of People's Postcode Lottery.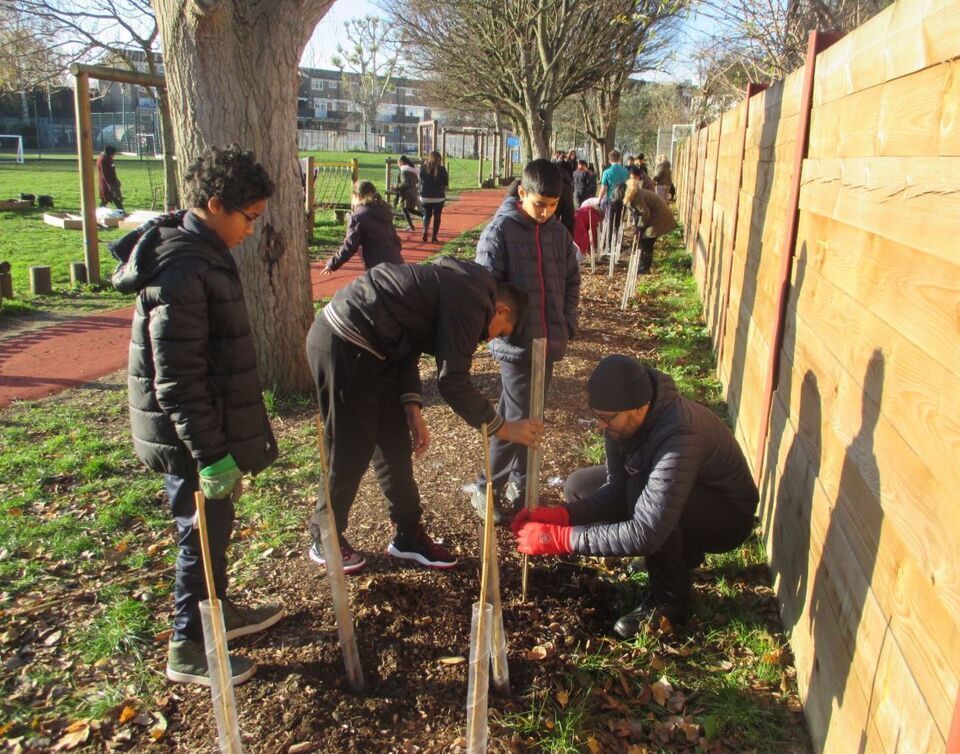 Trees for Schools
Over the four years of the Trees for Schools programme, we've helped 306 London primary schools plant over 35,000 trees to make their school surroundings greener and healthier!
We've been the London delivery partner for the Woodland Trust's Trees for Schools programme, funded by DEFRA, since its inception in 2016. Over the four years of the programme we have helped sign up London primary schools for over 35,000 free trees. We have ensured that 306 London primary schools have been able to gain the extra support they've needed in their tree planting activities, from site surveys, to planting workshops and tree species selection advice.
I would recommend for other schools to plant trees because it will help our planet and make the children, parents and teachers more aware about the environment. Everyone can see the trees grow and remember that they will be there forever.

Ana Haliday, Bowes primary pupil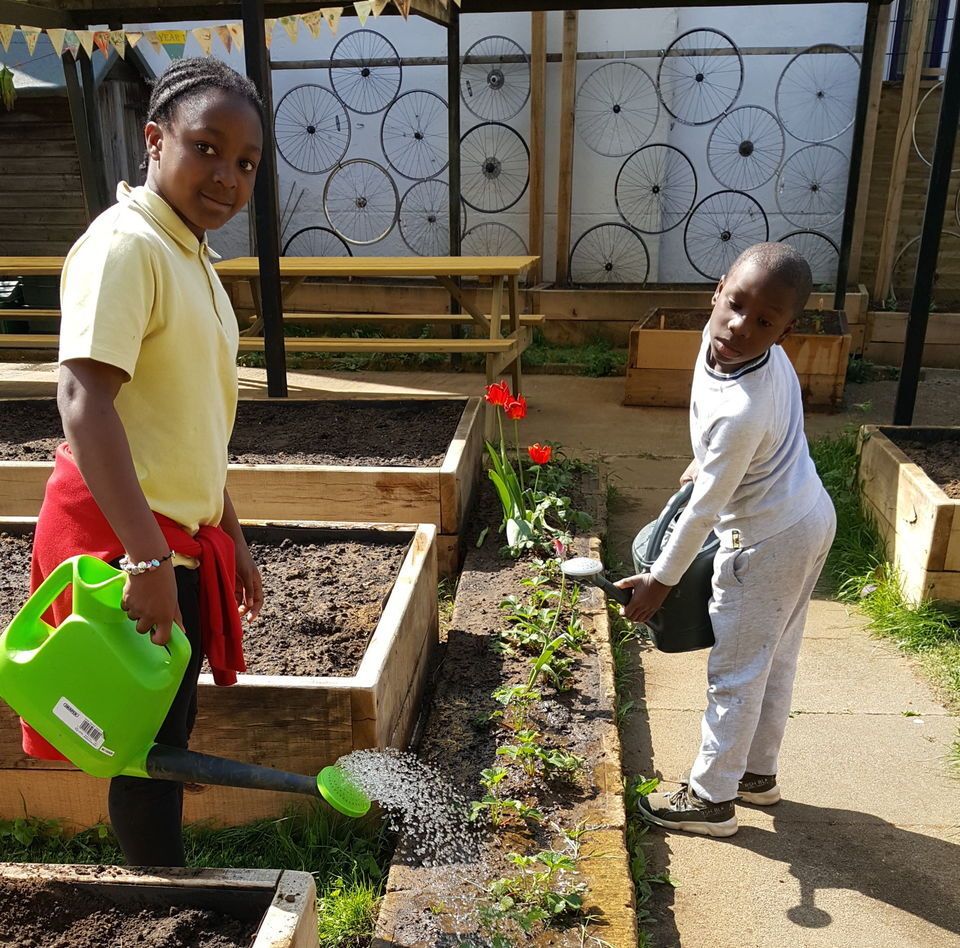 Edible Playgrounds in 11 cities!
We delivered 41 Edible Playgrounds this planting season, up from 25 last year. What started out as a London-project, has now become a reality in Birmingham, Bracknell, Bradford, Cardiff, Dudley, Liverpool, London, Newcastle, Nottingham, Sunderland, West Bromwich!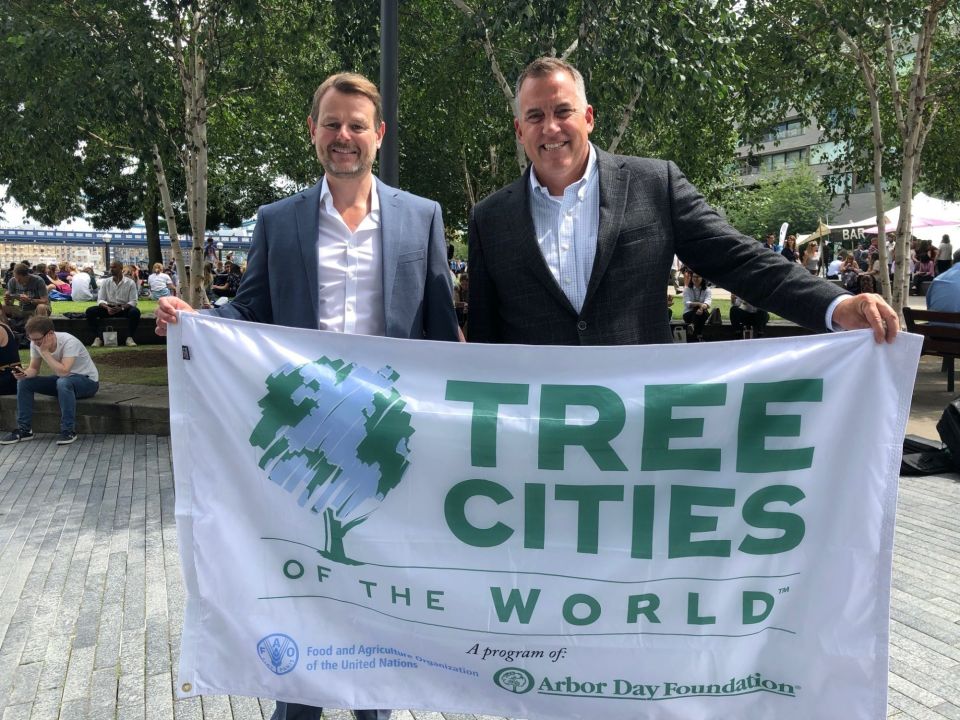 Tree Cities of the World
We're honoured to be a part of The Food and Agriculture Organization of the United Nations (FAO) and the Arbor Day Foundation 'Tree Cities of the World' programme in the United Kingdom. 
What it is, you might ask? It's an initiative to recognise cities and towns across all continents that meet core standards for the care and planning of urban trees and forests. So far Birmingham City Council, Bradford City Council, and the London Boroughs of Barking and Dagenham, Camden and Ealing have all been honoured with Tree Cities of the World recognition this year. Watch this space!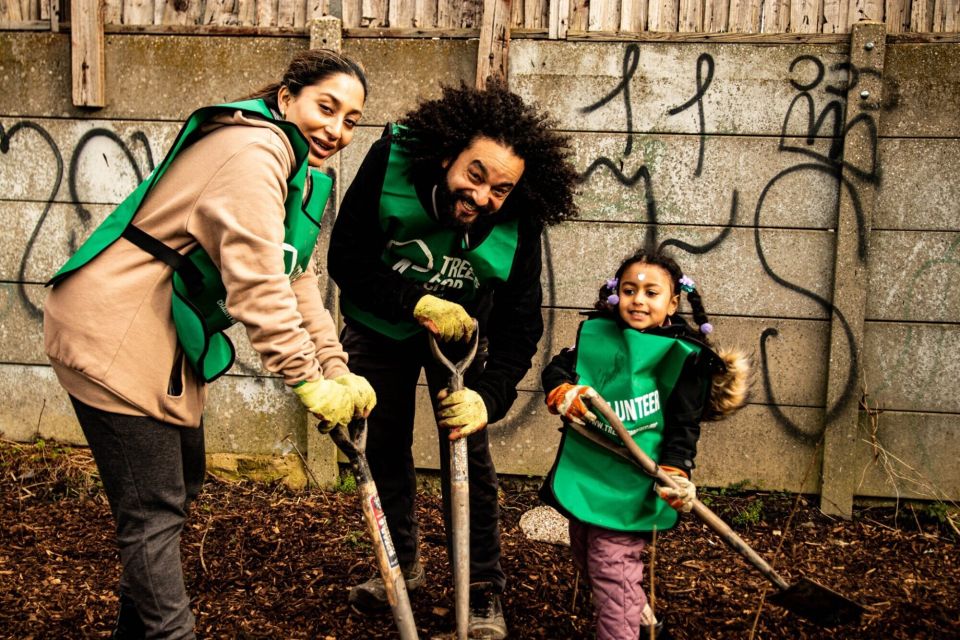 Community power
Our volunteers are catalysts for change, and together we've created lasting change in urban neighbourhoods across the country. Ranging from planting events with hundreds of volunteers to school workshops, it's amazing to see the impact our projects have had on the community and vice versa. But don't just take it from us - here's what the volunteers and partners who were involved in our projects had to say:
The children from Winsor Primary School's School Council made a difference to their local community by helping plant trees in order to build up a greener woodland area in Beckton District Park. Despite the less than favourable late autumn weather, they were keen to find out and share their knowledge on trees. and the environment. Our School Council are now inspired to create a small woodland area on the school field.

Pauline Guevara, Winsor Primary School
Feeling a part of my community and doing something good - everyone feels amazing being part of this!!

Local volunteer at our Hackney Marshes planting day
Kingsford Secondary Students were very keen and motivated to take part, enjoying the experience of planting the trees, being outside and thinking about ways to improve and develop the environment. Hopefully, more opportunities will be available both in and out of school in the community in the future.

Teaching staff at Kingsford Secondary school planting workshop
For my daughter to understand how important it is to care for the environment and that she could do it in a real-life situation.

Local volunteer at our Beckton District Park South planting day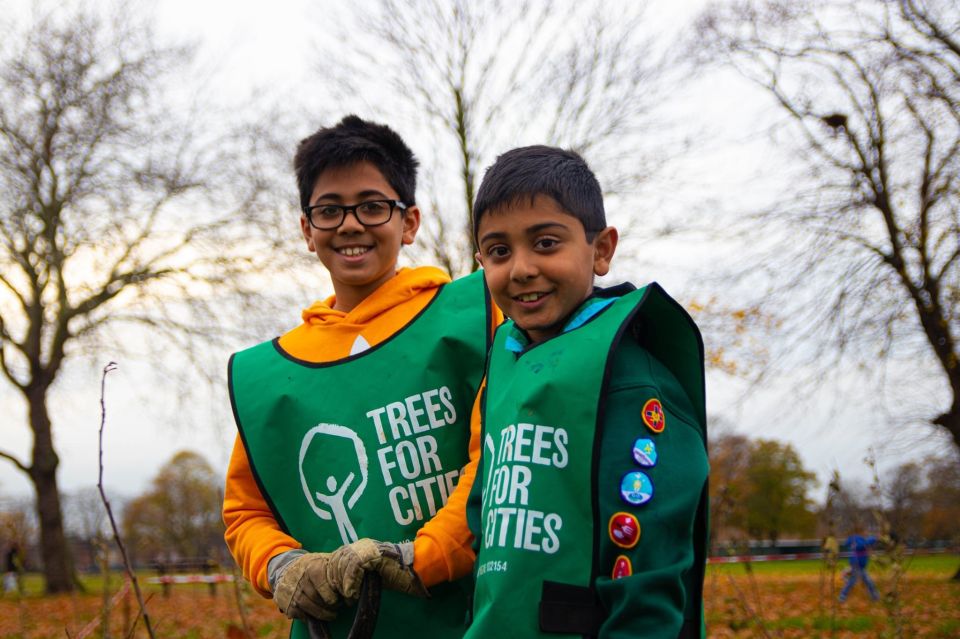 LOOKING AHEAD
While our activities for the next planting season haven't yet been finalised, we have ambitious plans to expand our work across more cities. We'll transform grey school grounds into green teaching gardens, create new urban woodland environments with local communities and plant more street trees.
Last, but not least: we'd like to thank all of our amazing volunteers and partners this season. If you want to get involved, you can donate today to help us continue our work and get ready for this next planting season by signing up to volunteer.
Join #GenerationTree today and help make our cities greener, healthier and happier places to live!
Donate to Trees for Cities and together we can help cities grow into greener, cleaner and healthier places for people to live and work worldwide.
Donate