Planting healthy air for city kids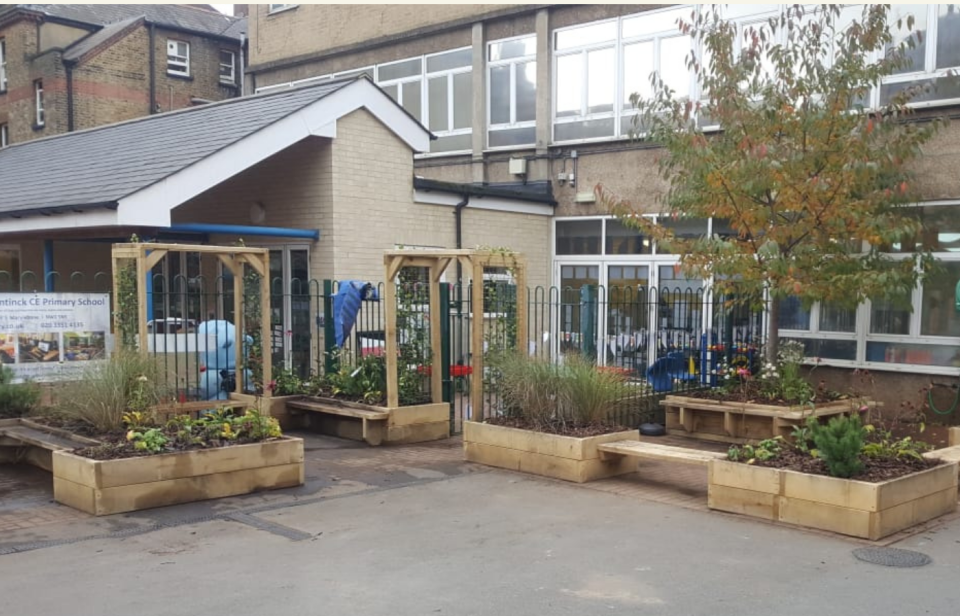 "Since the planting has taken place, the air that we breathe seems more healthy." - Year 6 Pupil at Christ Church Bentinck Primary School.
Our Planting Healthy Air in Schools programme, delivered in partnership with Mapping for Change and Lancaster University, is transforming schools grounds in London. Through the programme, we engage the school community to raise awareness of the problem of air pollution and the ways that trees and vegetation can help to reduce exposure. We work with a number of schools to design and plant green infrastructure - trees, ivy screens and hedgerows to screen against pollution sources - and monitor improvements in air quality around the playground.
Trees and vegetation provide an array of benefits such as improving wellbeing, strengthening biodiversity, cooling the air, and absorbing harmful air pollutants. The school ground trees will also offer much-needed shade for the children as well as create new places for learning. Reducing the pupils' exposure to air pollution helps to avoid multiple health problems - or worse. Legal history was made last year when a coroner ruled that air pollution in London was a cause of Ella Kissi-Debrah's tragic death. She was only 9 years old.
Spotlight: Christ Church Bentinck Primary School, Westminster
Located near the highly polluted Marylebone Road (A501), Christ Church Bentinck was concerned about the level of exposure to harmful airborne particles and gas pollutants. They were looking for ways to keep the children safe and educate the school community around the potential dangers of pollution caused by nearby heavy traffic - and we were happy to help!
We planted two mature field maple trees in the school ground and ivy screens were installed along the outer fence with the aim of helping to filter the polluted air coming from Marylebone Road. A grand total of 121 plants, including jasmine, echinacea and lavender, went into new wooden seating planters. These new seating areas meant that pupils could spend time and relax in the area of the playground furthest from the road.
The programme has made a huge difference to the way the playground looks, it has transformed it. The children are able to sit and appreciate the environment - we didn't have that before.

School Staff at Christ Church Bentinck
Every child in the school was able to take part in the planting, and we also delivered workshops to every class on the subject of trees and air quality. Facilitated by our partners Mapping for Change, the children were given the opportunity to collect data looking at the nitrogen dioxide levels in their playground and around the school gates. Despite COVID-19 preventing us from completing all our data collection, the children were still able to learn from the scientists themselves at Lancaster University.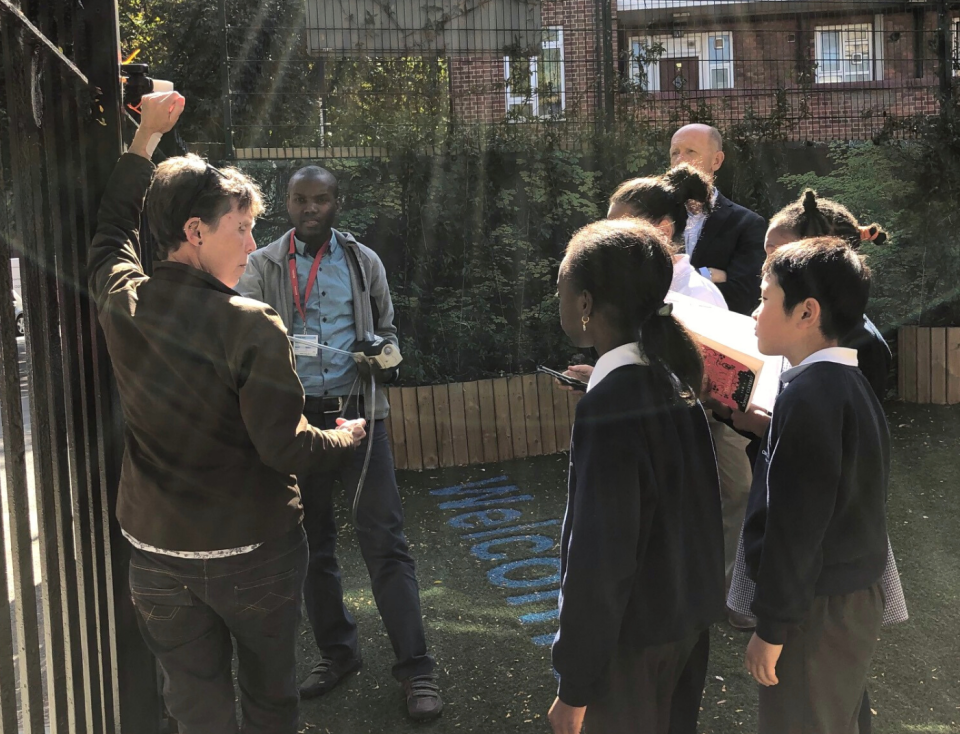 About the programme
At Trees for Cities, we know there is building evidence showing that pupils who spend more time playing and learning in high-quality greenspace can experience improved health and well-being, a closer connection with nature and more environmentally sustainable attitudes. Experiencing the tangible benefits greener environments can provide can lead to a greater understanding and appreciation of the need to plant and protect trees from an early age, as well as a motivation to take action to do so.
Our Planting Healthy Air programme is just one of our tailored Schools Programmes that provide transformational greening projects to schools through urban tree and nature-related activities and training. We provide pupils and teachers with everyday access to higher quality greenspace and build the capacity of staff to teach outside, helping pupils to increase their knowledge, skills and awareness of urban trees, nature and wider environmental issues. You can read more about our work in schools here or contact schools@treesforcities.org
This project wouldn't have been possible without the generous funding from Greater London Authority (GLA), Investec, Kusuma and our brilliant partners Mapping for change and Lancaster University.
Planting Healthy Air in Schools
Through Planting Healthy Air in Schools, Trees for Cities is testing green infrastructure, design and planting techniques to screen airborne pollution. It has been developed to address London's poor air quality and the detrimental effects this has, particularly on children. The capital's trees remove an estimated 2,241 tonnes of pollution each year, making them a particularly effective barrier to the flow of toxic air.
Read more about the programme here
Donate to Trees for Cities and together we can help cities grow into greener, cleaner and healthier places for people to live and work worldwide.
Donate