Since 1993, we have grown into a thriving organisation with national and international impact, but we've stuck to our roots. Here are some of our milestones...
1993
Four friends got together to set up Trees for Cities, or as we used to be known, Trees for London.
1998
Three years after we were established, the volunteers and communities who had always made our work happen knew we were onto a good thing, and could do even more. So, we decided we were going to plant 20,000 trees in London by 2001…
2000
An ambitious goal, but we met it a year early! Ready to keep going, we planted 10,000 more trees that year.
2002
We hadn't had enough, so we campaigned for 1 million more trees to be planted in London. Backed by patron Alistair McGowan, Suggs of Madness, Ali G and then Mayor of London, Boris Johnson, the campaign pushed for the trees to be planted by the opening of the 2012 Olympics. As reported in the Evening Standard, Mr G said: "Planting a million trees is wikkid."
2003
Our 10th anniversary! More trees were needed everywhere, we decided to expand our reach to the whole country, adopting the 'Trees for Cities' name and giving people up and down the country a chance to get stuck in with planting trees.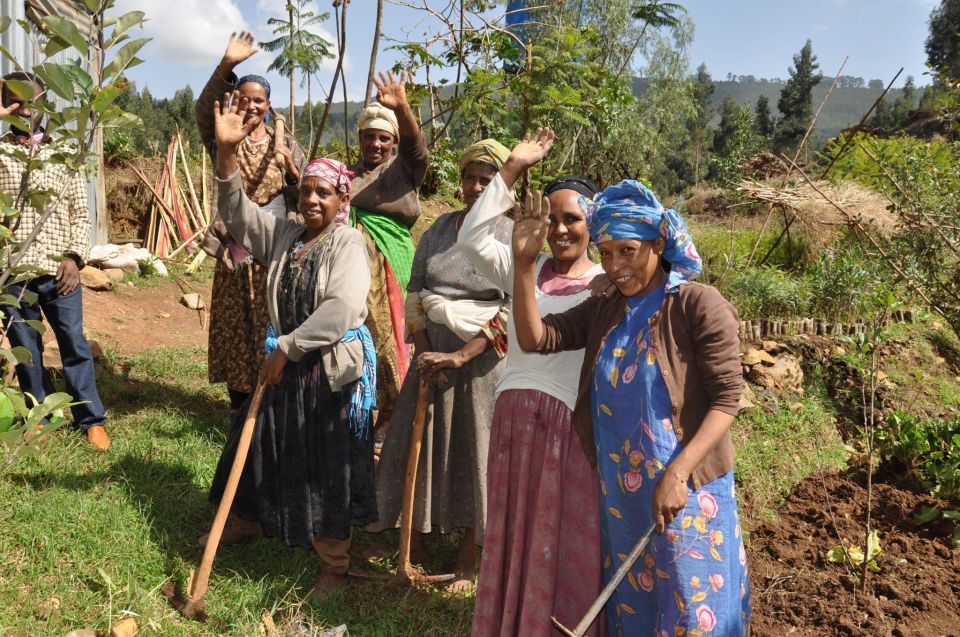 2004
We branched out even further, planting trees in cities across the world, including Addis Ababa, Ethiopia; Bucharest, Romania; and Nairobi, Kenya. In August 2004, we launched our first TV ad, 'City Thumbprints', which ran on Bloomberg and CNN.
2005
We hosted (and invented the concept of) the first ever Tree-Athlon! Held in Battersea Park, London, it saw supporters run 5km, plant a tree and pledge a tree wish. Over 2,500 people took part on the day, and 1,000 ran the Tree-Athlon, making it a huge celebration of our urban trees.
2006
We begin working on UK wide projects in Bristol, Leeds, Manchester and Reading for the first time!
2007
Towards the end of the planting season, we reached a huge milestone – the planting of our 100,000th tree! An ornamental pear, the tree was planted by then Mayor of London, Boris Johnson, with a helping hand from pupils at Kings Avenue Primary School.
2008
We celebrated our 15th birthday! Harking back to our roots, we held an extra-special club night and fundraiser. Nineteen Ninety Tree was held at Dex, Brixton (and yes, the pun was intentional). This wasn't the only party we had, with "Get Twiggy With It" taking place in September.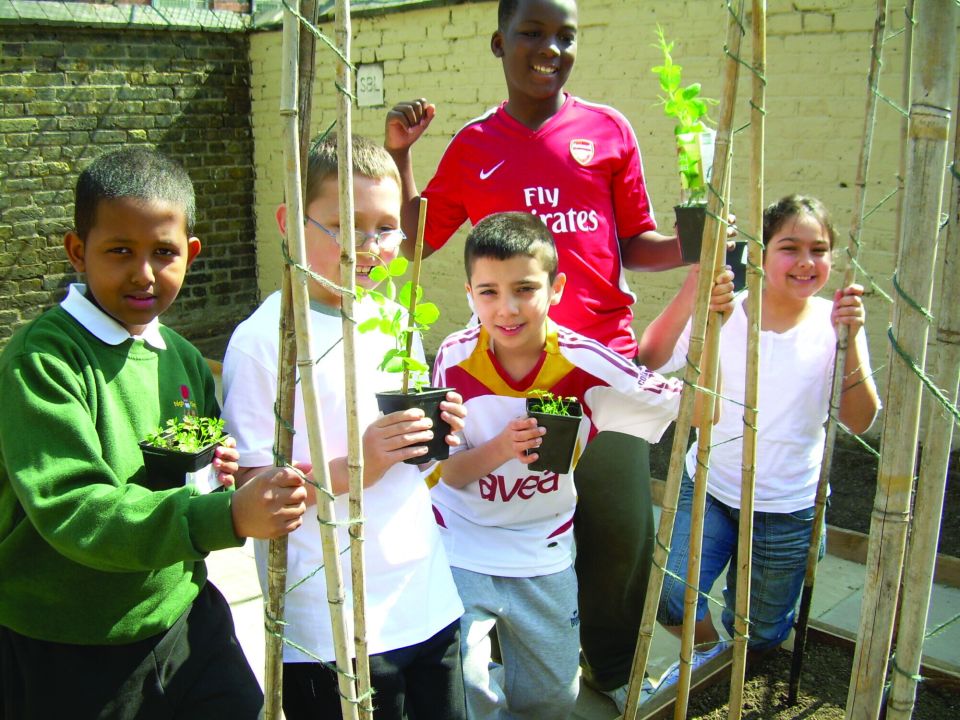 2009
Edible Playgrounds was launched, with Rotherfield Primary School housing the first outdoor classroom, tailor-made for kids to learn about growing and eating healthy food.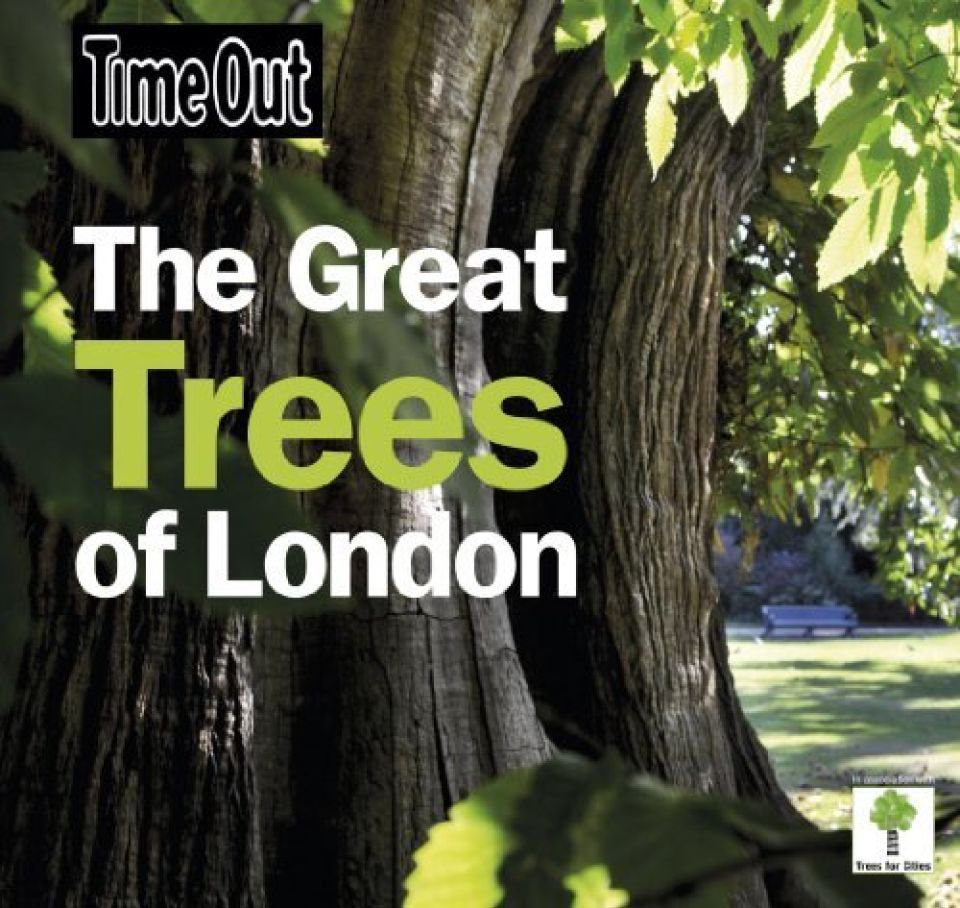 2010
We love our city trees, and London has some great ones. That's why we worked with Time Out to publish a book that would shine a light on their unique histories. The Abbey Plane in Dean's Yard, for instance, has swallowed up a piece of drain pipe that was lying on the ground, giving it a cosy, if slightly odd home.
2011
In March 2011, The Dorchester Hotel on Park Lane, London, announced an ambitious plan to celebrate its 80th anniversary by planting 80 'Great Future Trees' across the city.
2013
2013 was our 20th anniversary. Never a group of people to do things half-heartedly, we worked with Australian artist Konstantin Dimopoulos to colour trees in the heart of London bright blue. The art installation was part of the City of London Festival, and did what it was created to do: inspire Londoners to notice and reflect on the importance of our street trees.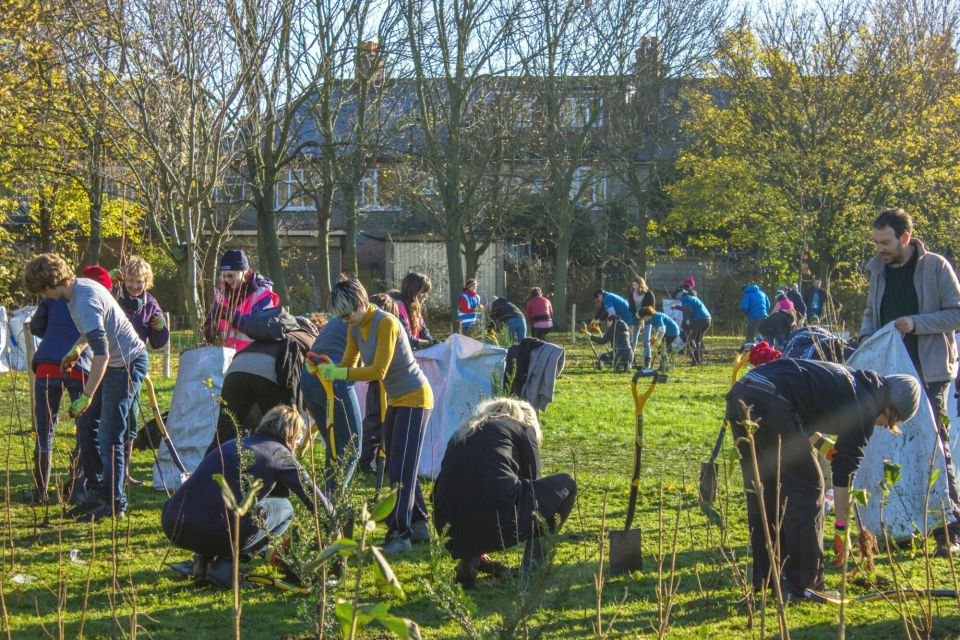 2014
We hosted our first ever 'Plant to the Beat' event, supported by Festival Republic and Bloomberg. The concept was pretty simple: we got people together to plant 10,000 trees in Blondin Park, Ealing, while live music played in the background. Transforming green spaces and having a little dance? Sounds like a perfect day.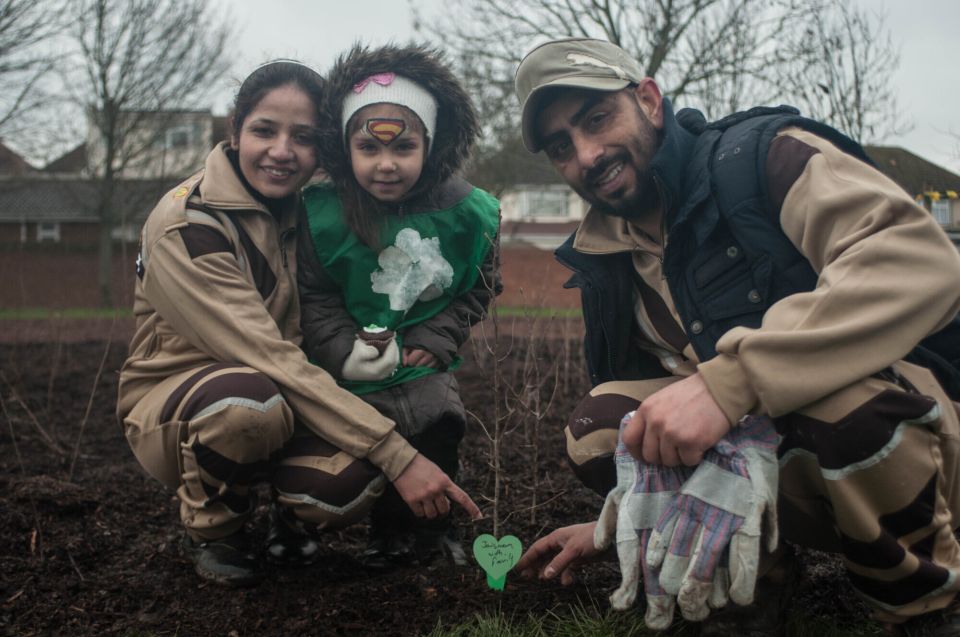 2015
Our work in Ealing grew further still, with a huge planting day in King George's Field. We gathered together 580 people to plant 20,000 trees, making this one of our largest mass tree planting projects in London. It was delivered in partnership with Ealing Council, the Greater London Authority and Unilever as part of their 'For the Love of Trees – London' campaign. We were thrilled when the project won the 'Community Woodland Creation Award' at the prestigious London Tree and Woodland Awards in 2016.
2016
We have worked with Bloomberg since 2002 to build sustainable livelihoods in East Africa, and in 2016 we helped communities in 5 countries plant a huge 31,887 trees. These projects engaged over 4,500 volunteers and local school children.

2017
In the last 10 years we have planted over 50,000 trees with Leeds City Council and in 2017 we planted a third woodland area to connect with our previous projects. 2017 also saw us launch #GenerationTree. Coinciding with National Tree Week, the campaign called on people to join the generation that plants more trees than it cuts down, by donating or signing up to volunteer with us.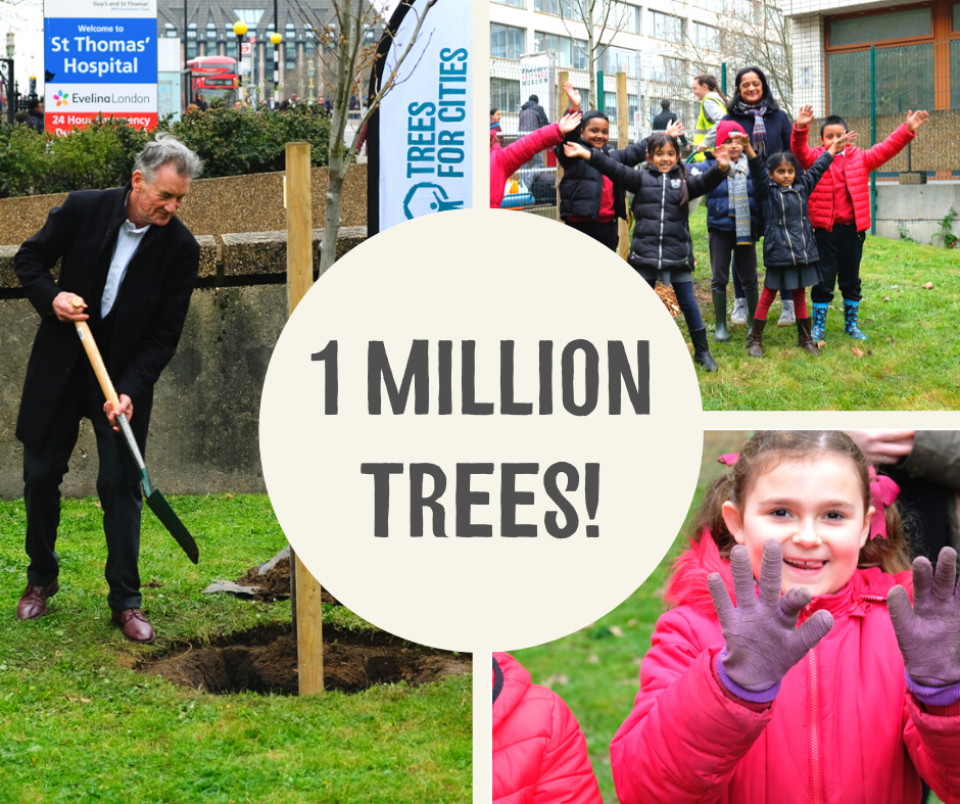 2018
We turned 25! We knew we had to mark this big birthday in some very special ways. First of all, we planted our millionth tree with the help of Sir Michael Palin! Thanks to the support of our partners The Dulverton Trust, NPower and the Players of the People's Postcode Lottery, we continued to grow our urban forest programme. We carried on creating new woodlands and introducing urban trees in Edinburgh, Derby, Birmingham, Bradford, Leicester, Salford, Leeds and Sheffield. During National Tree Week, we were thrilled to partner with the Mayor of London, Sadiq Khan, and plant a whopping 25,000 trees with nearly 900 volunteers in just one weekend, which made it London's largest planting event ever. You might have also noticed in 2018 that we got a new logo and website!
2019
With the backing of the Mayor of London's office and our partner Bulb, we started a crowdfunding campaign to place a copy of 'The Lost Words' into the majority of London's 2,500 state primary schools. And guess what – we did it! We're hugely grateful to everyone who chipped in, helping to close the distance between children and the natural world. We also launched our Planting Healthy Air programme to help screen school playgrounds from air pollutants. Our first project was at St Paul's CE Primary School in Hammersmith, ranked the second most polluted school in the capital. We also had a record-breaking National Tree Week 2019 and planted 29,000 trees across London, Bradford, Nottingham and Clacton-on-Sea!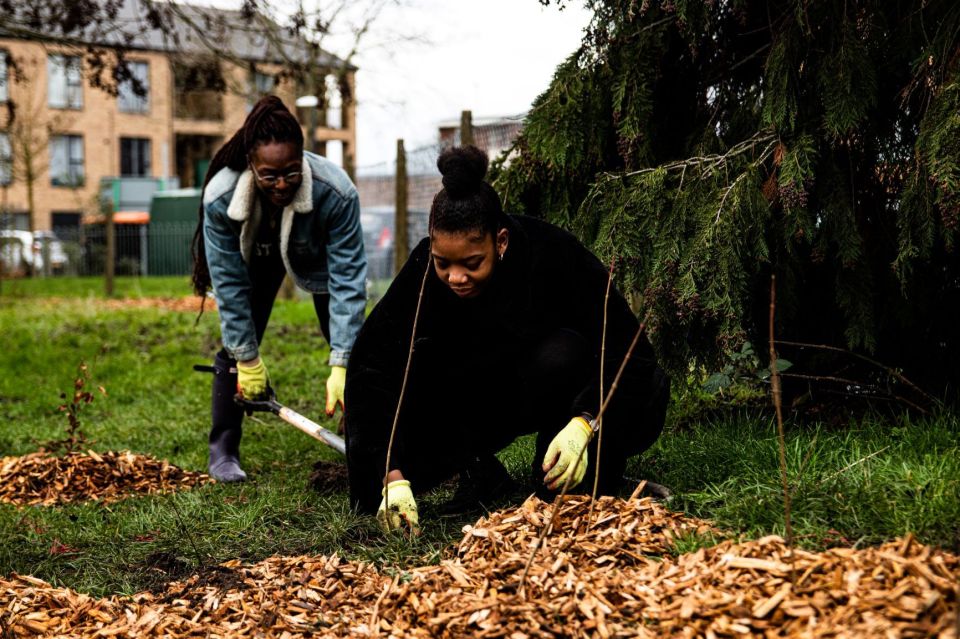 2020
The global pandemic hit, and we had to put a pause on our mass tree planting events, although we were still able to work with small volunteer bubbles. To show our appreciation for the incredible efforts made by NHS key workers, we teamed up with Ecosia and NHS Forests on the #GrowYourLove initiative to plant trees around hospitals in the UK. We also supported The City of Bradford Metropolitan District Council to deliver the tree-planting project 'Tree For Every Child', an initiative set up to help green the city by planting around 55,000 trees - one for every child who lives in the city. We started getting stuck in during National Tree Week 2020 and saw the launch featured on BBC Countryfile.

Check out our Annual Reports
Donate to Trees for Cities and together we can help cities grow into greener, cleaner and healthier places for people to live and work worldwide.
Donate